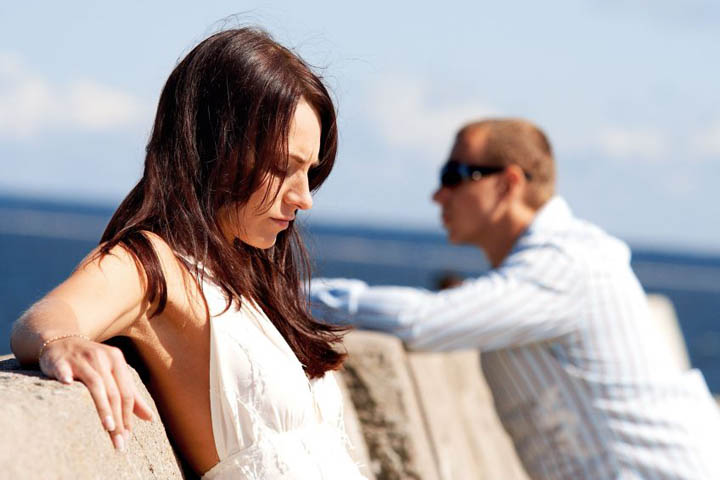 There's a very common scenario that seems to happen to all of us at one time or another, and sometimes over and over again.
We end up in a relationship with a guy that has tons of potential, IF he would just commit!
And the dilemma is always - how long to wait it out to see if he truly IS going to come around?  Or are we just wasting our time? Or, what if you've finally had enough, and decide to move on right before he was about to come around?
This is one of the most commonly asked questions because we are such a hopeful group.  The bottom line is that what we're really asking is how do we know if he'll ever commit?
When I was doing some soul searching on this subject, I realized that this was my own number one reason for being single as long as I was. I wasted so much time and energy - especially time – waiting. Waiting for a guy to come around. Waiting and waiting for him to commit.
And then another one. And another. And so on.
It seems so obvious to me now, but while I was in the thick of it, with each new relationship that showed so much potential if he would only commit, my greatest fear was always that he would have come around if I had only hung on a little longer.
Click here to get my free PDF guide "3 Biggest Warning Signs He'll NEVER Commit"
And that fear ensured that I repeated the same pattern over and over again, never getting that if I had just walked away earlier, I would have saved myself so much pain and heartbreak.
And, as I'm realizing from hearing from so many women today just like I was then, things have not changed much. We're still waiting, holding out hope he'll come around. Still bound by the fear that he's about to come around any time now, and if we leave we'll miss out on our one and only chance at true love.
Because here's the thing; by waiting around, by staying even though we're not getting what we really want from him, he's learning what he can get away with, the bare minimum he has to do to keep us around.
After all, he is attracted to us. He does like having us around, at least when he wants to remember what it's like to have a girlfriend and to collect on the benefits of having one.
But the rest of the time, he wants to continue to be able to live his life in his comfort zone. Read: he's just not ready for a real relationship right now.
To put it another way, what he's really saying is he's just not ready to commit to what it means to be in a real relationship with you right now. He's not ready for the give and take thing, the equal thing, the sharing your life with another person thing. The him being with you and you being with him thing. The open communication thing.
He's not ready, but he's not quite ready to give it up either. He's thinking that someday he's going to be ready for a real relationship and he wants you to be there, too.
Just not right now.
He wants to have it both ways – enjoy having you as his girlfriend, but also hanging onto his single life, and still being able to keep his options open.
The irony is that he actually knows you're all that – he knows what a great catch you are, maybe even more than you know what a great catch you are. He knows what you want from him, but the reality is he also knows he can't give it to you right now.
But someday he thinks he might be able to.
Someday, when he's ready to make some changes, ready to give up his current extra-curricular single man activities and settle down, then he'll be ready for what you want. Complete with the white picket fence, a loving wife and beautiful children. He'd like that too, really, someday.
Just not right now.
Did you get that distinction? That's an important point I want to make here. He's not a bad guy, he's got some great qualities and yes, I can totally see why you're head over heels for him and why you really, really, really want him to be the one. But he's not the one right now. And that's the thing. We really don't know when he will be, if ever. And you're ready now.
Which means he's not the one for you.
I know, you'd like to think it will happen soon but there's just no way of knowing. It may not be for a really, really, really long time. And it might not happen at all. And that's what you have to realistically come to terms with.
Are you willing to waste any more of your life waiting for him to come around?
So how can you avoid wasting a big chunk of your life on a guy that's never going to commit?  These took me a long time to learn, but hopefully I can save you a lot of time – and heartbreak.  Here are seven things that you can do right now to move down the path to commitment:
1.  Listen to what he says – and believe him!
Chances are he's already told you one way or another that's he's not interested in a long term commitment, at least not right now. This is where you have to take him at his word.
We all too often want to believe that he'll change, that after being with you for a while he'll come around and be ready to commit. Or, even worse, we play along and tell him it's fine, we're not looking for a major commitment either – how crazy is that?
Ladies, we need to be up front about it – let him know that you're in this for the long term, and you're looking for a guy who wants the same thing. And know that if a guy is telling you he's not ready for a commitment it's very unlikely that he'll change his tune, particularly if he's telling you this after you've let him know that you want a commitment.
If this is the case, your best move is to let him go and find yourself a guy that's looking for the same thing you are.
2.  Watch what he does – and remember that actions speak louder than words!
The same thing applies for what he's telling you by his actions. If he's mostly living life like a single guy, often going out with his friends when you're not invited or included, look at those actions as very strong indicators that this guy is not into a relationship right now, and may not be for a very long time, if ever.
He may be a great guy, but his maturity level is showing here, and it's indicating he's not on the same page as you are.
If he's ready for a real commitment, he'll show you that he is by being there for you and making plans for your future together. If there's no sign of any long term plans, then he's stuck in single-guy mode. It's time to clearly let him know what you expect in a relationship, which brings us to the next point.
3.  Talk to him about what you're looking for.
While I'm sure you've given him enough hints, either subtle or not so subtle, about what you're looking for, it's time to be absolutely clear and make sure that he understands that you're looking for a long term relationship.
Define it for him, to make sure he understands – after all, his definition of a committed relationship might be quite different from yours.
If you want to be married (at some point), let him know; if you want children (again, at some point), let him know this as well.
It's very important to make sure that you're both wanting to go down the same path, otherwise you'll both be unhappy later.
I can't say this enough – don't beat around the bush here – make sure he completely understands that you're looking for someone to build a future with. If he still can't give you what you want, find someone who will.
4.  Set a reasonable time limit.
Do this primarily for yourself, but it's also a good idea to let your guy know what you're thinking.
I'm not talking about giving him an ultimatum; I'm just talking about clearly communicating what you're looking for in a relationship, and generally how long you're willing to wait for it.
This will be different for each of you, of course, depending on where you are in your life.  You may not even know yourself.
And if this is the case, it's time for some soul searching, because if you don't know how long you're willing to wait, you certainly won't be able to communicate this to your guy.
5.  Keep living your own life!
Ironically, you may find in living your own life, your very best life, focusing on YOU and what you enjoy, that commitment issues naturally work themselves out.  You'll find that through living your own life and following your own passions that you become stronger, healthier, and happier.
You'll begin to clearly see that you're worth much more than what you've been getting from him, and suddenly it becomes all too clear what you need to do for you.
You may meet a guy that's a much better match for you while you're out doing what you love.
Alternatively, you may find that your current relationship improves drastically because you're filling your life with so many things that you're passionate about that your partner picks up on the energy and is able to fully engage in the relationship.
The bottom line is that only good can come of making time for yourself and pursuing your own interests.
6.  Know when to draw the line.
Once you've decided on your own personal time limit, stick to it. Know when enough is enough. When it's time to let go and move on.
It's different for everyone, but at some point trust your gut instincts.
If you've passed your time limit and he's clearly showing you he's not coming around, then respect yourself and gracefully move on.
7.  Trust that if he really IS the One, it WILL happen… even if you choose to let him go.
I know. You're just thinking he's got to be close.
And the worst fear in your mind right now is that you might just decide to get out now, before you waste any more of your life away, but, you're saying to me, what if he's ready the next day? What then? I'll have missed my chance! 
OK, I get what you're saying, because I've been there too, but just so you're clear, and so we can take the fear factor out of the equation here, let's reiterate.
If he's really that great and he decides he's ready to be what he knows he needs to be for this relationship to work (and lest there be any confusion here, he knows it's his move, he knows it's up to him to make this work if it's going to work), you'll know!
He knows how to use a telephone, a cell phone, a computer, and a car – he knows how to get in touch with you if he wants to.  And then you can decide for yourself if it's for real and begin your happily ever after life, or if it's just more drama and you're smart enough to see it for what it is this time and opt not to get pulled back in.  But it will be your choice, and on your terms.
The bottom line is that you only deserve the best, and that means you won't settle for anything less than what you deserve.