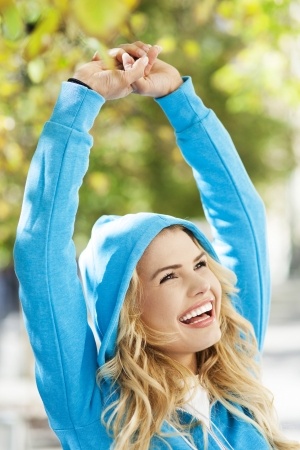 No, that's not a typo. It's not a place we're talking about, it's a person.
You.
You know all those things we keep aspiring to be? All those places we keep aspiring to get to in our level of awareness? All those parts of ourselves we're working on and trying so hard to overcome? All those things we're constantly beating ourselves up about and trying to do differently?
That perfect version of ourselves that we're struggling to become.
What if you were already her? We do such damage to ourselves when we're so hard on ourselves, berating ourselves for all the things we should have done differently, should have known better, should have seen coming, if only we were already there! But what if you were?
What if you already have everything you need to know within yourself, what if within you was everything you needed to be that beautiful, confident woman you want to be? To be that beacon radiating out your beautiful essence of who you truly are. What if all that was missing was simply for you to realize this to fill in that one missing piece?
You!
You see, I received a letter recently from one of our readers who was telling me of a trip she's taking to a place where I had lived for a while. The memory of this place came crashing back to me, and along with it came the memory that the entire time I lived there it was for one reason and one reason only: to try to convince someone of my worth and why he should choose me.
For almost three long years that was my one and only purpose in life until I finally realized I couldn't make him love me the way I dreamed our future could be if only he would realize it, too.
The experience left my self-esteem and self-confidence in tatters. The memory got me thinking about what I would have done so differently  now if only I had realized all that I've learned -and lived- since then.
I now know that I had it all within me even back then, I just hadn't realized it.
And that's why I'm here to remind you of what you might not realize either.
Be that woman.
Be the woman who's so confident, who's so sure of herself and her power. What's keeping you from seeing that? What's keeping you from believing that? What's holding you back from living like her? What's stopping you from giving yourself permission to be her? Who are you allowing to hold this kind of power over you? Who are you letting define you and limit who you can be and what you can do?
You're her, my beautiful friend. She's already there.
Release her; release the you that you know is in there, and go out and create that beautiful life that's just waiting for you to embrace it. It's full of all the love in the world that's ever been there for you, but it only begins when you tap into that overflowing cup of self-love for your true, beautiful self.
You can do this. You know you are this. You might not recognize her when you first catch a glimpse of her when she steps out like this, but trust me, you know her already.
She's YOU!