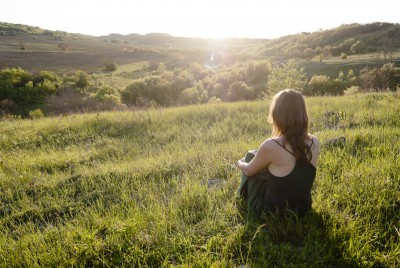 "I have a history of making decisions very quickly about men. I have always fallen in love fast and without measuring risks. I have a tendency not only to see the best in everyone, but to assume that everyone is emotionally capable of reaching his highest potential. I have fallen in love more times than I care to count with the highest potential of a man, rather than with the man himself, and I have hung on to the relationship for a long time (sometimes far too long) waiting for the man to ascend to his own greatness. Many times in romance I have been a victim of my own optimism." ~Liz Gilbert (Eat, Pray, Love)
I love this quote – it just so succinctly summarizes the story of our relationships for so many of us; how we inadvertently set ourselves up for such heartbreak by falling in love with the potential of a man and a relationship with him, instead of looking at what is right now.
It is such a beautiful quality we possess; this optimistic, positive outlook that we apply to the men and relationships in our lives. We meet someone and see not just the person he is in front of us today, but we see so much of what he can be, so much of his emotional capacity that is not there yet, but could be if only he were loved by someone like us.
We feel so excited to have this chance to show him this whole other side of life with so much love and giving and loving and doting and caretaking and surprising and taking to this whole other level of our love. We are so excited to be that perfect girlfriend he never had before; the one who understands him so well, the one who is so happy to make excuses for him, the one who is only too excited to help him explore his inner self. To show him how wonderful his life can be with our love there to wake him up in the morning, to cover him with kisses at night.
The fairytale continues for us as we imagine him becoming everything we have ever wanted in a man as he finds himself falling in love with us, with this magical type of promise we offer with everything we do for him. He had such a wounded childhood; he was never understood by his parents or his teachers. We come to believe that he needs us to really live and experience such a warm, rich loving life full of all his wildest dreams.
We see ourselves as his savior, in a sense, there to bring out all these qualities that are just underneath the surface of him. It is the relationship of a lifetime, the love of our life, the man of our dreams; it is just a matter of time before he sees just how wonderful this life with us can be.
If only he were open to seeing it. If only he was willing to work on himself. If only he could see all this potential within himself. If only he respected us as we turned ourselves into a martyr. If only he didn't stop taking everything from us while giving us nothing in return. If only he could see that we are worth changing for. If only he were willing to explore his own issues. If only he were open to change. If only he wasn't so scared to commit. If only he would grow up. If only he would leave home. If only he would leave her. If only he would see how much he needs us. If only he would call. If only he would return our calls. If only we could get him back.
If only we could love ourselves again.
It's such a long road back through heartbreak and so much wasted time and energy once we finally see what has happened. How we allowed ourselves to fall in love with someone's potential, with the relationship's potential.
He didn't see it. We did. He wasn't feeling it. We were. And when it is all over, we are left with the endless if only's that never came to be. All our dreams, our plans, our fantasies.
What we neglected to see was that this was our dream. This wasn't his. We made it so easy for him; he didn't have to do anything except provide us with the source of our inspiration. And slowly, as we start to understand what happened and begin the journey back to ourselves, we begin to see things in the light of reality. And what is. And what was. Not what could have been.
It's a slow journey back.
But it begins right here, right now, in the light of you, recognizing all that you are, all that you have to offer someone. It's not about his potential or the relationship's potential, it's about who he is right now, and what the relationship is right now.
It is a beautiful quality you possess; this optimism you have, but save it for someone who is truly worthy of that gift of you. In the true light of what is.