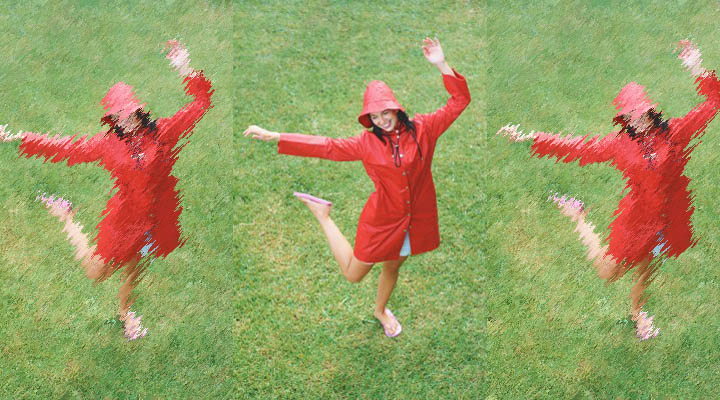 If it seems to you like everyone else has it all together, knowing just what to do to have a healthy relationship and making it look so easy in the process, while you're struggling along, feeling like there's something wrong with you, well, you're not alone.
I used to feel that way, too.  There always seemed to be someone who did relationships better than I did.
While I was constantly trying to figure someone out, trying to be the perfect girlfriend, figuring out whether I should try to give him some more space or show him just how excited I was about him, there was always someone I knew who had that amazing confidence about them and their particular relationship.
Just confidently being in it, seeing where it went and not putting all their focus and time and energy in it, just being normal about it.
And oh how I would envy her. I wanted to be that nonchalant, too.
I didn't get it.
I didn't understand that the whole point was that I wasn't her. I wasn't anyone else.
I was me.
When I wasn't involved with someone I came across as self-confident, self-assured, and independent. But as soon as I was involved with someone who I really liked, I would change.
It suddenly mattered so much whether he was interested in me for the long term, and I would become more concerned about what he thought of me and whether he would fall in love with me, then about what he was really like and whether he was really worth all the time and energy I was spending on him.
It took me a long time, and all too many heartbreaking relationships, before I finally came to accept that I was who I was.
Yes, there were things I could change about myself, but the fundamental parts of me that made up my personality and made me uniquely me, were all mine.
And instead of looking at these other women, wondering what they had that made their relationships all look so easy and left them unscathed whatever the outcome, I realized I wasn't them and wasn't meant to be like them.
I hated how sensitive I was, how emotional I was, how soft-hearted I was.
I wanted to be hard. I wanted to be strong.
I wanted to be able to let everything roll of me and be able to easily detach emotionally instead of feeling so much, and taking everything so seriously.
I wanted to be the confident, strong woman that these other women all seemed to be. I didn't want to always have to need someone to bounce things off of in order to feel OK. I wanted to be enough on my own.
I wanted to be like them, not like me.
These women seemed to do all this so effortlessly. And I came to loathe those parts of myself that made me so uniquely me, because they didn't seem to have any value in these relationships or the dating world I found myself in.
I thought there was something so wrong with me. I had been made wrong. I had been born in the wrong time, in the wrong era. There wasn't anyone who wanted the qualities I had anymore.
No one wanted someone as sensitive as I was. No one wanted someone like me.
Until one day, fresh from yet another relationship that hadn't worked out the way I wanted it to, I wrote everything down that I hated about myself and suddenly, something different came to me.
There had been no mistake.
If I was here, right now, the way I was at this particular moment, in this particular place, exactly the person who I was, it was because that's who I was meant to be.
It was only because I was attracted to these guys who didn't appreciate or want the qualities that I possessed. They didn't want the me that was the real me. It was only because of my subconscious patterns, blind spots and programming that I was attracting them in the first place, not because they were the perfect men that I made them out to be in my head.
It was like an epiphany.
I just needed to find someone who was looking for someone exactly like me!
Someone who would embrace these qualities I possessed and love me because of them! It was such a wake-up call as I clearly saw why none of these prior relationships had worked out the way I so wanted them to at the time.
They were never meant to!
We weren't a match at all because they didn't want someone like me, and I was spending all of my time and energy trying to be something different than I was. I was trying to become what I thought they wanted me to be instead of feeling confident about who I already was.
Who I really was.
So, of course, they were attracted to me in the beginning only to change their mind when they found out who I really was and what I was really looking for from them.
In the long run there was just no hiding it: I was sensitive! I was emotional!
Finally I got it and decided to stop pretending to be something I wasn't, and start finding and embracing my true self. And shortly after that, the man who would become my husband came into my life.
This time it was different because I wasn't doing any pretending and he was looking for someone exactly like me.
He loved how deeply sensitive I am, how emotional I am, how passionate I am, how soft-hearted I am. All those things I had learned to hate about myself, he loved.
He was looking for someone just like me all along.
I finally understood that someone would never be able to find me, to see the real me and be attracted to me if that's what he was looking for, until I found myself. Until I stopped trying to be anything but the real me.
If I hadn't stopped pretending to be someone else he never would have seen me or stopped long enough to see who I really was.
You see, that same sensitivity and emotionalism and passion is what makes me compassionate and empathetic and caring and loving on a level that I couldn't ever be without being just that way.
And it's the same for you.
So embrace those unique qualities you possess, all those things that make you uniquely you!
When you can see these qualities in yourself with that kind of perspective, you can see how your essence - the you that makes you uniquely you – is what makes you a special gift to someone who is looking for exactly who you are.
You just have to know who you are first and let your true self shine through in the beautiful light of you.
Know that there's nothing wrong with you.
You are everything you are meant to be. And there is someone out there who is looking for exactly who you are. He might just need you to help him find you by being your very best, true self!