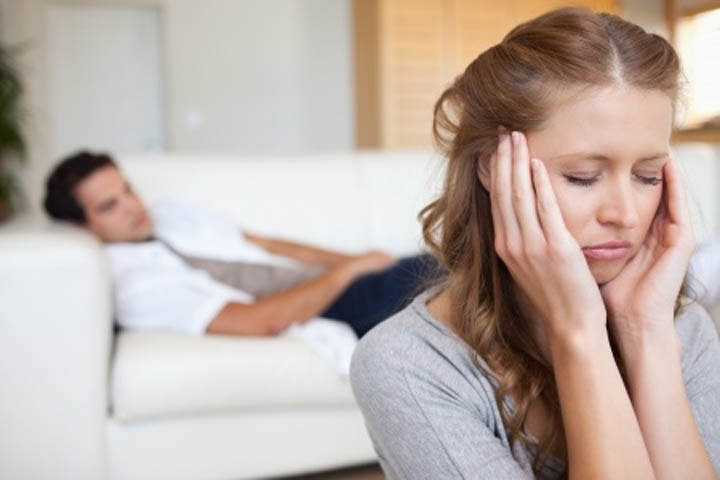 We're always hoping for the classic story of 'boy meets girl, boy chases girl, girl lets him catch her, and they live happily ever after.'
But real life never seems to follow that story line.
Sure, it starts out that way.
He's chasing us, we're being chased, just like boys chase girls in elementary school, and it's fun! It's exciting. We feel desired and wanted and worthy and that makes us feel like we've got it going on.
We're being chosen. Someone's picked us.
Then all of a sudden, something changes.
He's got us and he can clearly see we're hooked. But instead of the ending that was supposed to be, it's turned into something else.
Suddenly, everything changes.The conquest is over. He's chosen us and we've accepted and now we've followed what we've been led to believe is what dating and commitment is all about.
We're ready for that next step. But he isn't.
That's the problem.
You see, the guy you actually want to be with – the guy you thought he was - would be fine at this stage because he would understand that now the relationship can really start.
But we're not talking about that kind of guy.
We're talking about the one who doesn't know what to do with the fact that you've now fallen for him after he gave you every reason to believe that's exactly what he wanted too, even if he didn't realize that's what he was doing.
He loved the chase. But now he doesn't want it to go to the next stage.
He doesn't want you to leave; he wants to keep you around because he knows you're all that. But he also doesn't have it in him to give you what every single woman in a relationship needs if they're going to stick around.
But he can't tell you this himself.
Whether it's because he doesn't know himself or he doesn't want to lose what he's got by coming right out and saying it, what you've got is someone who gives you just enough of what he's learned he can give you to keep you hanging on.
The Good News
What you CAN do with someone like this …
You can set boundaries with him and let him know what you're willing to accept and what you're not by your actions and your words.
So if he doesn't call or doesn't show up on time when he says he's going to and you  simply accept his excuses and be the understanding girlfriend, he knows that he can behave like this with you and he doesn't have to worry about you going anywhere.
Or maybe he's showing you what he's really looking for by how often he wants to spend time with you. But every Saturday night spending time out with the guys?  Maybe that's OK to a less healthier version of ourselves.
But when we're only getting the  Friday night tired after a long work week night to fall asleep in front of the TV or in the movie theater, there's something not quite right here.
And what do we say in response?
Oh, I see, well, OK. At least we have Friday nights together as our night.
And we think, at least he still must want to be with me, I'm still chosen, he still picked me because he still wants to spend his tired Friday nights with me.
Are you getting this?  We're teaching him how to treat us!
He's learning what he can get away with, what the bare minimum he has to do to keep us around from us. Because yes, he's attracted to you, he likes having you around when he wants to remember what it's like to have a girlfriend and to collect on the benefits of having one, but the rest of the time, he's free to live his life in the comfort zone of what makes him feel comfortable because you're allowing this.
It's Not You
It's not. This is about where he's at. And where he's at is that he's not ready for a real relationship right now.
Do you get that?
He's just not ready to commit to what it means to be in a real relationship with you right how.  The give and take, the equal thing, the sharing oneself thing.  The being with you and you being with him thing.  The communicating needs thing.
He's not ready, but he doesn't want to just give it up either.  He's thinking that, too, just like you, that someday he's going to be ready for a relationship and he wants you to be there too. But right now he's got a bad case of commitment phobia.
The irony is that he actually knows you're all that – he knows what a great catch you are maybe even more than you feel that way right now. And he knows what you want from him, exactly what you want to change about him, but the reality is he also knows that he can't give it to you right now.
But someday he thinks he might.  Someday, when he's ready to make some changes, give up his current extracurricular activities and settle down with the white picket fence and a wife and children, then he'll be ready for what you want.  And he'd like that too, really, someday.
Just not right now.  And that's what you have to realistically come to terms with.
The Rest is Up to You
Are you willing to waste any more of your life waiting for him to come around?
I know.
You're just thinking he's got to be close.
And the worst thing in your mind right now is that you might just decide to get out now, before you waste any more of your life away, but, you're saying to me, what if he's ready the next day?  What then?  I'll have missed my chance! 
OK, I get what you're saying but just so you're clear, and so we can take the fear factor out of the equation here, let's reiterate; if he's really that great and he decided he's ready to be what he knows he needs to be for this relationship to work (and just so there's no confusion here, he knows  it's his move, he knows it's up to him to make this work if it's going to work), you'll know!
He can use a telephone, or a cell phone, or a computer, or a car – he knows how to get in touch with you if he wants to.
And then you can decide for yourself if it's for real and begin your happily ever after life, or if it's just more drama and you're smart enough to see it for what it is this time and opt not to engage.  It will be your choice.  And if he doesn't call, well, that's actually easier because you'll be well on your way to getting your own life back again.
I know it's all too easy to dismiss me as not knowing your guy, and that's OK. It's sometimes easier to disregard the well-meaning girlfriend than admit to yourself the truth about a guy. I understand because I've been there, too.
You may recall the story I told you about a friend who even got on an airplane to try to tell me all that I'm telling you. Well, I didn't believe her either.
So I understand. When you're ready, we can talk about this some more. For now, let's try to remember that none of this is about him. It's about you. You deserve to be happy. To be with someone who chooses you, all of you, the real you, not just the you that you show him as you try to get him to pick you once and for all.
It's time to take a deep breath and come away with me to take a peak at the life you're missing while you're hanging around waiting for him to make up his mind.
You can't change him no matter how hard you try and how much you want to believe you can.
But what you can do is find your own happiness and create your own life that's worth so much more than living like this. Do the things I didn't learn until so much later.
Go places, do things, create that beautiful life that's just waiting for you to discover it.
Discover your passions, follow your dreams, find those things that awaken your own soul. Fill your own cup so full of all the love and life from so many different places so that what he does or doesn't do no longer matters to you.
He's going to do what he chooses to do regardless of what you do or don't do. So make your own life for yourself just like he's doing.
You've got everything he's got, no matter how much you don't realize this now.
You really do.