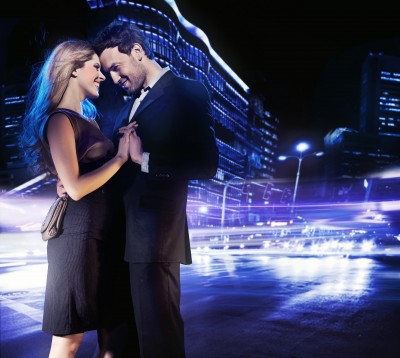 You think you've finally found what you're looking for. He seems so different from the rest. He shows all the signs of being into you and you feel like all the work you've been doing on yourself is finally paying off. He seems genuine. He acts like he cares about your feelings and he's not afraid to show you his feelings and let you know how he feels about you. There are the fireworks. You've never felt quite this way about anyone else before and you're starting to think he could be Mr. right.
But before you decide to let your guard down completely and let your heart take over, it's time to take a deep breath and let your practical mind have a say before you're in any deeper. Before you give yourself away. Before you give him your body and soul because I know you know exactly what I mean. There's the point we reach where there's no turning back. The place where we throw caution to the wind and let ourselves get caught up in the feelings that change everything about our normal, thinking, rational selves.
It's such a short leap between that that place where we still have our heads and can think clearly and that place where the pull of what he offers us becomes stronger than the protection of our true selves. It's that leap between when we can still think logically about him and the relationship, and how much we still don't really know about him and about how much we still need to let time tell to know if he really is different. If he really is worth getting exclusive with. Because no matter how much we try not to, this is our MO.
This is our MO.
This is what we do all too well. We fall head over heels for the guy who sweeps us off our feet, pursues us like there's no one else but you in his sights, because it makes us feel that good. That wanted. That desirable. Because what's really happening is feeling like that helps erase all our previous feelings of unworthiness that we carried over from our original hurts as a little girl. From a time when we felt like we were never enough and had to prove that we were loveable just as we were. So unconscious, but so true.
It colors everything.
Because it's not just about him; it's about us, and how good this feels to be loved and accepted like it seems like we are when we're with him. And while that is a wonderful part of falling in love with someone, and certainly a part of what true love is all about, if we aren't careful, we can begin to see things the way we want them to be and not the way they actually are. We can begin to see him in the light of his potential, and not in the light of reality.
Because that's the kind of loving, caring, giving, woman you are. With a history for repeating this pattern over and over again, with every good and beautiful intention.
Because you don't really know him well enough yet.
Because he hasn't had enough time to prove his worth to you.
Because you have a history of seeing the best side of a guy you're falling for.
Because you have a tendency to not see the other, less favorable sides of him.
Because you are such a loving, giving, pleasing soul, you forget that he has to show you how much he deserves your love, and not the other way around.
You deserve to be loved, my beautiful friend. You deserve to have someone truly love you for yourself just because you're you. And you don't need to prove that to anyone. So don't give yourself away until you know he's the real thing, it's real love, and he's in it for the kind of committed relationship that you want. Make sure he proves that to you first.
Because that's what you really want. Don't settle for anything less.