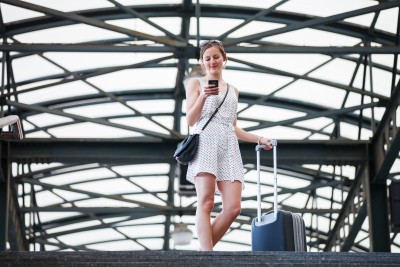 So many of you have come to me with questions about long-distance relationships and how to make the best of them and what to do when you're in them, that it's time to delve a little deeper into what makes them work or not work. Whether they've turned into a long-distance relationship because he's gone into the military, because he's taken a job somewhere else, or whether you've been apart from the start, the reality is they're never easy to be in, especially when your heart wants to be with him. You just never seem to have enough time to talk about the things you want to talk about when you don't see each other on a regular basis.
So how do you make it better? How to get through this? What do you with the insecurities and doubts that this type of relationship often brings up? There are always so many questions, but few answers.
Here are a few questions you need to ask yourself:
1. Is he the right guy for this?
The number one thing I've learned from both my own experiences with long distance relationships and all the women I've known who've been in one, is that the most important part is to choose the right guy to have a long-distance relationship with in the first place. Since long-distance relationships are the perfect place for a guy who isn't comfortable with commitment to hide in, the number one thing you want to be sure of is that he is in it for the same reason you are. To be together. To get to know each other as best you can in a less than ideal situation. Someone who is on the same page as you and who ultimately wants the same thing you do.
It can be hard to tell this in the beginning, but if, over time, you come to see that you are both at different stages in your life and want different things and the lack of close proximity is working well for him, but not for you and he isn't moving towards changing this, then those are all red flags. They are warning signs that indicate the need to rethink whether this relationship and this guy is the right one for you and where you are at this stage of your life.
2. Can I trust him?
Does he call when he says he's going to? Does he show up when he says he's going to? Do you generally know what his schedule is? Does he include you in his life as much as possible? Because you aren't together in the day to day living of your lives, it is so important that you can trust each other. If you find he often changes plans, changes when you're going to talk, when you're going to finally see other, and generally keeps much of his life to himself, those can be warning signs that indicate this is not someone you want to be in any kind of relationship with, but especially not a long-distance one.
When you can't see him or call him just anytime because of time zones, work schedules or just your different locations, it is crucial that you feel like you can trust him. If all too often you feel the need to call to check up on him or see if he is where he says he is, these can be just your own insecurities with a long-distance relationship, but more often than not, there's a very real reason why you feel the need to do so. Listen to that and see if there is more going on than you're comfortable with.
3. Does he share a commitment to getting together in person?
At some point, every long-distance relationship needs to have two people who are actually together to see if this is really going to be the relationship it promises to be. Both you and he need to be working towards making this happen, and not just by paying lip service to the idea. If it's his job that keeps you apart, does he talk about a transfer or is he looking for one closer to you, or helping you find a job closer to him? If it's the military, is there a plan for when he will be done his tour and what the two of you will be doing to be together after that, especially if his plans aren't yet certain? Does he have an attitude of "let's just see where this goes"? Or is he trying to make actual plans with you? There is a big difference between the two, and you want someone who is as excited about finally being together in person with you on a permanent basis as you are about him.
Keep living your own life!
No matter how much you want to be with him and want to believe that the two of you have what it takes to make this relationship work, the reality is that you only want to commit to him as much as he is committing to you. In real life, what this means is that you keep living your life, you keep enjoying your friends and family, pursuing your own passions and hobbies and interests, and keeping the focus as much on you as a separate person as the two of you as a couple. Keep it balanced. Until he's committed to you, you don't have any real commitment to him. He needs to prove that he is worthy of being in an exclusive, committed relationship with you, and until he has, you have no business living like you are exclusive with him. Yes, this could be the relationship of a lifetime, but if it is, it will be. You don't need to rush into anything, even if the distance is killing you. If you both want this to work, to see where it may lead, then trust that it will happen just as it is meant to without you having to do anything to make it happen faster except show up and keep being the real you - your beautiful, confident, radiant self!
Please consider adding something in our comments section if you are currently in a long-distance relationship or have been in one in the past. Many of our readers would love to hear how you coped or are coping, what worked for you and what didn't, what you learned most from the experience, and anything else you would like to add that could benefit someone currently in this situation.