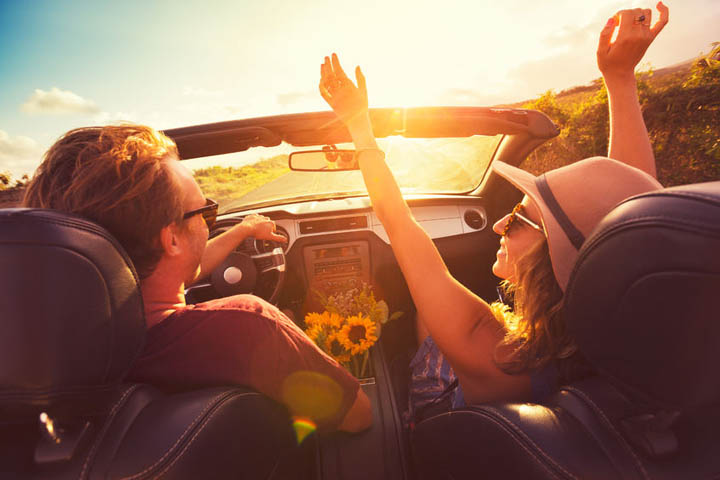 One of our gorgeous readers, Angela, has found herself stuck in the friend zone after the guy she was dating decided he wasn't ready for a relationship after all. The problem is, he wants to be close friends, but she still has strong feelings for him - she doesn't know what to do!
Here's what she wrote:
Hi Jane,
I was seeing someone for about a month. Everything was perfect until he dropped a bomb on me saying that he thought he was ready for a relationship, but he is not.
He says a relationship is not in his mind set, he just want to take time and find himself and figure out what he wants. He says he's not seeing anyone and not interested in dating anyone. He just wants to take care of himself.
But here's the thing, he wants us to be friends, more like best buddies. He keeps in touch everyday, we chat everyday. He checks on me if I don't respond to his chats, he comes to my house just to say "Hi".
He wants us to hang out and do stuff together, such as road trips, movies. He wants us to be free and talk about everything.
What does all this mean?
I am sticking around as a friend because I still like him.
-Angela
My Response:
Dear Angela,
I'm so glad you reached out. Of course you're confused!
One day everything's perfect and you think you're both going in the same direction, the next he drops this bomb on you. And I'll bet that's exactly what it felt like.
He's not ready even though he thought he was. Ouch!
So I'm going to make this really, really clear for you.
What he means is that he thought he was ready for a relationship, but he's not, so this is what he IS ready for.
Being friends. Being best buddies. Keeping in touch everyday. Being free to talk about everything, etc., etc. Basically, everything except the romantic part, and, more importantly, everything except the commitment.
Everything you're seeing from him by his words and how he's behaving is telling you exactly what he wants from you. Except the missing piece that he's not talking about. That he wants all this without the pressure of being in an actual relationship with you.
I know you don't want to believe it. I'm hearing you.
You're seeing that his actions aren't matching his words, that he's acting like so much more than the "just friends" bomb he's just dropped on you. So you're thinking there's a chance he's going to come around if you only keep yourself in the running. Of course you want to stay close enough to make sure he doesn't forget about just how perfect you are for him when he finally decides he is ready for a relationship again.
But here's the problem. You don't want to be just friends with him.
You're saying you're sticking around around as a friend becuase you like him, but isn't it really because that's the only way for you to stick around at all? Isn't this all about you compromising on what you want, because you know the only way to have anything to do with him is to accept his terms?
The difficult part of this is being able to do it without losing yourself, having your heart broken and finding out you really couldn't just stick around as a friend because you still like him.
That's where this road leads, Angela. That's the hard part.
He can do this because it's where he's at. But if this isn't where you're at, then you're not on the same page as he is, and pretending you are when you're not makes this really, really, hard on you. It keeps you fooling yourself. It keeps you not moving on, when moving on is exactly what you need to do here.
Believe him when he says he's not ready for a relationship.
Of course he enjoys your company and wants to still have everything he had with you when he thought he was ready! Without the pressure, it's easy for him to like it this way. But when does that change? When does he decide he's so enjoying this no strings attached version of a non-relationship "friendship" that he decides to add another woman under these same terms - without mentioning anything to you? After all, you're just friends, right?
It's OK. Almost every single one of us on here has been there before. It's why so many of us learned this the hard way!
But my concern for you in choosing to stay friends with him because you still really like him, is that you're only going to be fooling yourself. And more importantly, you'll likely be missing out on someone who actually is ready for a relationship right now, just like you are.
I know it won't be him. Right now I'm sure it doesn't feel like there'll be anyone but him. But ask anyone who's been here and they'll agree with what I'm telling you when I say that what you've got without the relationship piece isn't worth nearly what it seems to be right now. Most of the time it leads to even greater heartbreak, wasted time, and pining for someone who isn't ready for something you're ready for when you could be with someone who is!
It also concerms me that it's what HE wants, and not what you want. That's a slippery slope into settling.
Be honest with yourself. Remember that you're in control of how this goes. You're the one doing the choosing. Always remember that part. As in you can say "No, this isn't working for me". This is how someone respects you. This is how you respect yourself.
You didn't mention whether or not you're sleeping with him. If you are (or were), it's very easy to fall back into that again, particularly when you're spending a lot of time together. And then you're going to find yourself in a friends with benefits situation. Or worse, a friends with the occassional booty call situation.
If you're already in a friends with benefits relationship with him, then my question for you is can you stay objective enough to recognize you've got nothing more than a relationship – a just friends scenario – when it comes to commitment?
Most of us can't. Not when we like him. And especially not when we like him a lot.
Bottom line here, Angela, it that right now, this is what he wants. He's being perfectly clear about not wanting to be in a relationship with you. And you're clear that you like him. That this is the last thing in the world you expected from him because you want to be in a relationship with him.
Take him at his word. Move on.
Show him by your actions that unlike him, you ARE ready for a relationship. You DO know what you want! And unless he wants that too, you're on two different pages. Don't try to convince yourself that you're not. One of the things that makes you so attractive is knowing what you want!
And lest there be any doubt about this part, Angela, if he does decide he's ready for a relationship, this is exactly the way you'll know. By you staying true to yourself. By you moving on. By you remembering that a real relationship only works if you have two people on the same page, making it work together.
If it's meant to be because you both want it to be, I promise you, he'll make sure you're the first to know. And then you'll be the one making the choice of whether he's still worth it to you!
I hope this helps.
Love,
Jane
What do you think Angela should do in this situation? Share your thoughts with all of us below in the comments!