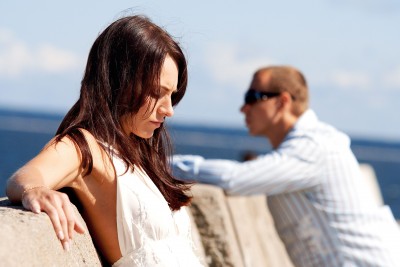 There's a very common scenario that seems to happen to all of us at one time or another, and sometimes over and over again.
We end up in a relationship with a guy that has tons of potential, IF he would just commit!
And the dilemma is always - how long to wait it out to see if he truly IS going to come around?  Or are we just wasting our time?  Or, what if you've finally had enough, and decide to move on right before he was about to come around?
This is one of the most commonly asked questions because we are such a hopeful group.  The bottom line is that what we're really asking is how do we know if he'll ever commit?
When I was doing some soul searching on this subject, I realized that this was my own number one reason for being single as long as I was.  I wasted so much time and energy - especially time – waiting.  Waiting for a guy to come around. Waiting and waiting for him to commit.
And then another one. And another. And so on.
It seems so obvious to me now, but while I was in the thick of it, with each new relationship that showed so much potential if he would only commit, my greatest fear was always that he would have come around if I had only hung on a little longer.
And that fear ensured that I repeated the same pattern over and over again, never getting that if I had just walked away earlier, I would have saved myself so much pain and heartbreak.
And, as I'm realizing from hearing from so many women today just like I was then, things have not changed much. We're still waiting, holding out hope he'll come around. Still bound by the fear that he's about to come around any time now, and if we leave we'll miss out on our one and only chance at true love.Continue Reading