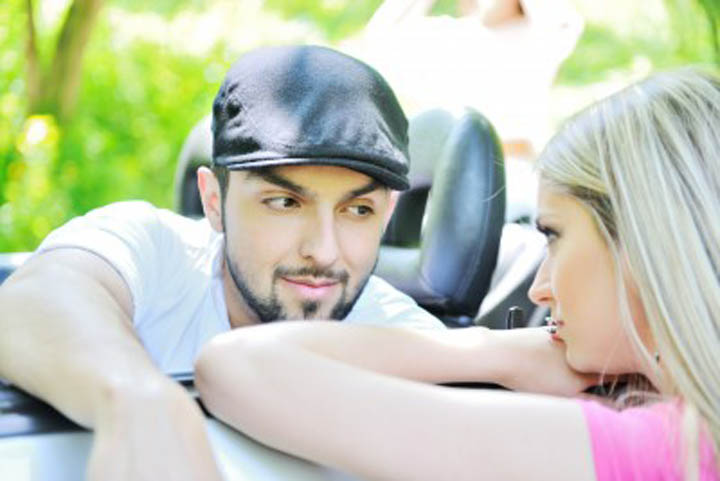 What happens to us that we, perfectly intelligent, level headed women suddenly begin justifying to ourselves, beyond all sense of reason, why he's treating us the way he does, why it's OK that he has rules about how often he can spend time with us, why it's understandable that he needs so much "guy time", why it always has to be the way HE wants it to be?
And why do we continue to believe that we're so much better off with him than on our own?
The reality is you're not.
We'd be so much better off on our own at this point, so much better off without this guy bringing us down, doing a number on our self-esteem, but we have such a hard time believing that because when it's good, it really is that good, and we tend to focus so much on those moments that we forget how it feels the rest of the time.
Because we know just how good it can be.
That potential it's got if only it could be that way all the time. If only he could be that way all the time. But that's what got us into this mess in the first place.
We have a hard time looking at things through that lens of oh so hard reality. We so want to see what we want to see, what we know could be there, that we just don't see what's really there. The reality of this not-so-great relationship that we're in.
My point is simply that in spite of how we can come to view them, these guys really aren't that amazing. In fact, all too often they only seem so amazing after they become so indifferent to us.
They're nothing special, nothing more than so many other guys out there (and probably a lot less.) But they've got something that reels us in and then keeps us hooked the longer we stay.
But the truth is, if they really were so amazing, we'd feel really good about them and ourselves while we're with them and while we're away from them.
We wouldn't be having the roller coaster of the highs and lows you're experiencing where one minute you're so excited to be with him and feeling on cloud nine, and the next minute you're in agony because you called him on his cell phone and he's not answering and he was supposed to be at your place two hours ago.
Because there's something about this guy that you know you just can't completely trust, so you have to keep calling because you have to know where he is right now!
OK, this is what I'm talking about. Stop right there with me for a minute. If this guy was all that, you would never have to keep calling his cell phone to find out where he is. He would have left you a message or called you to tell you he was going to be late, or he would have somehow figured out a way to let you know.
More importantly, the reaction you're having to your guy being late and not calling is a huge clue that something is really wrong here. Your radar is going off (I mean, after all, you're a smart, beautiful woman, and you're obsessively calling some guys cell phone.) The reason your radar is going off is because you know deep down that you can't trust him!
You do know where he is. You're smart. That radar is your intuition that is usually totally accurate when it comes to this guy if you really listen to what it's telling you: that you can't trust him
The reality is this isn't going to get any easier because now he's learning that he can get away with treating you like this and still have you, and you're learning that you're not worth anything more than him. Your self-esteem is getting lower and lower and lower. And this is the hook – this is what keeps you here.
He sees how little respect and affection and attention you're willing to settle for and still stick around and he doles out just that right amount. With a little extra here or there for special occasions – like birthdays and Christmas and, oh, maybe Valentine's Day too. Or when your cat has surgery.
The good news is that there is a way out.
You can change this.
Because what makes all the difference to you getting unhooked, is first realizing that this is not about you. This way he's being with you? It's about him. The way he was raised. The way he learned about being in relationships. The way his personality works. The way his dad treated his mom. The way his best buddy treats his girlfriend. The way his brain is wired. Whatever.
Whatever it is, it's about HIM. Not you.
His lack of ability to know a good thing when he sees it and start doing the work to make it happen. His lack of willingness to seek out some help for himself for this problem of him. Because it is HIS problem.
Realizing  this makes letting go much easier.
It's becoming yours the longer you stay with him because it's bringing you down when you could be out finding someone who's the real deal – someone who loves to be with you and actually treats you that way.
The only way we ever begin to make a change is by waking up to the need to make a change. You can't change him, so the only thing left is to change yourself, in the way you see thing's for what they really are.
That's what we're beginning to do here - wake up. However long it takes; wherever you're at right now. It's time to regain your inner strength. Because this is not all that you deserve.
You deserve the real thing.
What do you think? Share your thoughts and comments with all of us below!