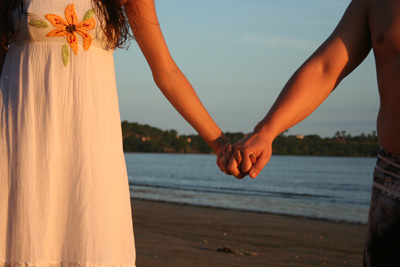 Of all the questions I'm asked, the one subject that gets more attention than anything else is whether or not a man will ever come around and commit.
Will he ever want a committed relationship?
There is just so much fear around this subject.
We're afraid that as soon as we leave, as soon as we decide to let go and move on, he will come around and want that committed relationship, and we will miss the kind of relationship with him we'd been waiting and holding on for so long for.
I remember having this exact feeling; I was just so sure that if I gave up waiting, if I let go of holding on and hanging around waiting for him to finally see the light, it would be at that exact time that he would be ready and I would miss out on everything I'd been waiting for!
First of all, let's set the record straight. If he were to come around and suddenly be ready to commit to you (and that's a huge if) and you had just left him, he would chase you. There's no way a man in love and ready to have a committed relationship with you is going to let you just walk away if he's made that decision, or is very close to making that decision.
He will know how to contact you and he will! Men are wired to be the pursuers; it's in their genetic makeup, and nothing you do or say (or don't do or don't say) can alter that. He is going to find you and track you down if he decides he's going to step up and make the commitment to you that you've been holding out for – it won't matter where in the world you've gone too! He's very resourceful!
But that was a huge "if".
So if you're in the same situation I found myself in many times over my dating career, staying with a guy wondering all along if he's ever going to want the kind of committed relationship that you truly want, here are three signs that make it more likely:
1. He's been in a committed relationship before. Not just a long-term relationship or a live-in relationship that gave the appearance of being a committed relationship; I'm talking here about a fully committed relationship where he was emotionally present from start to finish. This is a slippery one though, because sometimes it is because he was so committed before that he doesn't ever want to be involved like that again. If he was really hurt before, if there was a betrayal of trust, then there is a greater likelihood he will not want to be in another committed relationship.
But still, to know that he was emotionally capable of one in the past, gives some hope that he could eventually be capable of one again, given enough time and trust building to see that it could happen again. How many relationships he's been in is also a factor, because someone who has been in many committed relationships but has never committed fully to any one of them is a warning sign that this person is not capable of moving beyond a certain level of commitment, even though he may think he is because he has been in committed relationships before.
Unless he is willing to dig deeper and discover why he cannot move beyond that point for him, there is usually not much chance that you will magically be the one who prompts him to suddenly change that point of no return.
2. You can talk to him about commitment or the lack of one. If you can talk about this subject with him, there is hope. Most of the time these guys are so emotionally closed, that you intuitively do not even attempt to talk to him about his lack of commitment and you're desire to have a committed relationship. If you're able to be this direct with him, and he responds without changing the subject or giving you the cold shoulder or silence, or simply disappears, this is definitely encouraging.
Healthy, honest communication is the most important cornerstone/basis for a strong relationship and without this type of direction communication on both sides, it is very difficult, if not impossible, to have that deep kind of emotional connection that is the precursor to the kind of committed relationship we're talking about here.
You can have all the attraction or chemistry in the world, but without being able to actually engage each other and be engaged with each other's thoughts and minds, there is nothing deep enough to hold the relationship together, and no basis for that true commitment to grow out of.
3. He has a good relationship with his family, particularly his dad. This one is huge. Back in my single days, when my girlfriends and I were all about dating these emotionally unavailable non-committal types, we found over the years of conducting informal polls, that in every single case our Mr. EU (emotionally unavailable) man could be linked to a poor or non-existent relationship with his family, and in particular, his father.
Time after time, we would compare notes trying desperately to figure out what made these guys tick, and we would come up with the same thing. This guy either wasn't talking to his dad, didn't care to have anything to do with him, or didn't have anything to say about him at all. And the exact opposite was also true; those men who did have a strong, or at least a good relationship with their father were the ones who were emotionally available and wanted a relationship with us!
Which made for a very interesting story when we realized that in when the tables were turned, and we found ourselves in relationships with men who actually wanted that same commitment from us that we were looking for from our other non-committal men, it was we who were the ones who had difficult or strained or non-existent relationships with our own fathers!
Hmmm.
That really got us thinking. Whether it's the example that's set in these all important first relationships where we learn what a real love relationship looks like (whether it's love or not), or whether it's how we feel about ourselves and respond to this first relationship with the father in our lives, it seems there is something to this unique relationship that directly influences the ability of these men to desire a committed relationship, and ironically, the very thing that may be attracting us to these types of men in the first place!
The bottom line here is this: You are not going to change him. You are a beautiful, special, wonderful woman with so much to offer someone worthy of what a gift you truly are, but you are not going to change him. You can try, but it's ultimately got to come from him. There are many things you can do to try to move things along and see if that can bring him around, but he will be the one deciding if he's ready to dig deeper within himself and do the work he needs to do to have a committed relationship with another person. If he's not willing to do that, or just doesn't want to, the best thing for you to do is move on and find a guy that wants the same kind of committed relationship that you do. The most important thing to do is to keep living your life and focusing on you.
Never ever forget that it is only when we refuse to accept anything less than a fully committed relationship that we find that is exactly what we eventually end up with in the end. You are worth so much more than any crumbs you might be holding onto hoping they will turn into a real relationship.
You, my beautiful friend, deserve nothing less than this.