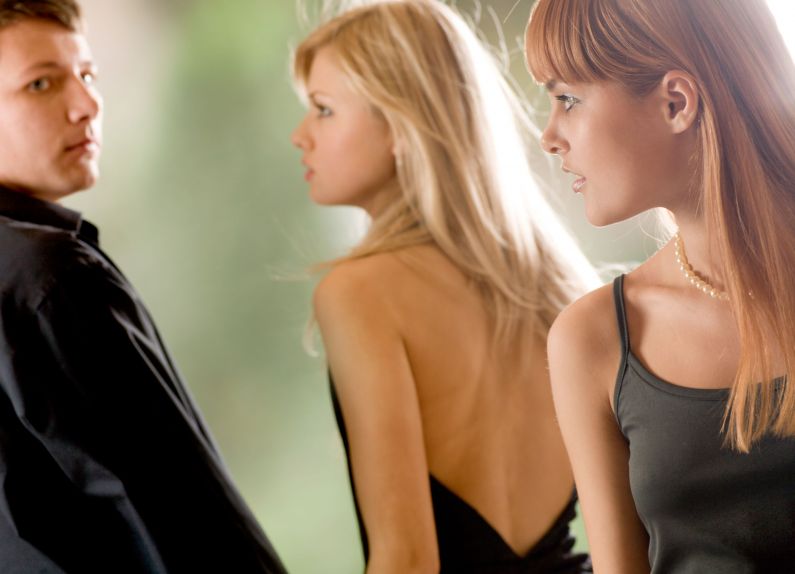 There's nothing quite like seeing the guy who just broke your heart out with someone else.
It doesn't seem to matter how much time has passed; if you haven't moved on and he has, there's nothing that stalls your progress as quickly as that sight. Seeing him with someone else, in that place where you were supposed to be. It makes you experience that heartbreak all over again.
"It was supposed to be me", you think to yourself.
How does it happen? You want to know. Why her – and not me?
I, too, spent far too many hours of my life trying to find the answers to both of those questions. Because, after all, if we know the answer to that, then we feel like we finally have some control over our lives.
After all, we've all heard the all-too familiar story of the rare guy who's been in his fair share of long-term relationships, but never found a reason to commit – until suddenly, we get the news through a friend that he's found the "right" woman for him and his previous aversion to commitment has suddenly gone away.
You wanted this with him. Why couldn't this be happening to you?
Why weren't you enough for him?
These are the questions that play on our minds, giving us one more reason to doubt ourselves and believe yet again, that we're missing whatever it is "she" has that we don't.
"What's wrong with me?" we ask ourselves.
Yes, there's a reason he may commit to someone else instead of you.
The simplest answer? It's because she's not you.
But there's more to it than that. She's not you because she's either got her own commitment issues or she's genuinely not interested in anything more than a very independent kind of relationship where they both lead two different lives.
Whatever reason he may give for why she's got it and you don't if you were to ask him, the only reason is because he has enough space. This is the only reason why it works!
So yes, if you can genuinely give him that kind of space, he might commit. And I say genuine because you can't fake it if you can't live like this, if this isn't how you really want to live. It won't work that way - it has to be real.
But do you really even want to live like that?
Because what you don't see behind the Facebook pictures that show the two of them happily together, is the emotional side of their relationship that isn't there. He's free to do his thing and she's free to do hers, but there's a lack of real intimacy between them that makes him feel safe, and her, too.
They don't have to reveal too much beyond the surface part of who they are. Nothing ever gets too deep, too personal, too beyond the comfort level for both of them because it's not what either of them want.
She doesn't nag. She doesn't ask. She doesn't complain.
He doesn't have to look within.
It works because they're two people on the same page and this type of emotionally bereft relationship works for both of them. They both get their own needs met within their own separate lives so that neither one of them runs the risk of losing themselves in the relationship. For the emotionally unavailable man who doesn't want a real commitment, it's the perfect setup.
Why can't I be like that? It sounds perfect, doesn't it? From where you are, feeling all alone, it makes you wonder why you can't just be that woman. Oh you can be. But if you're not, it won't be sustainable.
Because you're you.
What makes him commit?
A woman who gives him enough space as he needs to be himself and not have to feel pressured into giving more. In a word? Space.
Yes. If he gets lonely enough, if he decides to do the work to do something about it, if he meets someone who has enough of her own life going on that he doesn't have to worry about losing himself in her. If she doesn't need anything more than he's comfortable giving her.
But is this you?
There's a reason these noncommittal types end up falling for someone other than us. It's because we weren't on the same page as they  were – and they knew it. If we're honest with ourselves, we knew it, too. We sensed it, we felt it, it's why we're up all night Googling everything we can on the Internet to try to find some shred of hope to hold onto to give us a reason to believe it's not true. But it was and it is. You can fool yourself, but you can't fool both of you. One of you is going to eventually see it for what it is.
Two people on two different pages. Different needs, different requirements, different fantasies, different types of relationships you're looking for. He's not. You are. But there's nothing wrong with you! Just because he found what he was looking for doesn't negate who you are! It's why you've got to stop fighting what can't be because when you're with the one who is on your page, you're going to see this so clearly for yourself.
You can never be happy for long pretending that you can live with who he is and what he wants if you don't want that life for yourself.
You can never be happy for long trying to go along with the pace he's set for your relationship if you want so much more than that.
You have every right to! But don't put that on him. Take it back on yourself and find a way to get your own needs met outside of him. That's how this begins to change. By you looking to yourself, to your own beautiful life instead of him. Maybe one day you'll be the one he's looking for. But I have a feeling by then, you'll be so completely and utterly off of him, that the only attraction he'll hold is of some old fantasy of what could have been.
Do you see that? More fantasy. Come back to reality, Beautiful.
It's where you belong.
Have you ever been through this kind of heartbreak? Are you going through it right now? You're not alone! Share your story with us in the comments.