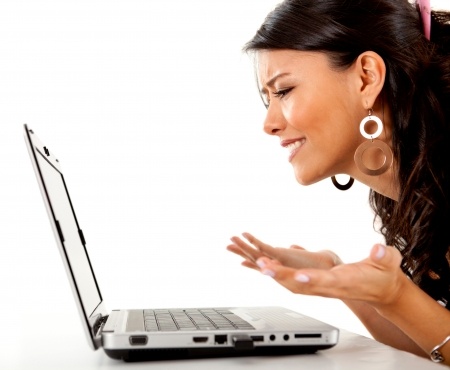 Do this. Do that.
Don't do this. Don't do that.
No wonder you're exhausted and ready to give up, my beautiful friend.
Trying to figure out how to find love is exhausting when you're doing it like this!
But what if he might have called but I accidentally turned my phone off for just a minute and even though the cell phone company said a text or missed call should still be on there, there was still a 0.1 percent chance it wouldn't show up - so should I call him just in case? Or would I sound too desperate if he hadn't called but was planning to call and now do you think he won't call – even though he was going to – because I called him?
My sweet friend, I more than understand what's going on here.
You want him to call.
You want him to like you enough to call you and ask you out again. You want to have made a good enough first impression so that he'll want to get to know you better. You want to have a chance to see where things might lead because he seems to be everything you're looking for. So you don't want to do anything to mess this up. You want to have a second chance to make an even better impression.
So what do you do?
Well, if you're like most of us, you confer with all of your girlfriends and they all collaborate on the answers with you.  Do this, don't do this. More rules.
You check in with your mom – she tells you what she thinks you should do, or shouldn't do.
You check in with your guy friends. Don't do that!
You read through all the advice on the entire internet and find that everyone out there has a different opinion on what you should or shouldn't do. What you should or shouldn't be like.
No wonder you are so sick and tired of being single! This is no way to live!
The reality is that regardless of whose advice you follow or what well-meaning friend or family  member you decide to listen to, what's missing here in all of this is that person you know better than anyone else: you!
And somewhere along the way, she got lost in all of this and hasn't yet found her way back.
Because with everyone else's voices coming through so loud, hers is barely audible anymore. And considering the ways she's seemed to have led you down the wrong road in the past, you're really not sure if you can trust her anymore.
Follow your heart? That's all you've been doing lately and that hasn't worked out.
Let your mind guide you? Yeah, but that only leads you to the guy who looks great on paper but not anywhere else.
Just relax and see what shows up? Yeah, right, and what do you do when Mr. From Another Planet keeps showing up and no one else?
I get it.
Believe me, I do.
Not so very long ago I went through exactly this process, accumulating more than my fair share of good and not so good advice on what exactly to do.
But you know what I found out?  None of it worked.
That's right. None of it.
Because it had to come from me. When I was ready – really ready. The kind of ready when you come to the place that you realize in no uncertain terms that the way you are living isn't any way to live and you're ready to hear the truth.
Yes, that kind of ready.
Because, doing and being what someone else thinks you should do or be isn't sustainable.
You can do all those tricks, try all those things, but if they're not coming from that authentic place of who you really are, nothing's going to work. Nothing. Because you can only play a part – or someone else's part - for so long. At some point the real you is going to come out, and if that's not the woman he fell for than it's not going to work.
So drop the rules, drop the trying to be perfect, drop the trying to be someone you're not.
Whatever you are is beautiful. Because that's who you are.
If you don't like who you are, ask yourself why. We all have things we'd like to change about ourselves, but it's one thing to want to work on becoming a better person in certain areas and a whole other thing to loathe ourselves when all we need to do is change our scenery so we can see ourselves – and all there is to love – in a whole new light.
The kind of scenery that involves removing the influences that bring us down and make us feel like there's something wrong with us, and replacing them with people who love us for who we are and see all the beauty in us even if we can't see it yet.
Do you see the difference?
You, my beautiful friend. This is about you being your true, authentic self.
No tricks, no rules, no agenda. Just you.
Beautiful, confident, radiant you. Nothing else matters.