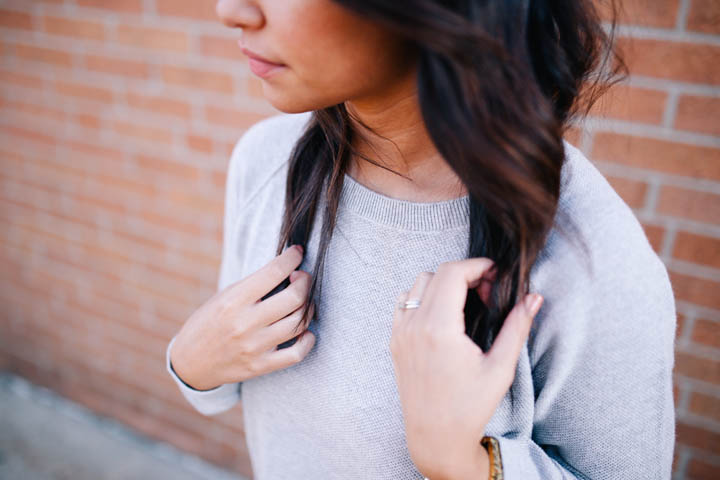 Beautiful Diana decided to ask her long term boyfriend where he sees the relationship going, and the response she got was not at all what she expected.
Here's her story:
I am in my late 50s. I divorced my husband after 20+ years of very verbally abusive marriage. But I never lost the hope of what I will have one day - a nice, stable, loving and very committed relationship what will last forever.
I just do not want to waste my time with relationships that are just "dating".
I work hard on my relationships, I am patient, and I know it takes time for two people to get closer and to be ready to commit. Unfortunately, no matter how good the relationship is, no matter how much he "loves" me, no matter how much he does not want to see me leaving after I had enough of waiting for him to get ready to commit, I am in the situation where I am leaving alreadythe  3rd "boyfriend" just because I do not see any signs of real commitment.
I dated my first (after the divorce) boyfriend for 1+ year.
With the second one I put much more effort in, and stayed for 6 ½ years. He knew very well what I was looking for and hopping for but not only he never delivered, he made me feel guilty I wanted to leave just because of that stupid (his words) commitment.
We never lived together. I had to drive 120 miles to see him, be with him and do things together. I got tired. It was a very time (and money) consuming relationship.
After the very painful breakup I went on Match.com, put very clearly in my profile who I am and what I am looking for and here it is….I met my dream "match".
He was like lost better half of me. We fell in love immediately and became the best friends ever. We became inseparable.
For more than 1 year of "dating" we never had real fight. We did so many things, we visited so many places, we proved to each other we have the same live style, the same goals, the same visions, we see the future the same way.
With that difference, I keep seeing myself  being just a "girlfriend" even there.
We are together, but we do not live together. We live 40 miles away and we travel (week nights he is coming to my place, weekends I will visit him at his place).
He is retired and is much better financially them me. I have to work, and I work 2 jobs every single day. He meets me after work and we spend the whole evening and night together.
So far so good, but I need to take care of my house. I need to do laundry and take care of myself. His house is perfect since he has all day long to work on it.
He helps me a lot; since we met I never mowed my yard by myself. He helps with some other small stuff around the house but still a lot of work I have to do myself just for the few hours after work but I have to pay attention to him too, he cannot wait to see me…I am getting to the point where I am very tired and worried about my future.
I am abandoning my place; I don't even have time for my garden. I started liquidating the inside plants, I have no time to take care of them. My house needs a lot of repairs; I have no time to concentrate on it. I am home just for a few hours and he is with me all the time.
When I go to his place I help him a lot too. I do not mind doing that, this is why we are together…But I stopped seeing the future…I need more clear direction on how he sees "us" in the future, and how "close" this future is.
I know he had a very bad divorce, I know he still has problems with his ex wife, I know he is scared and has his own insecurities…but my clock is ticking…
We met on the dating site, both free and looking. And I was clear from the very beginning what I am looking for. He never said anything against that.
Last night, after we spent the whole long weekend at his place just having fun, we finally came to my messy house and I had to clean and do laundry. I got really frustrated this time and said very nicely what my concerns are about my own future.
I mentioned again the fact that I do not feel comfortable living together that way because of my reputation. I involved myself in the lives of his kids and relatives too much already without having the "title".
His daughter even asked me to be one of her bridesmaid on her wedding next April.
I talked to him about that and told him I do not feel comfortable leaving "memories" on family events and photos without being a real member of the family.
I just do not want them to look at the wedding pictures some years from now and wonder what was the name of that girl my father was dating.
I have involved him with my kids and my relatives too. All of them like him a lot and want to see me finally happily married, and all of them already are asking questions about that.
I do not expect quick decisions from him. I am just thinking that if he is ready to propose, this will give me some direction on what to do. I am not ready to sign marriage papers.
But we could sit and talk about specifics how we can move in together, when, how and where. I just need some security, is that so strange?
I love him a lot. He is the best thing that has happened to me beside my kids. I see myself clearly with him in the future but I am not sure how he sees "us".
Last night I talked openly and clearly. I did not blame him and did not force him to take immediate actions. But I was clear I need to know soon what he wants to do with me.
I told him to see me the same way he sees his daughter or granddaughter and how he worries about their relationships. He was very relieved when his daughter's boyfriend recently proposed, even asking him first for permission. We were all very happy.
Last night he said nothing specific. He trid to blame me a bit for being so insecure and he presumed I am doing "all this" just because I am looking for an excuse to leave him.
This morning he left my place angry and not talking. He did not answer my call late today and just sent me a message he is not coming tonight. I know him very well already and I think he is done with me.
Now I feel guilty I started the conversation last night. I really feel I wasted my time and my feelings again…Is it so bad nowadays to expect your "long term date" to turn in long term commitment? Am I hurrying too much?
How soon is enough long to expect "commitment"?
What I can do with my life while I am "waiting"? I have that feeling that it's not my terrible marriage that killed my hope for real relationship, but these stupid relationships after that.
-Diana
My Response:
No, Diana, it is not "so strange" to want some security, to want to know that this man you're giving up so much of your own life for in order to make it work with him, wants more with you than just to be his girlfriend forever.
I'm concerned about you, Diana. 20+ years in a relationship with a verbally abusive man. And then a 6 ½ year relationship with a man who you felt guilty just for wanting a commitment from him, who you were driving 120 miles just to spend time with him. Now you have a man who gets angry with you for bringing up the subject of commitment with him. You feel like you are "just a girlfriend".
There's a pattern woven into all these relationships you're describing here, of you having to acquiesce to their terms in order to make this work for them.
What if you drew your own boundaries around your own terms? What if keeping a garden – and having time to tend to it - is one of the pleasures you find in your own life? What if not being at a man's beck and call is what you really need?
If you're not already exhausted with living like this, Diana, I can't imagine you not becoming so in the very near future.
What you're describing is exhausting. He's retired. You're working two jobs. You obviously also take some pleasure in keeping up your own house, in having your own place. And yet your non-working hours seem to be all taken up with him.
My question for you, Diana, is how much of that is truly your choice? Or how much is it because you're afraid of losing him, afraid that rocking the boat by inserting some of your own very real needs and desires into this relationship is going to lead to him ultimately saying he's done with you?
There's so much imbalance here that I can see from reading this, and I'm concerned it's because you've given all your power away to him.
What I want you to clear on, is what you're choosing here.
If being with him and getting whatever of the good things you get from him is worth what you're not getting from him in return – like the security of knowing where you stand, not because you have to ask, but because he shows you and tells you with his actions – then you understand what you're choosing.
The fact that you've mentioned guilt a couple of times, the fact that you have a tendency to feel guilty at the mere mention of the subject of commitment, gives me reason to believe that you may be attracting a type of man who is prone to exploiting this in you.
As in a man who lives his life on his terms, and you and anyone else who might want to be a part of that needs to accept him on his terms, not ask for anything more than what he's showing you he's capable of giving you, and be grateful that he's chosen you at all!
I'm just not sensing any semblance of your own power here, Diana.
And I'm struggling to put together the softness of a woman who loves her plants (that she can't find the time to water anymore), who, in a different time and place, chose to take the time and energy to cultivate and tend to a garden she loved, with a man who seems to care little about that side of her.
No, you're not asking for too much.
No you're not hurrying too much.
Not for someone who understands you and where you're coming from and respects and honors you as much as you do him.
If you can't talk to him about something that means so much to you – a real, true, commitment – without fear of him pulling away or disappearing, you've got more to be concerned about than commitment, Diana.
That's what I'm sensing here. I hope I'm wrong, but I have a feeling I'm not.
Focus on you, focus on what you need, focus on what you deserve. Don't wait for him.
Go back to your garden. Make time for you, for your plans, for the things that matter to you. Then and only then are you going to be able to see him with clear eyes so you can decide if he's really worth it to you!
I hope this helps.
Love,
Jane
How about you, gorgeous? Do you have any words of advice or encouragement for beautiful Diana? Share them with us below in the comments!