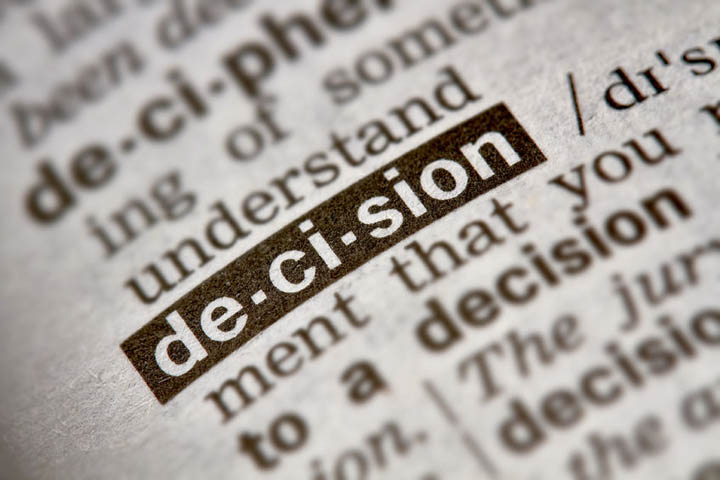 Before he can commit to you, he needs you to commit to this …
This.
Just this one thing is going to make all the difference in the world between whether or not he gives you the one thing you're looking for.
A decision.
Your decision.
It's a place where all your power becomes real.
If we take out all his potential, if we remove any and all traces of our programming that says we're somehow supposed to be enough to change him in any way, if we take all the information we've been given so far about who he is and how he behaves, we've got some questions to answer before we can settle this once and for all.
Can I accept this person he's showing himself to be by his words and his actions?
Can I accept how he treats me?
Can I accept how he priorities me?
Because if you can commit to this – to a decision to accept who he actually is right now and not the person down the road who you think he might have the capacity to become – then we've got something to work with.
Committing to this decision that you've made means you can accept him.
And when you accept him, you can see the little boy inside him as well as the man he's showing you on the outside. Most men have been cultured to be strong in the ways our culture knows strength. Not to cry, but to stuff their feelings. Not to show they care, but to pretend they don't.
Even when they do. Especially when they do.
He's as caught up in the role he's supposed to play as you are with the role you're supposed to be playing. Only we don't realize we're role-playing. That underneath our roles that keep us on the surface, is a desire in both of you to go deeper.
But we've never been told how to and we're too used to pretending we don't need to.
Now here comes the part we almost miss.
As long as he keeps playing right along with his role, you can keep playing yours. Around and around you both go. This is why we wait. This is why we stay. This is why he goes away only to return and then we go around and around with him some more.
He can't change for you. If he does, if he could, it would mean you had all the control.
Remember, he can't stand to be controlled by you. That's way too familiar to him. Loved by you, yes, but not controlled by you. And no matter how much you try to change him by only loving him more, he sees right through it straight to anything that even hints as control, simply because it is so familiar to him.
There's a reason he met you. There's always a reason our paths cross with someone. For both of you.
You're his inspiration that there's still hope for a little thing called love that he's not so sure exits anymore, as much as he's scared deep down  of how he feels when he's with you. You call him to something more than he's ever experienced before. You show him a kind of love that's deeper than he's ever gone before. And as for you? Well, you know all too well what he does for you.
But what does a little boy do when he's scared?
He runs. Or he tries to run and if that doesn't work he gets mean. He doesn't use "I" statements and say "I'm scared". Instead, he holds back, pulls away, creates some space to get back to his comfort zone. Or turns it on us if he can't.
You have to know this. You need to know this.
And then you need to decide if you're ready to commit to it, too.
Because when you say you're willing to do whatever it takes to keep him, to have him in your life, it means you're willing to accept him – all of him, including who he is right now as well as what you hope he might become tomorrow.
That's not settling. That's you owning your right to choose. That's you standing in your power, recognizing that you're the one doing the choosing.
Yes, even here, Beautiful. Especially here. That's you. Beautiful, Confident, Radiant You.
Can you? It's so easy to say, but to live it is something else. Just watch what happens when you make the commitment you think it's up to him to make. Just watch, Beautiful. Our shifts happen in all kinds of ways, including this one.
Let me know below in the comments what it shifts for you!