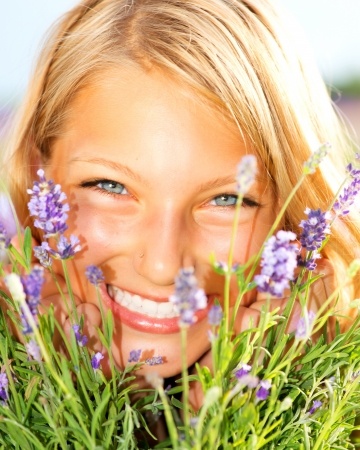 As much as we talk about dating, and committing, and knowing how to tell if someone is right for you or not, there is one thing that underlies so many of all those conversations.
It's about passion. It's about love. And most of all, it's about you.
It's about what's behind the creating of a life for yourself that gives you a reason to call this living your life. It's about what's behind what gives you something to get up and get going for every single morning instead of leaving you feeling like pulling the covers over your head and diving back under the covers until something – anything - gets better.
It's the difference between seeing the glass half-empty, or the reality that it's just as much half-full. It's what gives you the strength to carry on – because you know you're worth it – instead of giving into that relentless little voice that says you're not.
You see, the missing piece for so many of us is having a real life for ourselves that gives us something to live for when it matters most.
We're the only ones who can change this for ourselves. We have to want to enough to do something about it. We have to choose to live, to refuse to be a victim, to refuse to blame anyone else, to refuse to accept the path we've previously chosen as the only way to live.
I understand why so many of us don't get this.
I understand how scary it can be to even think of rocking the boat by behaving in a different way than others have come to expect from us. So much of our lives revolve around what other people think. It's so ingrained in us from such an early age.
The problem is that if our lives are all about pleasing others, about doing everything for everyone else until there is nothing left to give to ourselves, we don't have a whole lot of time or energy for creating this life that I'm talking about here.
When we're more about giving the answers everyone expects from us. When we're more about performing in just the way those around us have come to expect from us. When we're the first to apologize, to take the blame for something that isn't ours, to keep everything harmonious on the surface, and defer to everyone else because it seems so much easier this way.
It can be a difficult habit to break
But one can only take care of everyone else's needs and neglect their own for so long. And one can only put on a performance and hide their own true self for so long. Before eventually the resentment builds and the anger comes, and either becomes blame and anger at everyone else, or the worst kind of anger – the anger we inflict on ourselves.
Most of us choose the more socially acceptable route – the one we label as "depression" and we come to accept this as just the way we are. We rarely talk about it, for keeping up appearances that all is well is one of those things we learn along the way.
But living like this is no way for any of us to live. And whenever I hear of someone who's stuck in a place like this, calling this their life and not seeing that it's anything but a life, I'm left with a gnawing sense of emptiness for what isn't said and isn't done and isn't being lived. And I'm envisioning such a different life that could be lived in its place.
Because it's not about having the package that we all so want. Everything doesn't suddenly change wthin us if we're not happy to begin with. We don't suddenly inherit a life worth living when we find ourselves with Mr. Right and 1.5 kids and a dog and a white picket fence around the yard.
These things can all bring much happiness and joy to our lives, but if we don't know who we are and what we're passionate about in our own lives, that feeling of being fulfilled is only temporary at best.
We miss the whole point of this life
If it's all about the day to day routine where we go about our lives forgetting to feed our own passions and create within us a love of life for the things that matter to us, we set ourselves up for a life that depends on other people and other things to fill us up rather than looking to ourselves as well.
Yes, it's a whole package, but WE need to be a part of it, too.
It's not surprising just how easy it is to live this life – our lives – without any real passion, any real depth other than the surface routines of what we can call our lives. Isn't that what most of us are used to?
And between all the daily demands that life requires us, most of us have a hard time finding the time to even think about the type of life we want for ourselves, let alone finding the time to put our thoughts into action.
Are you enthusiastic about life and excited about the things that you get to do?
Do you feel like your life has a purpose, and that you're fulfilling that purpose?
Do you have something that gets you up in the morning and keeps you carrying on regardless of the inevitable setbacks that occur along the way?
Do you do something every day that makes you feel absolutely amazing?
Do you know where your own passions lie?
If you don't, there's never going to be a better time to find them.
Who are you really?
It's time to get to know the real you.
Give yourself permission to do the things you never thought you could do (or they told you that you couldn't do). Find that little girl inside you so full of life and hope and give her a chance to show you what she can do.
I recently came across an article that made a case for who we were in 2nd or 3rd Grade providing the catalyst for where our passions lie. What did you most like to do when you were that age? There's something there to explore to discover what that is today.
It's all too easy to sit back and wait to be rescued from the life you're living that you don't really want.
But if all that you're doing is filling time until something better comes along to provide another diversion from yourself, than you're missing the whole point of living.
It's all under your control
It doesn't begin when someone or something comes along to give you a reason to live. It begins right now with you. You're here right where you are for a reason and there's so much living and discovering to be done right where you are now.
I wrote a post a while back about bringing passion into your life, and it's really one of the most critical things that you can do to truly have the kind of love that you want in your life. I also provide even more great tools and resources to discover your passions in my program Beautiful, Confident, Radiant YOU! We all tend to think that once we find the love of our lives, then we'll really love our lives - but it's actually the opposite! It begins with loving your life first - and the best part is that it's completely under your control!
It's the difference between living and existing, and it's the only way to live your life. You have every bit of control over the life you choose to create for yourself and call your own. It's not about what anyone else thinks about it; it's about what you think. In the end, you're the only one you answer to.
It's not in the waiting, the searching, and the hunting for love; it's in the living and loving of the life you already have, right in front of you.
Go. Be passionate!
What are you passionate about? What is it that makes you simply come alive while doing it (even if you don't get much of a chance to)? Share it with us in the comments!