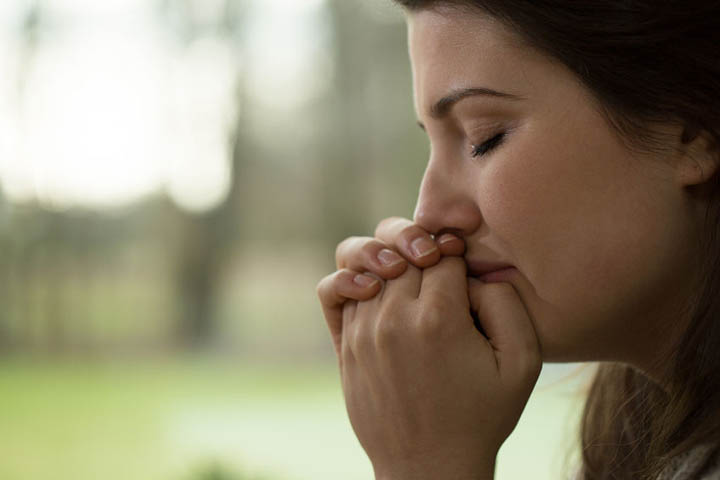 Our letter this week comes from beautiful Mansi, who just had a whirlwind relationship with a man who suddenly decided he wasn't ready for a commitment.
Here's her story:
Hi Jane.
Finally I'm writing you as it's getting heavier and I need advice.
It's been 7 months of break up with him and I'm unable to get over it. It's not my first break up of relationship though but you know it always hurts.
I'm in my 30's and he is 24 yes, different country and culture. Things started at work place where he recently took over as manager, where as I was being transferred to his branch as a supporting manager.
I liked him the day I saw him, but I told I myself "don't ever think it's not gonna happen, he is too young for you and you are not his type."
But after some weeks, he started seeing much more interest in me. I practice spiritual meditation, he started from there asking me how he also can learn the things and stay happy and stress free.
Also he mentioned that he has "hernia" and sometimes he feels so much pain. As I mentioned, inside me I was also falling for him so I asked him he is okay if I send him some healing energy? He was excited about it said yes and it started. He was happy and our chats on phone were getting longer on my or his day off.
Finally one day I took him for one meditation event thinking that if he will learn this he can cure himself. Well that night he texted me saying "he can't wait to have another wonderful day out with me." And then one day we went on date where we spent whole night with each other.
Physical affection from both sides then took over which lead to both of us moving together. As he was looking forward to stay around somewhere near our work place.
All this happened in only 3 months.
We moved in and soon after 2 and half month he started feeling that it was too quick to move in. Obviously he was missing his life which he was living before I guess. But the time which he chose to move out was the time when I needed him most. As I mentioned we both belongs to different countries, this was the time when I was dealing with some tough situation of visa renewals.
All I needed from him was moral support. He felt he is becoming my emotional ladder. He said "I love you but I don't want you to love that much. You deserve someone better than me. You are such a nice person. And I should move out because I don't want you to be hurt."
Well then he took a 1 week break, went to his parents and came back. But deep inside me I can see things were changed. At work we were normal as only few people knew about our personal stuff.
But what can be more painful when the person lying next to you shows you his back and get busy on his Facebook? Two days later he said his dad is picking him up tomorrow and he us moving out. He went, two weeks later he resigned from the work too.
2 months after he left me he texted asking how I am? As I was still hoping that things can be normal I replied him nicely.
Last month he invited me to come over to his new place telling me how much he wants to see me. And silly me I went there.
What now makes me more heartbroken is he didn't even bother to text me or call me after. In his words "let's start dating again in slow way at the same time he wants to see me every week (which is impossible for both of us he also knows that a fact).
And now I just have some work colleagues showing me his new year party invitations for them. Yes he is throwing house party, where other people are invited but not me.
P.S  I remember him once saying "you are my personal life and my friends is other life, I don't what to mix it."
However he took me to his parents when we were together.
We were planning to get married at some point, having some business together, and what not.
Jane, I never stopped him to do the things which he likes. Am I guilty of loving too much? Right now I'm feeling miserable. My friends who care for me says move on he doesn't need you. He says he does miss me and being together but then not ready for any responsibility.
And I, still love him. I don't think I'm that bad who can not even desire for love. I'm feeling so hurt, getting depressed each day more then anything. I still live in the house where we moved in together. That rejection of not even connecting on social media, where you can see him online, liking other people's pic and post but not yours!
Sorry if I'm writing too much. There is lot more which I can't express. Please if you can help me. Please.
Love,
Mansi
My Response:
I'm so glad you reached out, Mansi. Because there's a reason it gets heavier.
When it's light, it's easy. We don't have to do anything different. We can live in the pretend land thinking that everything's OK. But when it gets heavy, we notice. We see what we couldn't otherwise see.
We do something to move in a different direction. We reach out.  And that's how we get to the good stuff!
I know it hurts. Whether it's our first or our worst or our last, yes it always hurts.
"He is too young for you and you are not his type." Oh Mansi, I wish we would do more than hear ourselves speak these words. I wish we would actually listen to them and trust ourselves. We always know so much more than we give ourselves credit for. Especially we feelers who feel everything. We do the opposite of what we need to do for ourselves.
You gave this guy so much! Healing energy, no less. He had it so good!
But here are the words that really revealed who he is and what he's capable of: "You deserve someone better than me because you are such a nice person."
No matter how someone says this, Mansi, this isn't the cue that we always take it to be, to just love this poor, wounded soul that much more to show him that we actually deserve him. That's not why he says it.
He says it to alleviate his own guilt, to absolve him of any responsibility for you, to release himself from feeling bad when he breaks your heart. This is when we have to back off to save our beautiful hearts from hurting anymore than they're already going to.
This needs to be our reality check. He's a feeler, too. He feels this. He knows this is the truth.
"I don't want to mix it." Two separate lives, friends and you. How lonely a place to be compartmentalized like this!
Mansi, of course you still love him. We love like we do. We have hearts like ours. We can never just stop loving someone.
No, you didn't stop him from doing the things he likes. And you're not guilty of loving him too much or being too foolish or anything else. You love like you do because of who you are. And who you are, Mansi, is a beautiful woman who set her sights on someone who wasn't capable of loving you the way you both knew you deserve to be loved.
You've got a lot of blame in here, Mansi. I want you to change that to LOVE. Love for yourself.
We NEVER want to see the truth even when it's right in front of us if there's a chance of our being enough to change it. We NEVER want it to be a given that it has to be a certain way if there's a chance that is might be different with us. We NEVER want to believe him when he says we don't deserve him or we should move on to someone else, or we should let him go.
We want to believe in what could be, in what should be, in what just might be if we give him time to come around. Because of who we are.
I want you to take this beautiful woman you are, Mansi, and I want you to free yourself. You can never, EVER love too much someone who is ready for your love, who is capable of loving like that. We don't want to believe that someone can't be, or that we might have come as far as we have with someone only to have to leave him behind. But when it hurts us, when it feel like it does, it's time.
I want you to choose you over him, Mansi. That's going to be hard right now, but it's going to help so much. I want you to look at who you are. At your beautiful heart. I want you to write down everything you're blaming yourself for right now. And everything that you think you could have or should have done differently.
We're always the ones who hold the release control. We forget this, but we do. It ends this way not because of you or something you could do differently, but because of him. Sure, you could have taken it slow, but if he wasn't taking it slow, too, you can't be the only one. Relationships take two.
We have this idea that our love – the love of one person – can be enough. But it can't be. Not in reality.
The most powerful method I know of getting through this kind of heartbreak is through journaling. I have letters I've come across that I wrote and didn't send to every one of the ones I tried getting over. Right down everything you want to say.
We have to have somewhere to go with our words, our feelings, our deepest thoughts on all this. When we can get it out, it has a place to go and then in our own time, we let go. We release ourselves, we become free.
We choose to be free.
I hope this helps.
Love,
Jane
What do you think? Do you have any other thoughts, words of advice or encouragement for beautiful Mansi? Please share them with her below in the comments!