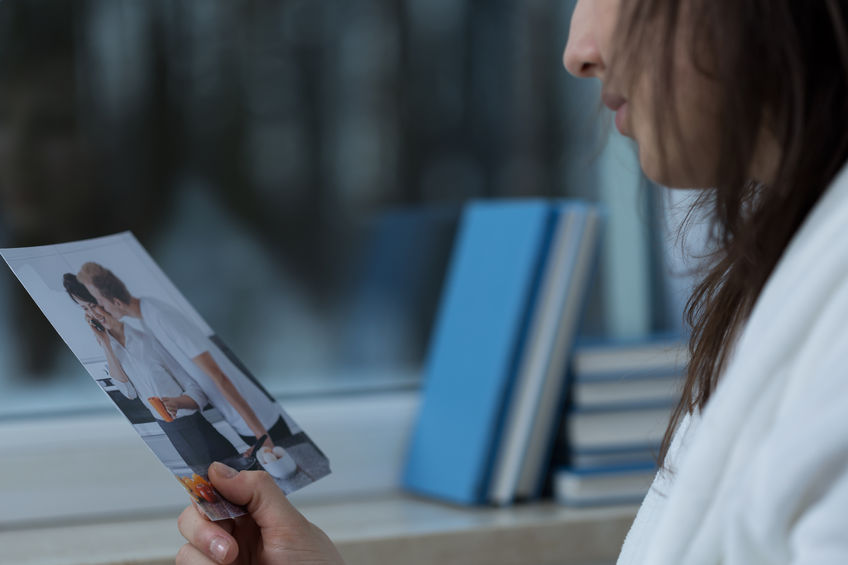 Regret. It's something we've all experienced. It's something our beautiful reader, Yvonne is going through right now as she struggles to find a way to move on from a heartbreak unlike any she's ever experienced before. All she wants is to be free.
Here's her story:
After three tumultuous months of dating someone (the first month of which was amazing, because now I see he was luring me in like a predator) I gave him my virginity.
I was 23 and had intentionally waited for someone who I clicked with and who I felt respected and cherished me. I loved him, so I decided it was a good time. He said if I wasn't ready, we didn't have to, and a big part of me wishes I had taken that "out" he gave me (and also listened to myself; NO I was actually NOT ready.)
Having sex with him scared me.
I didn't know how to handle the new emotions that came with it, so I told him I didn't want to anymore, for awhile, because I just didn't think I was ready....
He did not handle it well.
Looking back, I think he was hurt, emotionally. Maybe he felt rejected. Five days after we had sex, on the night of my college graduation, he went to a party without me, and cheated on me. I learned of this two weeks later from my room mate.
When I learned of this, I had already come back to my hometown, so he and I were long distance.
When I called him and confronted him, he denied it. We talked four times that weekend, he denied it every time, and there was genuine fear in his voice when I insinuated needing a break so I could figure out my thoughts.
I decided to believe him in that he did not cheat on me, but then it still felt wrong so I asked some other acquaintances who confirmed that it was, in fact, true.
I was hysterical.
I was tired of talking to him, when all he was doing was lying to me. (Oh, and other truths came out at this time, such as he had a DUI that he never told me about, and that his "number" was 118 which is so upsettingly disgusting that I still can't even digest it...)
All I wanted was it to be over, so I did something I never imagined I would do, and I broke up with my boyfriend via text.
The text message was brief and said something like, "We are over forever. You are a liar and I have never been so disappointed in someone in my life. Because above all, we were friends." And guess what?
He never, ever responded. And I have not heard from him, heard about him, seen him, or seen pictures of him, in 8 months.
I do want to admit that the consequences of my break up ultimately left me in a good place. I am now pursuing a Masters degree and living with my family, which has been nice. Many other gifts have come as a result of that break up.
So, I am happy it happened (all of it, even the painful bits, even losing my virginity to him) because it brought me to where I am today... and yet, I can't let go of him so I can be free, and I don't know how to forgive someone who probably doesn't care if he's forgiven...
While I can admit the good parts, I still cry about him.
I know boys have hurt me before and I thought at the time, 'oh I don't know how I'll get over this one!' and yet I always have been able to move on; some have even taken years to "get over."
But this one is different... he was my FRIEND.
He really was, and I know with certainty I was his friend too. But he betrayed me in every way he could. I felt tricked.
No one wants to feel like they meant NOTHING to another person. Was I just another girl to conquer for him? I can't accept that. I can't.
But he has not said he's sorry and I just do not know what to do to move forward. Under no circumstances will I reach out to him. I am absolutely not ready for that. If or when I ever do, it will be at a point when I know I will not be hurt if he gives me an unfavorable response.
On one hand, I never want to encounter or speak to him again, on the other, I want closure.
Jane, how can I LET HIM GO FOREVER FROM MY HEART without getting the closure I crave or the satisfaction of him apologizing?
It's so easy for people to say "you deserve better."
Of course I do! I KNOW this!
But it's because it was HIM. HE was special to me. It's not about finding someone new, which I know will happen one day, and it's not about realizing he's possibly sociopathic.
What I'm struggling with is just getting over my ego I suppose - that THIS horrendous situation happened to ME. HE did this to ME. He broke my heart, and I never thought I'd be saying that about someone.
And I can't "chalk it up to experience" and call it a win on my part, no matter how badly I want to.
Bittersweet,
Yvonne
My Response:
Dear Yvonne,
I'm so glad you reached out. You're onto something here. Forgiveness. Yes, this is the key to letting go, to moving on, to finally becoming free. But it's not about forgiving him. It's about forgiving someone else.
You.
The closure you crave and the apology you're not getting from him leave you holding the key to your own happiness and freedom, even though it doesn't feel that way. Of course you want him to apologize. Of course you want him to answer all your why's. But what you really want is to go back in time, to do things differently, to make different choices, to get the you back that was before him. That's what this is really about.
And yet because all the well-meaning supporters in our lives always tell us to be glad we dodged a bullet, to be grateful for the lesson, to know that we deserved so much more than what he was, we're left with nowhere to go with how we really feel and what we really need to move on and get over this.
We need to sit with ourselves. We need to let those tears fall. We need to feel every bit of our hurt and pain and loss. We need to let it all out, feel everything in our broken hearts, let every emotion come up without rationalizing them away. Some things can't be healed with our heads. Some hurts can't be mended with logic. Some things run so deep and are felt so deeply within our hearts and souls that we need to let our answers come from those same places deep within our very beings instead of somewhere outside of ourselves.
We need to write it out, dance it out, draw it out, play it out, sing it out, until we've cleared out every last thing to do with him and we're finally ready to focus on the one place we haven't looked for our liberation.
Within.
It starts with you, Yvonne. You gave your virginity to this man. There's no easy way to trivialize that. There's no way to neatly package that into a gratefulness saying. He cheated on you. How can that not hurt? How can we not take that so personally?
What you're dealing with is real. Real feelings. Real emotions. Real life. They can't be compartmentalized into a nice neat package that says everything's ok, I learned so that's all that matters, it was worth it for me to see, or I now know what I deserve and what I don't.
Yes, you'll come to some version of that on your own one far off day from where you are right now.
But right now, there is no happiness cliché that ties this all together for you to lessen the heartbreak or get him out of your head. There is only feeling your way through. Crying your way through. Forgiving yourself all your way through.
You did the best you could with what you knew at the time, Yvonne. We all do. We all feel the pain in your words of the regret that's bearing so heavily on your beautiful innocent heart and soul. We all feel the depth of your hurt, of your loss of your dignity and self-respect and everything thing else we would feel if we had walked in your shoes. And how many of us have in our own way.
No, he didn't deserve you. He wasn't capable of being the man he led you to believe he could be. But this isn't about him really. It's about you. You're the only one who can set yourself free. You're the only one who can shake off this man and what he's left you with. You're the only one who can give you give you back yourself.
But, in the end,  you're the only one who needs to.
And he only has himself to live with.
Be free, Yvonne!
Love,
Jane
What do you think? Do you have any supportive words or advice for Yvonne? Share them with her in the comments.