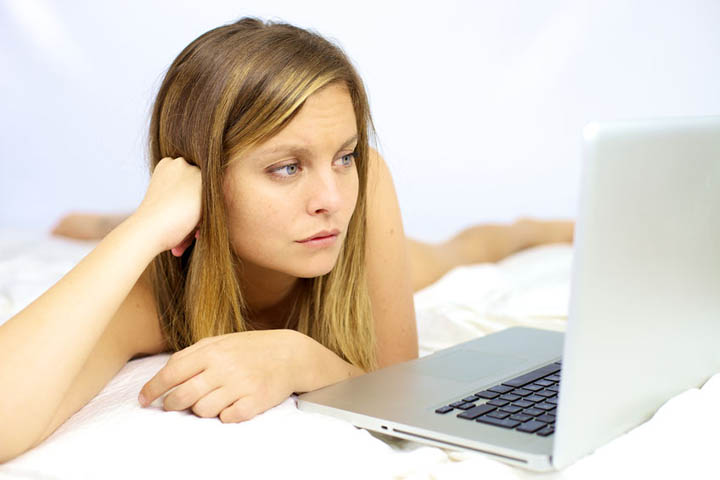 It's always so difficult to move on after a serious heartbreak, even when we know it's the best thing for us to do. Our letter this week comes from our beautiful friend Paulina, whose boyfriend suddenly left her and her son after she asked him about making a commitment.
Here's her story:
Hi Jane ,
I broke up with my boyfriend of over three and a half years about 7 months ago and I just can't seem to move on.
He basically was literally part time living with me and my 12 year old son who he bonded with over the years and we were both incredibly hurt when he left.
We broke up because I kept asking when we were going to move the relationship on and he kept avoiding my questions even though he was living with me and my son for 5 days a week. We had a heart to heart the day after Valentines day and I told him to leave and think about what he wants.
It was an extremely rough time for me as I had issues with my rent increasing and I had just started a new job and wanted him to support me but he left that night and I barely had any contact from him for a whole week which broke my heart.
After the week we decided we needed to talk so he drove over to mine he had left some things at mine and I instantly knew he was keen to collect them. He was so cold a totally different man and told me he couldn't do this anymore and he didn't want this life. He explained that he was better on his own and he would always love me but he was to selfish for a relationship.
This killed me as I still loved him but I didn't have a choice but to let him go which I did. I deleted him from Facebook and blocked his number and did everything you should do.
However, stupidly one of my friends mentioned he was tagged in a picture with a girl only a month after we split and now I have found out he is in a new relationship with this woman who he claimed was just a friend and he had known her for years? Ironically she is a single mother too!!!
This obviously hurt me and I feel betrayed and used by this man who claimed that I was his love of his life?
Can you give me some advice to help me move on.
Thanks
Paulina
My Response:
Dear Paulina,
Oh how I hear you. There is something so painful about discovering someone who couldn't give you the committed relationship you were looking for, in that committed relationship with someone else. It tears at whatever self-esteem we had left after the initial breakup, and brings back the heartbreak all over again.
Of course you feel hurt, betrayed, and used by "this man who claimed that I was his love of his life." He promised so much, he said so much, and then the change, the coldness, the real him exposed.
But what he showed you was more of who he actually was all along. As hard as it is to see that instead of all the potential you saw, and the attachment you felt with him and between him and your son, who he revealed himself to be in the end was as much who he was (and is) in reality as the side he showed you throughout all the good times you shared.
He may have been living with you, but if you look back, wasn't it always on his terms? There was a reason why you were the one who kept asking when you were going to move the relationship on. And there was a reason he kept avoiding your questions.
You didn't break up because you kept asking. You broke up because he had already given you his answer. You knew. You don't need to ask with someone who's clearly on your page and looking for the same type of committed relationship as you.
Write him a letter, Paulina. I have found there is something so powerful about pouring out your heart into a letter you don't send, something you do only for you.
When I look back over my most difficult breakups, and especially the one where he went on to be with someone who he used to call "only a friend", it's the letters I found where I poured out every emotion I felt and put down every word I wanted to say, that helped me the most to move on.
When you've gotten all the words out that you want to say to him if he were right there in front of you, you'll find that what you have left is the most beautiful raw part of you. If you can't feel that yet, keep writing. There's more to come out.
Because when you're really done, you'll be at the crux of your truth. It's there you'll find your deep-seated beliefs that you didn't even know you held. You'll find everything you've been conditioned to believe about love, and justice, and truth.
And in that same realization, you'll find your world turned upside down with what is actually your truth.
Don't be afraid of this part.
This is the part that lets a real kind of love in. It's the only kind you want. And it's worth this part, yes, even this part that feels so awful, because you're worth this part!
There's something so beautiful going to come out of all this. We go through what we so don't want to only because it's the only way to get through!
Yes, it hurts.
Yes, you thought you've already been through enough, but until we're able to let go of what we don't even realize we're holding on so tightly to, we can't move forward, we can't move on.
Release yourself by forgiving yourself. You're human. And so is he. Let him live his own life. He doesn't belong to you; he doesn't belong to her. He only belongs to himself. This didn't happen to you. It happened because there's something real for you instead. And this wasn't it.
This is your time for self-care.
Be so gentle and loving with yourself! Map out a plan of one little thing every day you're going to do for yourself to feel special. Get a new look, a new wardrobe, or treat yourself to something you wouldn't ordinarily indulge in. It doesn't have to be anything more than some small thing, but let it be about you and your needs for a change, instead of about everyone else.
And write, write, write. Every time you have something you need to say to him, every time you feel the emotion bubbling up inside you, express it; get it all down. Preferably with pen and paper.
I don't know you well enough to map out a specific plan for you, but I do know that for you to know you had to keep asking him "when", that shows just what a beautiful, sensitive, intuitive heart you have within you.
Create a life for yourself that reflects this. This is the beautiful soul you are! Surround yourself with people who support and nourish that part of you, not the ones you have to chase after.
And especially, don't give that away to just anyone. Go get it back from him.
That's gold, Paulina. You only want the ones who can see that, too.
Love,
Jane