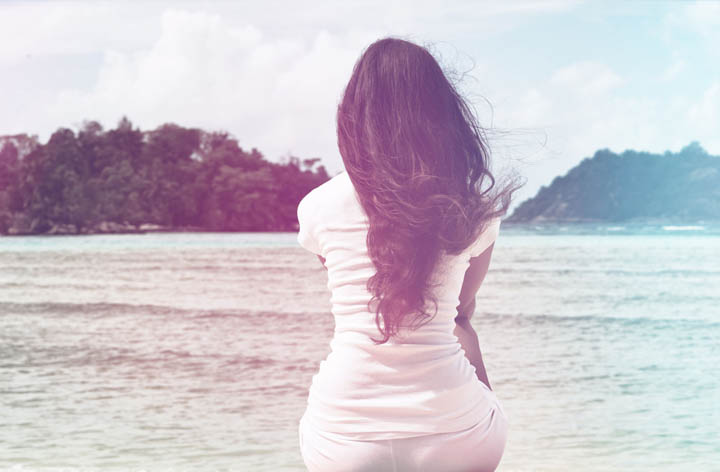 One of our beautiful readers, who has chosen to call herself "Always Baby", or "AB" for short, has been in a long term on-and-off relationship with a guy who just can't seem to truly commit.
Here's her email:
I am 40. I met my boyfriend when I was 36.
We were together for a few years, split for 12 months, and got back together. We have now been back together for over a year.
My boyfriend told me on the first date he would never fall in love again, he would never marry again, and that was that. Maya Angelou says when people tell you who they are the first time, listen.
I should have.
Our chemistry was amazing..the date was planned around my loves (a play, dinner at the most romantic place)...the banter between us, sexual tension, instant connection--it was all there.
So I dated him.
The process of our relationship -- dating, to committed in regards to being his girlfriend took almost 7 months...and slowly, it hasn't grown much. We broke up when he took Chantix to quit smoking. It had horrible side effects on him including a withdrawal from life, passion, intimacy, his child who he has primary custody of, his personality -- he just became a depressed, dark man. I tried to stay with him. He eventually cut me out.
I thought about him every single day for that year that followed.
We ran into each other a few times. He looked drained. Sick. 10 years older.
I was taking care of myself -- kick boxing classes, dancing with friends on Saturday nights, etc...but I still loved him. I dated a bit but nothing serious or remotely close to what I had with him. I would think I will go on this date and feel better. I would leave nearly in tears and frustrated with how much I missed him.
I am normally the girl who takes very little crap. When I walk, I walk. I have expectations of the men I am romantic with...but with this guy, I have never had that stand.
It has taken me years to get to where I am with him today.
He still hasn't said he loves me. He has admitted that he does...and he will work on saying it...but after four and a half years, he still doesn't say it. He was married for over a decade, and with one woman the majority of his younger years -- then he had a rebound for six months and then seven months later, he met me.
He is very traditional (still opens my car door even at gas stations),  very good old boy southern manners, an amazing primary care giver to a daughter, a hard dedicated worker at his job, etc)...he is a good man, but he certainly hasn't let me in.
He is quiet. I am not.
I have recently learned to be quiet long enough and he will talk. We went away to a cabin for a get away together and he told me some family secrets -- I get more than I am sure anyone has ever gotten with him but it is not enough.
The trip above was rare. It was the first time in years he spent more than an entire day with me. He has his daughter six nights a week and he is overly protective.
He blames himself for the marriage going south, leading his ex to stray, and therefore carries guilt about his daughter's split home...I have seen this guilt go from tears in his eyes when mentioned to dealing with it more effectively -- but nonetheless he is so protective over her that he won't blend families.
He also works -- a lot.
He puts work and her (as he should) before me every single time. After four and a half years some of our date nights are him coming in late from travel ball in a different state, and talking for a few hours before crashing for him to leave at 6 for work the next morning. (He works seven days a week)....
He has very little time for me and at the cabin we discussed this. He said he needed me. (Big sh** for him to admit), that he planned to marry me  and wanted to keep me, and he would blend our families soon.
Although some of those statements are BIG for him, and he is a man of few words who always says it when he means it, and only when he means it, and one who takes commitment seriously in an age where many people no longer do -- it still translates into weird boundaries (which he does admit to the past year or so), as well as an emotionally unavailable partner...
I recently bought a book on this topic -- a self help him and her book and asked him to highlight areas we could talk about and I would read it too. He did agree. And works on it with me but not with the dedication he could.
I am always his Thursday/Saturday date. He would never stray or cheat however he is fairly absent in my life. I am lonely with him. . .
I know he takes me for granted. I am always here...he gets a loyal, committed, loving, faithful girlfriend who he puts little energy and time into.  I am always the last priority of the three...as I told him, I am never in your front seat....I am in the trunk.
I would like to stay in this relationship..everything else is magical. But without this element we really don't have a relationship, do we? : (  I do know I need to make some changes...and allow him to chase me. I need to be busy on myself right now...and stop campaigning my value and worth to him.
My friends say he's a great guy blah blah but until I walk, he won't every truly show up.
I have seen his growth..ability to express emotions, etc. but he still isn't present fully.
So frustrating.  So hurtful. So stunted.
AB
My Response:
Dear AB,
I'm glad you're here.
You've come to the right place. It's the one safe place you can know your pain will be understood. Your frustration will be felt. Your sadness at this situation that shows oh so much potential but in reality, only leaves you lonely with him will be shared.
You're not alone here. Even as you're alone with him.
No, he isn't really yours. And as much as you've seen his growth, you know he's still miles away from where you are – and where you want to go.
Because, as you say, without this element, no matter how magical everything else may be, what do you really have?
That's what you have to settle within your own heart and mind, AB. This one isn't going to come from him. It can only come from you. He's told you where he stood from your first date, and while his words and actions along the way may have given you some reason to hope that you might somehow be enough to change him, the reality is that not much has changed.
Your friends see this. And anyone who reads your words sees this, too.
And so do you, in your heart.
It's never as clear when it's you. When your heart knows what it wants so badly, yet it knows what it wants can't only come from you.
Will he truly show up if you walk away? Maybe.
But if he only shows up in that kind of space that comes from walking away, that tells you so much about who he really is - and who he isn't. Someone who needs that kind of space. Someone who can only give you as much as he has. Someone who considers the way things are as enough for him. Someone who's only looking for what you've got.
Yes, you can have him. You can keep him in your life. You know exactly how to do that.
Lower your expectations, settle for what he is capable of giving you, accept him for where and who he is, and don't try to change him or manipulate him.
This is who he is, AB.
Regardless of how you got here – how do any of us ever really understand how we get here when we look back at the path we took that we said we'd never take again  - except that it happens to the best of us.
Because it fits with what we equate as being "love", because it taps into a trigger that takes on a life of its own when it becomes unfurled, because we are, after all, the always believing type of human beings that we are.
Because you're you, AB.
Beautiful, vulnerable you. Vulnerable to the things that only you know about.
There's nothing wrong with you; there's only this distaste we have for having to be the ones to choose what we don't want to choose. For having to accept what we don't want to when that pull – his pull – is so strong.
We get so stuck romanticizing it, making love out of nothing at all, making a committed relationship out of a connection that's anything but.
But at the end of the day, if all you are is lonely and alone when you're supposedly with him, if all you are is longing for him to be different than he is, or you spend all your energy looking for what still isn't there that you have no energy left to spend on you, then it's time to take a look at what you really have.
If it's enough, let it be enough, regardless of what you've heard, regardless of what "they" say, regardless of what anyone tells you it "should" be like.
There's only you and him.
Your friends aren't in your relationship; you're the only one there with him.
If you can live with his terms, his words that he doesn't want to fall in love again, doesn't want to marry again, and can only give you as much as you've gotten to in these four years, then let that be enough. It only matters that the two of you can live with each other and where you stand.
But if you can't, if these differences weigh as heavily on you as they appear to here in your words, if you can't truthfully accept him who he is and still accept him in this role in your life, then give yourselves both the courtesy of setting each other free to find someone who will.
You deserve to have what you want, AB, and so does he. Whether with you or with someone else.
The choice is yours.
But don't pretend you can do this – that you can happily live like this if you honestly can't. Don't pretend you can let whatever chemistry you may have preempt this one essential element. You hurt yourself so much more in the long run when you're only participating in a facade.
I know it's never easy, but I know you'll make the best decision for you. It's why you found your way here. Because you want to. And you will.
Love,
Jane
What do you think? Do you have any other encouraging words or advice for our beautiful friend AB? Please share them with us in the comments!