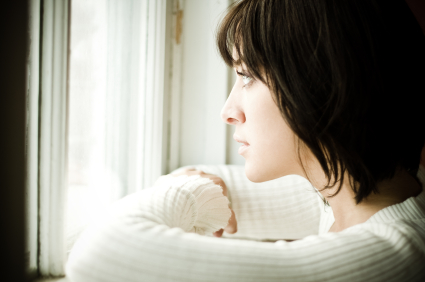 We can almost sense when it's coming. We get that feeling. Then those awful thoughts start rushing in.
Not again. Not another disappointment. Not another ending. Not another heartbreak.
Not another "going through."
The signs are there, the red flags are waving in the sky, but we try so hard to will them away, to excuse them, to explain them, to pretend they're not really there.
The potential – his potential – is all we can see. We're blinded by it, no matter what anyone else says or what we know deep down in our hearts, we don't really want to see.
Why?
Because we know all too well what comes next.  That if we allow ourselves to see, then we have to make a decision. And if we have to make a decision, that means we have to choose between loving ourselves and loving someone else. And while that should be obvious, it's never, ever as easy as it seems.
Not to us.
Not to those of us who hold onto every promise, every word, for confirmation that things are still moving forward, 0r at least staying the same.  Because just how long we can keep doing the same thing over and over again to avoid the "going through" part is different for every one of us.
Days? Weeks?  Months? Years? Decades? When we choose anyone over ourselves, the limits to what we can put up with (and the time we'll wait for it) can defy all limits.
So great is our programming. So strong is our resolve. After all, can't love conquer all?
Eventually, we can't ignore the warning signs anymore. We say what we think is too much and quickly regret it. We do what we never thought we'd never do and quickly regret that. We become what we never thought we'd ever allow ourselves to become until we can no longer stand ourselves. Until finally, some way, somehow, we reach the point where we finally say the one word that ends it all – enough.
You tried so hard. You did so much. You gave someone every opportunity to come around. You thought you could make him love you. You thought you could be the one. So many tears, so many dashed hopes and dreams and plans. You wonder how you can ever pick up the pieces and start again.
But most of all, you don't want to have to.
Kicking and screaming all the way, we resist.  We don't want it to be like this.
Why? Why does it have to be like this? We ask whoever will listen, whoever is still willing to listen to us after so many times asking the same question of the same relationship of the same person. Why?
Because it's the only way.
Through. Not around. There's no avoiding it. What you're about to see, what you're going to discover is gold! You can't learn it any other way.
For whatever reason, you're blind to it without this particular way in this particular time and place. I don't know why it has to be this particular way, but I know that one day you will look back on this moment in time and you will understand exactly why – no matter how much  you can't right now.
There's something here for you that's going to change who you are and give you so much more in the long run than any person ever could. Especially this person you're holding on so tightly to who isn't holding on like this to you.
That part you're going to discover for yourself. But it's not anything to fear. It's something to embrace, to welcome, to trust is going to give you so much more if you can open your heart to seeing what's there.
Let him be who he is. Let him have his space if that's what he wants; if that's what his actions tell you he's looking for. Don't make it about you. Don't take any of it personally. If he's not there, he can't see you to even make a decision or judgement about whether you're enough of what he's looking for. That's not where he's at or you would know.
But he can't be more honest because he doesn't know. And you can't be the only one doing all the work, being the only one pulling for the two of you. It's only in that space that you allow him to have that you can ever know if he'll get there on his own. Don't doubt that you'll be the first to know. You will!
But this is about now, not about the future "if only's" and"what if's" that take up so much of our time and energy and leave us lonely for something that doesn't even exist.
Don't fight the "going through"!
I know it hurts. I know you don't want that heartbreak. I know you've been there too many times before. But this is different. You're seeing more. You're open to seeing something that you couldn't see before. That's why it's happening now.
That's why fighting it only hurts you more in the end.
Let it come. Let it be. Let it be the reality that it already is, that only needs your acceptance to let it work it's magic in you. You know you're only going to keep doing this over and over again to yourself if you don't at least try to let it just be this time. Because it's in that acceptance that you'll find the you that you didn't even know was possible.
The you that you never knew lay buried deep down inside you. She's in there. And she doesn't have to fight to get what she's longing for. She doesn't have to struggle to get what she needs.  Her role is only to show you, to accept you where you're at, to love you through this process no matter how different it looks from what you could ever imagine you'd be in.
And to let you know that it's going to be OK.
If this resonates with you, I'd love to hear where you are and what you're going through and what I can do to make this easier for you.  Share your story in the comments.