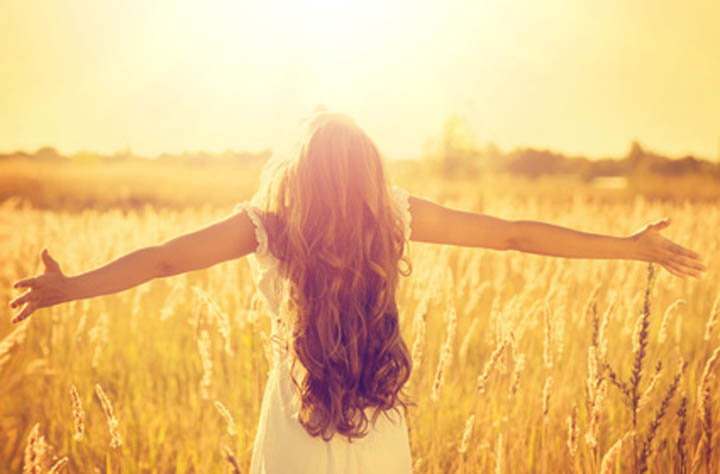 We say or do something we regret. We long for the chance to have a second chance to do it differently. We feel like we missed out on some amazing opportunity.
And then the worst damage we can ever do to ourselves begins; we beat ourselves up and label ourselves as damaged goods.
Oh we might come across on the surface like everything's OK, but only because we've learned over so many years how to play that part so well.
But inside, it's a different story.
We're mortified that we didn't handle the situation better, that we didn't listen to what we knew we should have done differently.
What's wrong with me? You wonder.
Why can't I ever get this right?
Why can't I be more like her [insert name of friend you secretly wish you were]?
And then the reality sinks in as we begin to see our pattern appearing once again. We've fallen into our old ways. You thought you were so close, so finally "there" in that place where you caught an all too brief glimpse of the way everything was working out, only to discover it was only an illusion because you forgot that you don't have to be anything except your true self with someone who's truly right for you.
He won't love me if I'm myself, you worry.
He won't want me if he knew the truth about me, you tell yourself.
He won't want to be with me if he knows just how insecure I am, you insist.
He'll end it with me if I let him see the real me, you say.
So let him, is what I say.
Because there's nothing wrong with you!
There's only the wrong person for you.
All this trying to be some image of what you think he wants or what you've programmed yourself to believe that someone who's wanted, someone who's lovable has to be, doesn't ever get you what you really want in the long run.
To be loved for who you are, the real you.
Go ahead if you insist on seeing it play out. Go ahead if you insist on being right. But soon enough you, too will come to see the reality that every one of us who has walked in those same beautiful well-meaning shoes of yours eventually discovers, there's no pleasing someone who isn't right for you.
You simply can't ever be enough for someone who's wrong for you.
But that doesn't mean we won't try.  We think it's about proving we're enough. Proving to someone that only exists in our own programming that we finally were worth someone like this loving us. Proving that we're worthy of being loved for who we are.
And yet we're going about it in all the wrong ways! We're trying to show someone who will never be able to see that we're worthy because they can't give us what we want. They can't give us what we need. But we're going to try with them, rather than take a real chance on the one who's ready and able to give us exactly what we're looking for because we can't see it yet.
And that's OK, too.
You're not stupid, you're not a dummy, you're not weak – in fact there's absolutely nothing wrong with you! You're just not able to see this yet because your programming is still the first thing you go to when you feel rejected, when you sense that change in him, when you feel like he's pulling away from you.
Your programming tells you it's you. And it doesn't stop there; it tells you there's something so wrong with you.
But it's a lie.
And it's time to stop believing these harsh judgments we're so quick to put on ourselves without a second thought as to what we're really doing to ourselves.
If I could spend the day with you, we'd go for a long walk. And with each step, we'd get just a little farther away from that habitual place you've come to know where it's all about what's wrong with you.
To the place within your heart of heart where you know everything's going to be OK. Because it already is.
All those lessons learned, all those heartbreaks, all those moments of regret where you left yourself all alone to fend for yourself to try to climb back up to your true place among all the women who've come before you and learned the same thing for themselves. There's been a reason for all of them.
Climb out of that deep dark pit you've dug yourself and come into that light of where you deserve to be for no other reason than you exist.
This is your beautiful life to live for yourself.
Not for him. Not for them. Not for her.
Not for anyone else except you.
And before you go there, no, it's not selfish. No, it's not prideful or boastful. No, it's not arrogant.
It's the way we change things. It's the way you shake up your past programming that has you deferring to everyone else and forgetting that you matter, too.
Because you do.
And when you realize that, you'll come to see for yourself what it means to be absolutely convinced that there's nothing wrong with you.
This is such a struggle for so many of us. Convincing ourselves that we're OK in spite of what others might do with us. Why do we do this to ourselves?
I'd love to hear your thoughts. Share them with us in the comments!