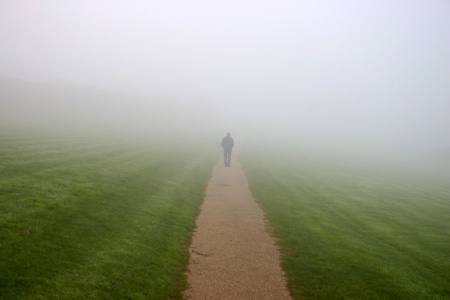 Our dear friend, Sophia, has recently had an experience with "the disappearing man" and needs our help! Here's her story:
Hi Jane,
I have been reading your blogs and they have really made me start to look at my life.  The information is very helpful and also the advice of others that read your blog.
I am in so much pain. I recently got dumped by the disappearing man.  It has been very hard because even though I felt like something was wrong and asked him throughout the relationship did he want to be with me he lied and said that he did.  My problem is I have read the blogs on letting go and your recently one today about using your head and heart, but am so angry.
I still want to see him, I still think about him, and I still want an answer to why even though I know there really is no reason for you to just disappear on someone without an explanation.
I feel like this may become an obsession and I do not want this to happen. I realize today that it will be going on a month since he disappear from my life, but I seem to be focus on just that.
I am hopeful that others that have been through this experience can help me. I know am meant for someone better and something better in my life, but why do I feel like someone was the one when they obvious did not feel that way about me!
I am at a place where I want to heal and be healthy, will this ever happen?
My Response:
It will happen, Sophia; you will heal and be healthy.
Know that it's a process; this dance of letting go and moving on. It never happens as fast as we'd like it to, but over time as you begin to find yourself again as your own person and engage in those activities and relationships with people that bring you joy and happiness, you will find a gradual shifting back to your own beautiful center.
Embrace all the emotions that come up for you. Of course you're angry; it's all part of grieving this loss, which is just as much about the loss of your dreams and plans and hopes with him, as it is about him.
Write out your feelings. Write out all the things you want to say to him, and what you want him to know, but don't share it with him. This is about you, finding that deep inner strength within you that is always there.
When you're ready, try to see beyond the anger to the practical reality of what is. As much as you want this relationship to be everything you saw the potential for, he wasn't there, Sophia. He couldn't pretend any longer. He didn't know how to tell you - and he probably didn't want to hurt you - so he thought that lying to you was easier.
This wasn't about you; it was, and is, about him. Try to focus on what this is about - two people on two different pages who want different levels of commitment - and nothing for you to take personally!
You didn't do anything wrong, Sophia; there isn't anything you could have done or been to give this a different outcome.
You can't make anyone love you or be there where you are. It's heartbreaking, but it's the truth. And realizing this will help you to start healing.
You didn't ask for too much; your expectations weren't unreasonable. You knew all this deep down, and that's why you asked him about it. You knew!
Trust yourself, trust in that knowing, and let that same knowing open up new doors, and new relationships that are just waiting for you to see them all around you. Comfort yourself by knowing that if he gets there, if he gets to that same page, he knows how to reach you.
You'll be the first to know, and then you can decide what you want to do. But don't wait for it; don't wait for him. There's a beautiful life of yours to be lived right now.
Don't waste another single minute waiting for someone else; this is your time! Let that glimmer of hope shine through and show you all that you deserve, and all that is your birthright - right now! Simply because you are you!
Love,
Jane
Do you have any words of encouragement for our beautiful friend Sophia? Tell us in the comments!