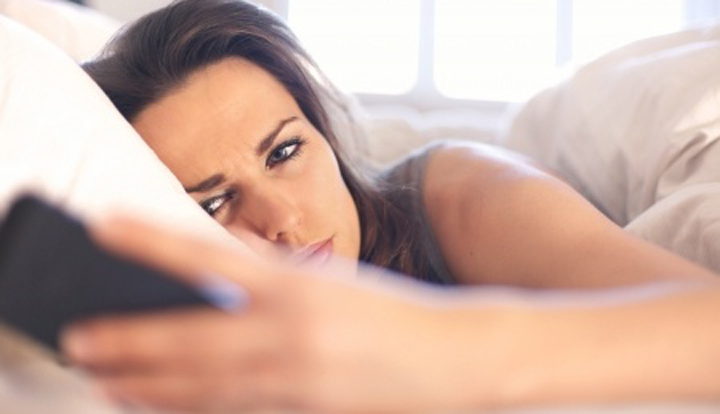 Our letter this week comes from one of our sweet readers, who has chosen to call herself "Confused and in Love (I'll just call her "Love"). Her boyfriend has suddenly stopped answering all calls, emails and texts - he's basically disappeared on her.
Her email:
Hi, I was hoping you could provide me some advice.
I've been in a relationship with my boyfriend for over 8 months. He's a great guy and always is considerate and thoughtful of me and my feelings.
The past 8 months have been fantastic, maybe some very minor bouts of miscommunication (less than what I could list on one hand) but other than that great.
He recently (less than a month ago) got a new job that he is very excited and nervous about (it's his dream job and he wants to excel at it). Since getting this new job he's been a bit stressed and less present in the relationship, he was still putting effort into the relationship but not as much as before.
In response I unfortunately started becoming needy and unappreciative. Looking back now I can see and appreciate his efforts and understand his stress, and realize that I was being selfish and should have been more supportive. But hindsight is 20/20, right?
Instead I confronted him and pressured him about his priorities changing.
He mentioned that this has happened in the past to him and that he wasn't sure if this relationship was something he wanted to be in.
I was flabbergasted.
With everything going so well between us, I definitely was not expecting him to tell me that. I asked if he was breaking up with me.
He said no but that he needed to assess his priorities.
I was hurt and said that I didn't want to be with someone that wasn't sure they wanted to be with me and we both agreed we had a lot of thinking to do.
Later that night, after I was able to calm down, I texted him to say that the earlier conversation caught me off guard and may have gotten out of hand. I apologized for overreacting, acknowledged the stress he's under, and said that we should take some time, think things over, and decide together where we go from here.
The next morning (on a Friday) he replied saying that he knows he caught me off guard, especially with how good things typically are with us, that he has difficulty committing to a profession he's passionate about and someone else of importance in his life, and that he would call me over the weekend.
When Sunday evening came and I had not yet heard from him, I called him but with no answer.
I followed the call with a text asking if he could call me that night, and still no reply. Figuring that he needed time to think and considering he worked all that weekend (and maybe didn't have time to think about things), I left him alone for the whole week, no calls, texts, or emails (which was very difficult for me).
After having more time to reflect on things, that next Friday I reached out to him with a text. I told him I missed him and was thinking about him but wanted to give him space. I said that I realized I was the one being selfish, and that I was unsupportive and unappreciative and that I was sorry about that; that he was a great boyfriend and that I appreciate the effort he was putting in, even while stressed; that I was proud and supportive of his new job; that the time apart had made me realize how much he meant to me and that I didn't want to lose him.
I ended the message saying that I would like to reconnect with him, would he let me know when he's ready.
I received no reply.
This silence is driving me crazy. We've never not communicated for this long. I'm trying to respect his space but I'm feeling lost not knowing what's going on.
On Sunday I tried calling him, with no answer, so I sent him another text. I said that I miss him and understand that he's under a lot of stress and needs time to think but that I'm feeling lost not knowing what's going on or where we're at or even if he's okay.
I asked if he could help me understand what's happening even if it's just "I need more time".
I have still not heard anything from him.
I think his confusion is based on the stress he's placing on himself over this new job (it's his dream job), coupled with the pressure of making me happy (which I now see I was not helping with). He's divorced and during that relationship he chose his relationship over his job and he regrets it. I think he doesn't want to make that same mistake again and seeing that I was unhappy made him question the relationship.
The last thing I want to do is make him choose between the job he loves and me – although I know my previous actions showed otherwise. I've tried expressing this to him but know that this is something he needs to figure out himself.
I do understand that men and women process stress differently and that's its natural for men to withdraw to mull things over. It's just difficult for me to understand why he can't reach out and let me know he's not ready to fully communicate yet.
He's never acted this way before.
I love him and want to respect his process and give him the benefit of the doubt but the longer the silence continues the more scared and lost I feel. From our last communication, we're still in a relationship but the silence is confusing.
I've had guys disappear on me in the past and I don't know if this is the same thing again.
I can appreciate if he needs more time but not knowing what's going on is driving me crazy. He's a great guy and I don't want to lose him but I don't know what to do. I don't want to push him away but I also don't know if this is a lost cause. How long do I wait for him to reach out (it's been over a week)? Do I eventually reach out to him again?
Have I already pushed too much? Is he ignoring me in hopes that I will give up and move on?
Please help.
- "Confused and in Love"
My Response:
Hindsight is always 20/20, Love.
You reacted the way you felt, with real feelings and real fears and a response that reflected both. If it was too much for him to handle, or if it revealed for him that you're on two different paths right now and he isn't ready or capable of being on yours, then this is why you haven't  heard from him.
Please don't beat yourself up over this.
You were caught off guard. You weren't expecting him to respond the way he did to you, but he has.
Look at the reality here.
Take all the focus off everything you wish you had said or done differently, and instead, look at where both of you are right now. You're missing him, but is he missing you?
The silence may be driving you crazy, but obviously he's finding some level of comfort in that same silence.
Look at the bigger picture here. Regardless of what you thought you had or what you thought the relationship meant to both of you, his actions now – the way he's behaving right now – tell you more than anything from the past.
This is where he is right now.
This is what he's capable of giving you right now.
If he's feeling such stress over the conflicting priorities of his new job and making you happy, then this is something he has to sort out on his own before he's going to be what you want him to be, or the way he was before.
Now is the reality of what is.
If he's been here before in his previous relationship and doesn't want to make the same mistake again, then that, too, is something he must wrestle with and resolve for himself.
He may be doing any one of these things in the space he's taken for himself, and although not knowing can be so crazy-making for you, this is something he is clearly showing you with his continued silence in response to your efforts to reach out to him, that he needs to do for him.
You've already reached out to him enough for him to know where you stand, how you feel, and what you want from him.
If you've pushed him too much, then this tells you that much more about him.
If he continues to ignore you and you still don't hear from him, then yes, I would conclude that he is letting you know by his silence that he wants you to give up and move on.
You've got two choices here, Love. You can either keep holding out, hanging on, waiting - even if you tell yourself you're not, or you can shift all this focus on what he's thinking, what he's feeling, what he's doing to you.
That's the only place change happens.
That's the only place you get your power back, where you once again feel back in control of yourself.
He's not you, he doesn't think like you, he's not going to process things the way you do. But what you can count on him doing is what works for him.
I want to turn this around for you, Love. I want you to look deep within yourself, past anything that feels so personal, past the place where you wish you had done things differently, past anything about him, to that beautiful place within you.
My question for you is this: can you live with someone who responds to you like this? Does this work for you to have someone in your life who you're in a supposed love relationship with, who doesn't know what he wants or how to communicate that to you?
Yes, this may be a temporary thing, and once he makes a decision, he may be the man you sense he can be that makes him worth waiting for. But for every woman who's convinced herself of this possibility, there's another woman who has a story of waiting – and wasting – more of her life away than she ever in a million years thought she could.
Whatever you decide, there's a lesson here for you and for every other woman who finds herself in a similar situation.
Know who you are. Know what you want. Know what you're willing to live with and what you're not. Know your number one priority in a man, in a relationship with that man.
When you've clarified those for yourself, be true to yourself and what you need and what you can live with.
You don't have to fight for what you want.
When you know who you are and what you want with crystal clear clarity, your essence includes that message and won't be swayed for the potential of someone who gives you nothing more than a feeling to build a relationship on.
Look ahead, not back. Look at what's real in front of you right now, not what you wish you had done with that 20/20 hindsight.
You're not supposed to be perfect, Love. None of us are. And neither is he.
It's in our imperfect, "doing the best we can with what we know at the time" humanness that we connect, that we find who we're truly compatible with in the ways that matter over time. It's also how we find the ones who we're not.
The very things we resist are often the same things that we become grateful for down the road.
You deserve to be loved. Don't allow anyone to give you any reason to believe differently.
I hope this helps.
Love,
Jane
How about you? Can you relate to Love's story? Share your thoughts, and any words of advice or encouragement for our sweet friend "Love" in the comments!