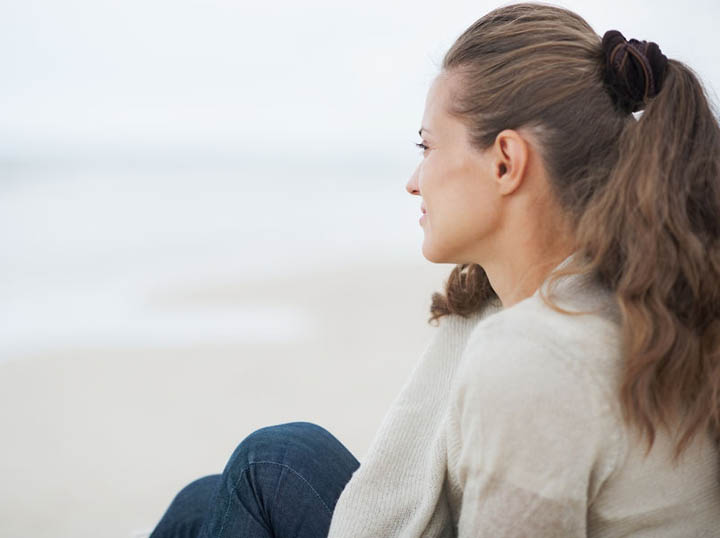 Our beautiful friend, Kaya, was in what she thought was a great relationship, only to have him completely disappear on her, claiming that she did something he's mad about (but won't tell her what it was).
Here's her story:
Hi Jane,
I must admit I love reading your posts. They are very informative, inspirational and helpful.
I was wondering if you could help me figure out a problem I am currently experiencing.
I met a guy few months ago and we started dating. Everything was great as we both wanted a mature, committed relationship and we both have similar life goals about the future. He officially called me his girlfriend and was planning to take me to his sister's wedding in July.
He made it clear how much he likes me and how much he enjoys his time with me. Every aspect of our relationship was amazing.
Last weekend after he went to work he never called me or texted me (he usually does) so I was a bit worried. After several days of failed attempts to contact him he finally texted me that he is mad at me but doesn't tell me why.
I am so confused by this situation.
I am not sure what to do or say. We didn't have a fight so I can't think of anything specific that I have said or done that upset him. I am willing to apologize if I have hurt him in any way but he won't call me back. I don't understand how someone who is so into you can just stop communicating.
I am afraid that the longer it takes the harder it will be for us to maintain our great relationship. That is, unless he ever calls. I was under the impression that if you are in a relationship there must an official break up... right?
Please help me understand what is going on and what I can do.
Thank you so much for all your kind words.
XOXO
Kaya
My Response:
Dear Kaya,
I'm so glad you reached out to me, and that you're finding these posts so helpful. We're just not meant to go through these things alone!
One of the greatest lessons we can ever learn is not to take anyone else's actions personally. So many of us can relate to this type of situation, where you have no idea what happened to "make" someone suddenly change or suddenly disappear. We're almost always blindsided when this happens because we're paying so much attention to all things we want to see and hear, that we don't see anything else.
The fact is that it could be any number of things. But the only thing that you need to know is that it's about him and not you. He may not even know what he's mad about or why. It may be completely subconscious, and it may be he's mad at himself and simply projecting this on you.
It may also be that he doesn't know what else to say after everything he's already said to give you every reason to believe he was on the same page as you, and now this is the easy way out for him. Again, for whatever reason that might be.
Of course you're confused; how could you not be?
But what there shouldn't be any confusion about now, is how this guy chooses to communicate with you when there is a problem.
He doesn't communicate. He disappears.
He only responds after several days of failed attempts on your part to reach him – and then, only with a cryptic text and no further explanation. Leaving you with nothing to work with.
What exactly is there to maintain, Kaya? Where is that great relationship if it can come down to this?
Oh the potential may have been there, but what you see now from him – and more aptly, what you don't see – is every bit as much as real as everything you saw previously. Now you have more information.
If you remind yourself that this is all a part of the process of getting to know someone better and you take it as the valuable information that it is, you can choose what you want to do with it.
Even if he were to tell you what made him mad enough to cut off all communication with you, it doesn't change the fact that this is the way he handles problems. Is this really what you had in mind when it comes to communication with someone you're in a great relationship with? And more importantly, can you live with this?
If this is someone you want to build a life and a future with, you're getting a taste of what you can expect more of, not less. This is the honeymoon stage in the beginning of all relationships; it's where you get the best of what someone is all about.
No, there doesn't have to be an official break up for this to end. It's easier this way – for him. This way, he doesn't have to explain his reasons.
He doesn't have to talk about what went wrong – for him. And most importantly, it leaves the door open for him if he should ever change his mind. He can say it never closed, that he got busy, that he had his own stuff to work though, that it was all about something going on for him that he worked his way through.
What can you do?
You can keep trying if you need to. You can keep trying to get your answers out of him, keep trying to somehow get through to him to "make" him talk to you and tell you what's wrong so you can get back to where you were before. But what you do to yourself when you put yourself in that position hurts you so much more than it helps the two of you get back to where you were.
If he was capable of that – if he wanted that – he knows how to reach out and communicate with you.
Or you can let this be – let him be. Haven't you already done all you can in trying to communicate with him to get more of an answer out of him? We never get the closure we think we can get by trying to make someone give it to us this way.
Sometimes we just need to accept the reality that we can see right in front of us. Who he is right now. What his actions say about him right now.
Find your peace in that acceptance first, Kaya. And then return to you. Chalk it up to him having his own reasons, his own issues, his own stuff, and then give it all to him. Take your own power back here; you've got your own life to live, and that doesn't include chasing after anyone for an explanation they obviously have no intention of giving you.
Remember that if there was something you could actually do about any of this, he would make sure you knew enough to know exactly what to do!
I hope this helps.
Love,
Jane
What do you think? Do you have any other advice or words of encouragement for our beautiful friend Kaya? Share them with us in the comments!