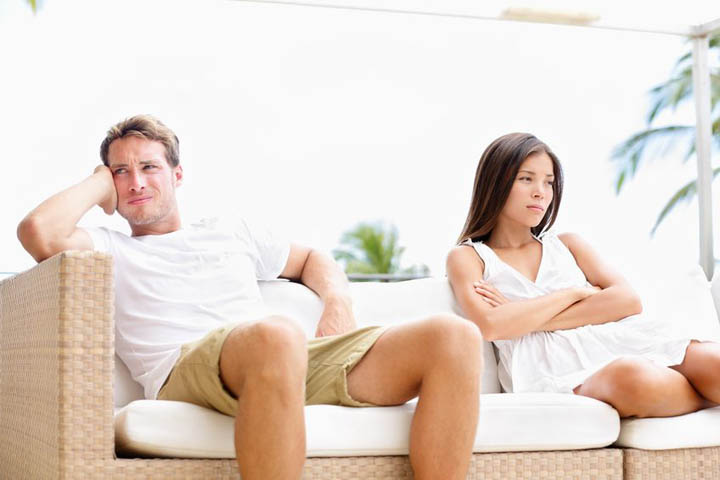 One of our beautiful readers, Beatrice, finds herself in the all-too-common scenario of starting off in a relationship that's nothing but wonderful, only to have him slowly change, and not for the better. She's wondering if it's something she did.
Here's her email:
Dear Jane,
I am an exceptionally sensitive, confused soul right now. And my heart is breaking without any "real" proof that it needs to break, if that makes sense.
Here's my story:
I'm 23, and a very inexperienced dater.
I am about to graduate college, and with that knowledge, I fully intended to go into my future as a single person! I had finally accepted it happily and was excited about my plans.
And then, all of the sudden, 2 months ago, I found myself in a relationship with a guy who was (is?) WONDERFUL.
In every relationship or fling I had had before him, I would be soooo anxious and distraught the entire time.
And the reason I knew my boyfriend was right for me was because I never had any of that anxiety!!! Not before we were official and not for about the first month.
Now we are at two months in and something has changed.... I cannot put my finger on it. I have thought and thought and thought. I have talked to him about the relationship and things that bother me. But I don't know if I'm seeing him go back to the way he was:
Initially, he was so sweet, so attentive, so affectionate, complimenting me, clearly SO into me. And then... maybe he's gotten more comfortable around me? OR maybe it's my fault: maybe I'm too critical and he's just responding to me, but now he is condescending sometimes.
He is also extremely sarcastic and often, it isn't personal (it's just his brand of humor), but sometimes I'm just like- "why would anyone ever even say that?!" and it hurts my feelings.
I've told him this.
I know that I can get awkward and weird when something he does bothers me (I wear my heart on my sleeve BIG TIME), and I never want to be clingy. I try to give him his space while also wanting to be a good girlfriend. I have apologized when I've been in the wrong.
But I'm just wondering what have I done that's made him turn into this sometimes condescending guy who is basically nothing like the boyfriend I was first with?!
It's breaking my heart.
Is it possible I could have been so wrong about someone when my BODY felt it was right for the first time ever in the form of no anxiety initially?! And I'm especially worried about it because in two weeks time, we have to go to our separate homes over the summer and won't have a chance to see each other in person for several months.
I anticipate that this will be very difficult and I don't know what to do or, ultimately, if it's worth it.
Is this a "rough patch" of getting to know one another?
I'm not ready to call it quits. Because we've had sooo many good moments too! And he's truly wonderful in so many ways (or was.......) It's just that, what will be the point of the agony sure to come this summer, if ultimately, this won't work out.........
But I guess we never know if it'll work out or if it's worth it until we try.
I hope you respond to my letter, Jane! I'm so sad and confused.
And I think you're the best Love Advice Lady on the internet, by the way!!
Also, I'm considering your phone or email coaching packages.
Thank you SO MUCH for what you do,
Beatrice
My Response:
Thank you for your kind words, Beatrice. I'm so glad you found you way here and reached out to me. I'm honored.
I can understand your confusion. And yet, what happened, more than anything else, is that it got real.
Your relationship got real.
His part in that got real.
As we get to know someone, who we really are naturally comes through more and more. We all have our quirks, our own brand of idiosyncrasies, and all those things that make us uniquely who we are.
So you wear your heart on your sleeve – a beautiful thing by the way. And he has some sarcasm to him. There will always be things about each other that are different and some that are the same; some that complement each other, and others that drive us crazy about the other.
What you are learning here is more of who he is. And he's learning more about who you are.
There's nothing wrong with either one of you, there's only whether the two of you are compatible enough to be in a relationship with each other.
Who he is now, is who he is.
Who he's getting to know, is who you are as well. The question is, can you both live with who each other is as you're getting to know each other better.
I'm going to be real clear here, Beatrice, because we can fool ourselves into believing so many things that rob us of our happiness, our self-esteem, our already shaky confidence in the process – and that type of havoc deserves clarity.
The only way a relationship ever works is if both people in the relationship want it to.
A relationship works because it has nothing less than two people on the same page, looking for the same type of relationship, and both willing to do whatever it takes to make that happen. Without that, you have nothing.
Your statement here is so telling – and so very true: "But I guess we never know if it'll work out or if it's worth it until we try".
Exactly!
"We" is the point of all of this. You can't be the only one in a relationship meant for two. You can't be the only one willing to do all the work to see if it's worth it.
What makes it worth it?
What makes him worth it?
Only you know what you're looking for and if he's enough of what that is to make him worth it to you.
I can't tell you how many times I've heard such a similar story from a beautiful, sensitive, intuitive woman who all of a sudden senses a change at the 2-4 month milestone point of a relationship.
It changes because it becomes it – and you – are becoming more real to him.
It changes because he discovers he can't always be on his best behavior anymore.
It changes because this is the real him.
It changes because this is the real you.
Your body knew as much as it could know when you didn't feel any anxiety being with him, but as you come to know him better, trust your body to keep you posted. It always makes a louder noise when we don't listen to anything else.
You're reaching another milestone here, Beatrice. With distance.
You're going to find out more about whether the two of you have enough of what it takes to make it through being in different places for several months. If you both want this to work, if you're both willing to bridge that distance with enough of a relationship in that time, you'll both make that happen.
If one of you doesn't, it can't.
Give him some space and see what he does with it. Does he come closer to fill in that space? Or does he let that space be? That's always telling.
So is direct communication with you letting him know what you're looking for, if you're comfortable doing that. Either way, don't let your world revolve around him. Keep it revolving around you. That's the best way I know to see this through to find out what's really there, and what's not.
Time will always tell, and you spending that time in the living of your own beautiful life – aside from him – is the most productive way to fill every moment of that time.
I hope this helps.
Love,
Jane
Do you have any other thoughts, advice, or words of encouragement for our beautiful friend Beatrice? We'd all love to hear them. Share them with us in the comments!