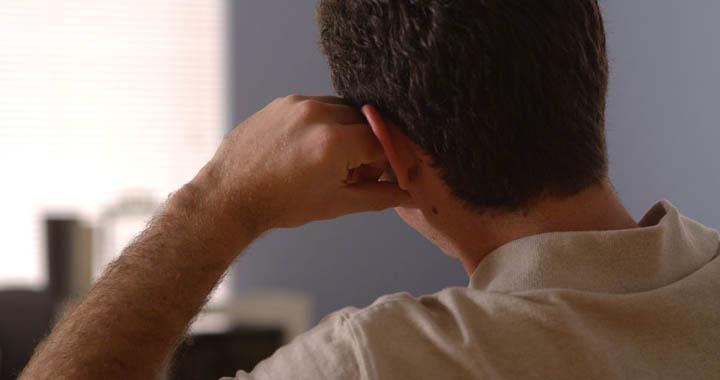 Does he ever get past this?
This not committing, but not ending things either.
This limbo.
This one foot in your world, and one foot in another. This leaving you hanging, without a crystal ball.
Will he? Or Won't he?
And what we most want to know; is it worth waiting it out?
In a word? No.
Because when we go into waiting mode, we miss out on so much of our lives. But the answer you're really looking for can only be answered with both a yes, and a no.
You see, even though he may move in with someone, even though he may even get engaged, and maybe even married, there will always be a certain point where the commitment level gets too real for him.
So yes, he'll commit up to a point. After all, he's gone this far with you.
And at times when he's lonely or he looks around him and realizes he's not getting any younger and his friends still available to go out with him are becoming fewer than few, he'll resolve himself to committing just a little bit more next time.
Until that next time comes and it all gets all too real once again. So until then, yes, he'll commit up to the level that he's comfortable with.
What that really means is more heartbreak for any one of us who wants more. Because we'll think we have him, we'll put all our eggs in one basket, we'll take ourselves off the market emotionally if not physically, all because of those little signs that give us hope.
But all that we'll really have done is delay the pain of coming face to face with the reality of what it means to love a man who hasn't faced his fears of commitment. After all, that's really what this all comes down to. Fear.
And if you find yourself finding these men again and again, look at your own definition of commitment.
What does it mean to you? You have to know what you want before it finds you, especially when you have such a pattern of finding the man who's afraid of commitment and having him find you.
Oh, he recognizes something in you all right. The woman in you who appears to be everything he's not.
But the irony is never lost when he changes you into the woman who forgets her own worth. The woman who loses herself in him because he suddenly triggers in her everything she's never questioned about love and being in a relationship with someone like him before.
You see, if you look closer, there's usually this other part of you that's choosing for someone else. That's picking someone based on what someone else will think, what you're supposed to want in a man, and what your life with a significant other, call him your boyfriend or fiancé or husband, is supposed to look like.
And here's where the irony begins.
Usually he had to work to get you to see him, much less to go out with him. But then when you finally succumbed, the real live relationship began and suddenly, he has no idea what he's gotten himself – or you, into.
He can't live with that. And so the pressure begins.
Ironically, the reason why he feels this pressure at all is because of his sensitive nature. This is where the little boy in him comes in. And it's what draws you to him more than anything else.
It's your chance to save him from himself, from his past, from his demons. It's your opportunity to be everything that he's ever wanted in a woman; your chance to be the one who can reach him, who can get through to him, like no one else before.
And it's your chance to prove your worth.
See how that works? Both of you about to get what you want. It makes perfect sense to you.
Until it doesn't work.
Until the reality of what that means, of how real this is getting begins to kick in, and he finds himself either slowly backing off, getting distant, or disappearing completely.
Is he worth waiting for? Only you can answer that.
Are you worth more than putting your life on hold waiting for him? That's the other side to this.
It's the other one only you know the answer to.