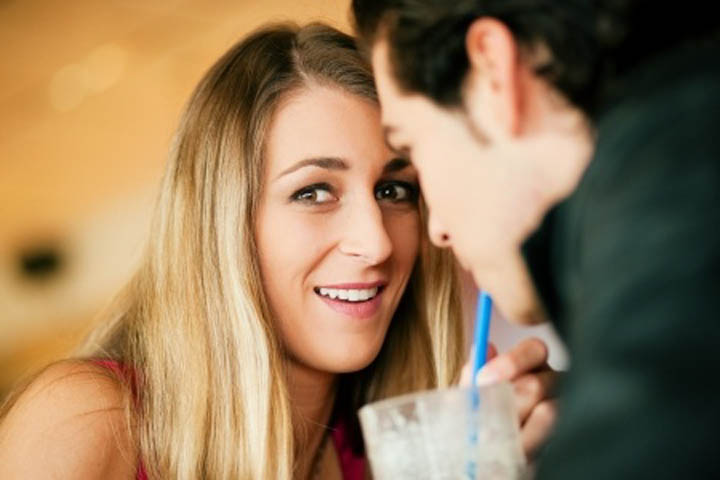 One of our beautiful readers from all the way over in Northern Europe is heart broken over a guy she fell hard for, who was acting like he's in a relationship with her, but then said he only wants to be friends.
Here's her story:
Hey Jane!
I am a young woman from Sweden that needs your advice. I have been asking loads of people for advice but it doesn't seem to match with what I am trying to tell them, in other words, the advice is not helping me anywhere.
Like most of your emails, this is about me and another person. This person is one odd guy that I've known for quite some time now (almost A year).
I met him right after when I broke up with my boyfriend that I was supposed to get engaged to, but we went through some issues and went separate ways. Right after that, probably one week afterwards, I met this wonderful, innocent and caring guy over social media.
We didn't speak constantly or keep up every day but when we did, everything felt so good between us. After 2 months I started developing small feelings and I started wondering why, since I haven't met him (yet) or spoken to him face to face.
Then we went out the movies and we had a good time, me and him, with my friends. He said he liked it but he was really shy so I couldn't tell much.
Weeks pass by and we both started talking nonstop and eventually we both fell for each other.
Now here comes the plot, I travelled to England and we kept speaking almost every second of the day, but we were missing each other too much though we never met. Me and him become so close that we started sharing secrets and things like that.
I got to know more, one of the things were that he's never had a girlfriend, never kissed anyone or anything like that.
At all.
I was the first that showed him interest and he actually made it clear that he was doing the exact same until one day when I said out of the blue that I had feelings for him, which was too early for me. He instantly backed off and told me straight away "I have feelings for you too but I only love you like a friend."
I didn't quite understand his saying but I didn't let that come in the way. I was so blind by the way he was treating me when we went out and met that I totally forgot that he didn't mean anything serious.
I fell in love, hard. He didn't.
We started arguing every day because I was getting jealous when other girls gave him attention, commenting his social media etc. It was so heart breaking for me since my last boyfriend cheated on me. I just wanted someone to actually want me but this guy didn't need me that much.
We both hurt each other and he came to a conclusion. That we should stop seeing each other and doing things together. ( By this time we had met and hung around a little.) I was so heartbroken, I couldn't cope with that.
We lost connection for a few moments, and every time we tried to fix it we only made it worse the next time we argued.
I was so in love.
I don't understand why he couldn't just tell me from the beginning that he didn't want me in a relationship kind of way? I was being so obvious with everything, I even told close friends about him.  I just don't understand what his problem is.
I did everything and more. (I didn't include everything since most things are private.) We stopped saying good morning and keeping up and slowly but surely, we lost the connection.
The love and the caring were gone, the positivity turned into negativity and we just stopped doing everything we used to do. The second last time I saw him he told me that he doesn't want to ruin my life or me ruining his.
So I gave up.
Now we are regular friends again and we meet now and then, but the problem is that when we see each other or when we speak, we speak as if we were in a relationship. He shows me all these signs that he have interest in me but it doesn't show if it is 100% true.
What I wan't to know is what I should do to not get into that hole again where we argue again and stop talking then start all over again?
I mean, he knows my love for him and he knows I care. For him I have stopped being so sweet and tried to show him the "friendzone" but it only hurts me. I don't have the heart to leave, but I also don't have the heart to stop with what we are doing.
I am concerned that I  will never be able to get with him, because of his mixed signals. I feel like I never will be able to go on without knowing that he's someone I have interest in and that he could be "The right one". I want him so much but I can't deal with this. I want to know what I could do to help ME and not to get him.
I know our chances are small but still.
Jane, can you help me?
- Cherry
My Response:
Hi Cherry! I'm so glad you reached out to me.
Hello to you all the way to Sweden – I love seeing how many places in the world we connect here in our little corner of the internet!
I absolutely can help you, by first reminding you of something that you never want to do, because doing this can only hurt you. If you're concerned about getting "right back into that hole", the fastest way to do exactly that is to not be honest with yourself about what you can live with and what you can't.
You can't help but argue and fight and have so much negativity when your own needs aren't being met, when you're not being true to yourself, and when you're feeling like you're compromising who you actually are for what you're seeing he wants you to be!
You see, there's a reason he's giving you all these mixed signals.
He's got mixed thoughts about all of this relationship stuff beyond the safe confines of a mere friendship. He doesn't know what he wants, he doesn't know what he's looking for, and he probably has no idea why. He's simply doing what works for him and what he's most comfortable with.
It's about him, not you.
The whole point of being in a relationship – whether it's a friendship or more – is to get to know someone better. It's to find out more about what someone's really like, to find out whether the two of you are actually compatible.
If you are, then you'll find that out gradually, naturally over time, over the course of getting to know him better. But if you're not being true to yourself; if you have to compromise on who you actually are by turning off your usual sweet self, or proving to him you can do the friendzone, you're not going to find out just how compatible the real you is with him!
It's by being yourself that you find out about true compatibility.
So rather than looking at this as how can you make sure he stays with you, that he doesn't leave you, that you keep the relationship going and it doesn't become awkward or filled with negativity and arguments, look instead and what any of this is telling you.
You're going to be so much better off finding out now if the two of you aren't compatible, rather than finding out down the road when the reality of who both of you are comes through. Save yourself that heartbreak when you've built that many more of your beautiful hopes and dreams on someone who doesn't share them with you, who doesn't want the same thing, and isn't on the same page as you.
Don't be afraid of finding that out now. Don't run from what's real, simply because you so want it to be something else.
Let it be what it is.
That's the only way to be happy.  That's the only way to honor your true self. There is so much more to life and love than being with someone whose terms you can't live with in the hopes that they might be "the one".
Watch, observe, look at what his behavior and his actions tell you when you're being your true self. That's how you'll know everything you need to know.
Don't be afraid to find out what's really there. This is when everyone's on their best behavior. If this is as good as it gets – and it relies on you being something you're not – is that really going to be enough for you?
How do you help you? By focusing on you, Cherry.
By not taking any of his behaviors personally. By giving him space to be himself, to show you in that space what he's made of – and what he's not. And most of all, by being your true self.
That's what matters more than anything else! Because if you can't be your true, authentic self with someone you're in a relationship with – whether it be a friendship or something more – then why would you want to be with that person at all?
Your chances are only as big or small as both people in a relationship want them to be. Remember that part. It's not about fate or chance – it's about whether both people want what has the potential to be to actually be!
I hope this helps.
Love,
Jane