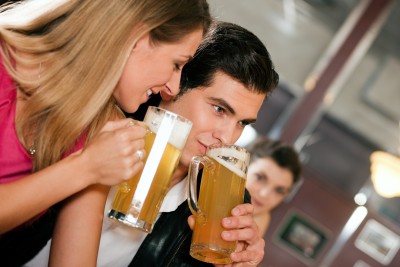 He's everything you've been looking for in a man except for one important thing; he's not looking for a commitment. In fact, he's upfront and honest enough with you to let you know this right from the start. All he's looking for is a friend with benefits relationship. And so, like so many of us who think we can settle for this, we agree. We can do it. We're up for it. Because in the back of our minds, we secretly believe we can convince him to change his mind and make a commitment to us. But it rarely ever works out this way because we forget one important thing – we can't really do this.
We aren't wired for it
We think we can do this. He's so attractive; we're so attracted to him. We convince ourselves that we're not ready to settle down yet anyway. We fool ourselves into believing we can give our bodies away like this, reaping all the physical benefits – and yes, there are many – but we forget that we can't separate our bodies from our hearts and souls like we believe we can. We can say we can keep it physical, we can say that this is a perfect arrangement for us because we're so busy, we're so picky, we're so whatever, but at the end of the day, what we really are is so alone.
It's lonely
We think it's better than nothing. We think it's more than we've got now. We think that at least he wants to be with us like this when he could have picked anyone for this role. We think that it means he at least thinks something of us. But all these become excuses to allow someone to use us, someone to keep us romanticizing the relationship even if we convince ourselves we're not. And when we see our girlfriends with their boyfriends, we remind ourselves that we've got someone, too. Except we really don't. We're alone. Just try asking him to accompany you to the wedding you've been invited to, or your nephew's birthday party. Sure, he might have a great excuse that sounds believable, but the reality is, you're on your own.
It takes away our self-esteem
How can you feel good about yourself when you're settling for someone who doesn't want all of you? Even if you agreed to it. How can you feel good about yourself when you know you're settling for this? No matter what you say to convince yourself that this is working for you ,that it's better than nothing or that it's really like a relationship – or whatever words you choose to use, the reality is, my beautiful friend, it's crushing your self-esteem and you deserve so much more than this. That's why you can't do this.
Because by settling like this, even if you call it something else, you bring yourself down and you use that time and energy you would be spending on someone looking for the same thing you are – including a commitment – wasting away with someone who couldn't really care less. He's got what he wants - what motivation is there for him to give you anything more? He knows if you're in this position in the first place, he doesn't need to do anything more! He has no incentive to give you the relationship you're really looking for from him if you were honest with yourself.
Unless you're the rare exception
So yes, because I know how much you want to believe you could be that exception to the rule, you could be. Now that he knows how wonderful and amazing and incredible you are, he could decide that he's ready for more and give you what you've been looking for, but that's usually more along the lines of a fairy tale – and we all know the reality of those.
Just say no
It's not a cliché, it's a powerful word that lets him know what you will and will not accept. It sets boundaries, draws a line in the sand and lets him know in no uncertain terms, that you are worth so much more than this – and you know it. And that's the point. Yes, it may be a missed opportunity. Yes, it might seem better than being completely alone. And yes, we all know that women have a sex drive too and have the same rights as men do in the bedroom, but does a FWB relationship really honor and respect that beautiful woman known as you? Or does it put you back even further as you engage with someone who takes from you while you give to him even as you tell yourself it's an equal relationship?
Only you know what you truly deserve, my beautiful friend; but trust me when I say that you deserve so much more than a friends with benefits relationship - it doesn't matter who he is.