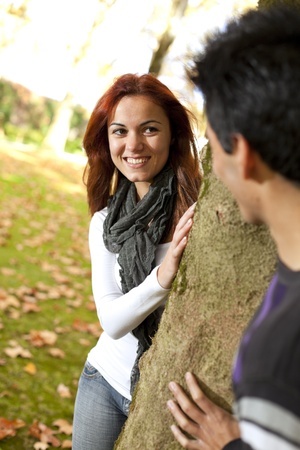 One of our beautiful readers, Elizabeth, is wondering how to get out of the friend zone with a guy who, by all standard definitions, seems to be interested in her, but is telling her that he's not attracted to her.
Here's her email:
I've read most of your emails and find them very inspiring. I have a unique situation of friend vs lover.
I've had a crush on a 29 year old male, I am 30.
We have traveled together to Japan and plan to do so in the future to Switzerland, Utah and possibly China.
He's what I call a shy nerd, had only one girlfriend in his whole life and only for 3 months. I never had one myself aside from online boyfriends and dates from online dating sites.
He's smart, goofy, sincere and handsome.
He and I clicked playing baseball and talking about nuclear fusion. We attend lectures together that inspires the future. We have spoke about advances of the world and books we love to read. Our parents get along, and we feel comfortable together. He would drive an hour just to see me almost every weekend and if I don't talk to him for more than a week he'd be 'concern' and call and text til I reach him.
I expressed my feelings for him and he declined it, more than once. Sating he was unattracted to me.
Usual response?
Ignore him and continue life. But he won't let me!
He'd text and insist why am I ignoring him? If I am upset with him, or if I state "I am busy" he'd prod as to "what have you been doing?"
My heart feels that deep down inside that nerd there's a piece of him that likes me, but...I think it's just false hope. I can't shake it off. He insist he only likes blonde white women. (We are both Hispanic and brunettes.)
I even suggested he'd find a girlfriend to go to the German trip with and leave me out, but he insisted there won't be one and "What if she doesn't want to come with me!?".
What is wrong with me? Why can't I let him go?
It hurts to lose my friend, yet my heart says 'something is there' but blocked or pushed away. Are my instincts broken? Is my intuition wrong? I feel I can't trust those feelings as just 'projections' of my own.
He knows he doesn't want me, so what gives? Why does he like me so much as a friend but won't push for more?
How could a guy like a friend so much and not even bother giving her a romantic chance?
- Elizabeth
My Response:
Dear Elizabeth,
Your instincts aren't broken at all. In fact, your heart is telling you the truth. There is a part of him that likes you, more than just a projection of "your own".
There is nothing wrong with you. You just can't let him go because of what you know.
But as much as you are right about there being something there on his end, it's one thing to know this and another to do what we always do next; for this is exactly the place where we come in and start our own "projections" to the detriment of our beautiful selves.
Because it doesn't mean the same thing to him as it does to you.
If you were him, all you would need is to like someone, and you're ready and willing to take a chance on him and see what more there might be for the two of you together.
But this is where the reality check comes in. You're not him. And he doesn't think like you do.
Your most accurate statement here is this recognition by your heart that "something is there" but blocked or pushed away. He's doing the blocking or pushing away. He feels that part of him that likes you and that's why you're getting as much from him as you are.
But it will never be enough to build a real relationship on if what you're looking for is more than you're getting from him right now. That's why he tells you that he's not attracted to you. That's why he insists he only likes "blonde white women".
These explanations all give him an out.
They all allow him to be free, to have whatever he has with you on his terms without you pressuring him for more.
But it's also how he keeps you holding on, questioning what's wrong with you, wondering why you can't let go. Because this is the setup for what so many of us buy into. We know in our heart of hearts that there's something there for him regardless of what he says or doesn't say. And we process this the only way we can; in our own way.
In our own beautiful way that can't understand for a moment – and yet, we'll try for hours, days and even years – how someone can have feelings for someone and not act on those feelings. It's the only way we know.
But for them, it's so much more than that.
It's only a feeling, and they've been conditioned so well to ignore those feelings. Because deeper than those feelings, are so many other things going on for them. There's something far more comfortable for him in knowing he doesn't have to get too close or reveal himself too deeply by keeping you at an arm's length or at least, on terms that are most comfortable for him. It works so much better for him being able to reach out to you like you're seeing  him do "to check in" and make sure you're still going to be around for him if, or when, he's ever ready to settle down.
You see, there's something he can do so much better than you, and it's not something you ever want to be able to do.
Compartmentalize.
He can take what he feels for you in friendship, in romance and put it in a separate place than where he puts all the other things going on for him that keep him holding his space, and keeping any type of commitment on his part at bay. They don't have to meet.
He doesn't need to give someone he likes so much as a friend a romantic chance.
And that's why you can't leave this up to him. He's not you. You're not him. It's why you have to believe what he tells you knowing he's giving you the most he can. You can't look past the reality of what he says and what he does and put "what you would do if you were him" on him. Because you're not.
You have to make this about you. About what you deserve. About what you want. And if it's him but with a different action on his part, it's not him.
It's the hardest part of knowing someone like this. Allowing the two of you to choose different paths even though you hold a piece of the same thing; a feeling for each other.
It's just not enough.
And he shows you this and tells you this enough times to make sure you know.
Don't take it personally, Elizabeth; it's not. Not to him.
It's where he's at.
He probably doesn't even know why. He just knows this is how it feels better to him. Keeping you close enough because he knows what he has with you, but also at a comfortable distance because he also knows he doesn't know if he'll ever be ready to anything about it.
I know mere words can't fix this for you when you long so much for a fix, but I hope this helps to understand more of the picture – more of his story. Take your own life by the horns and run with it. Don't leave it up to him to decide whether or not he's going to "let you".  No one can stop you from doing what you want to do if you're sure you really want to do it.
His life isn't yours to fix or understand. And trying to fix him, to rescue him or to understand why he can do this and you can't is only crazy-making for you. That's the point; you have to decide what you want with him and make sure you have this clarity within yourself.
It's not going to come from him.
What do you think? Do you have any more words of advice or encouragement for Elizabeth, stuck in the "Friend Zone"? Share them with us in the comments!