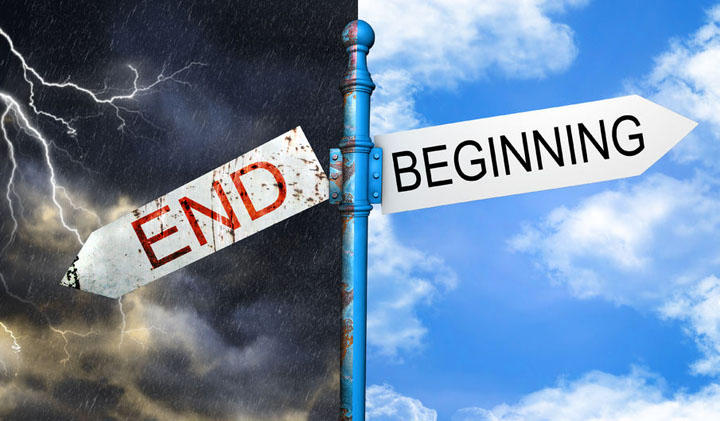 I see you.
Over there, sitting all alone with your head in your hands.
Oh you think no one notices you, but I do.
How could I not? Not where I've been.
Because when you've been there, you're the first one to feel it when you see all the signs. Broken heart, broken dreams, broken everything, or so it feels. How can it not feel like this when you feel everything as deeply as you do?
Why?
Why did it end? What did I do that was so wrong? What did I do to deserve this?
You want to know. You weren't ready. Not like this, not the way it ended and not the way you feel now.
If you can just find some reason for it – if you can just make some sense of it - you know you'll be all right.
But until then, here you are. Searching for a sign. Looking for an answer. Waiting for a miracle.
Here's the answer - the only answer: It ended because it had to.
You can't do this to yourself any longer. This pretending that you both want the same thing, that he's on the same page as you, that you both want the same ending to the story of the two of you you've been creating together.
Only if you look closer than you've ever allowed yourself to, you'll see that you've been the only one creating this story for awhile now.
It never starts out that way, but it's where we get to when we're so caught up in seeing only what we want to see that we miss the reality that's always somewhere there, right in front of us.
It ends because we can only convince ourselves for so long that we can actually do this. That we can live like this. That we can accept the reasons, the excuses, the inconveniences, the apologies, and keep going back for more.
After all, if we're honest with ourselves, without that ending, without it blowing up in our faces like it often seems to, we can waste an awful lot of our lives away.
It ends because you weren't made to live like this.
It ends because your body isn't willing to feel the physical effects of what you're going through any longer.
It ends because your loving, caring, giving heart can't keep giving like it does without receiving something back in return.
It ends because you're not the victim.
It ends because this isn't the role you auditioned for.
It ends because there's so much more for you instead of what you've been settling for.
It ends because if he doesn't end it, you never will.
It ends because it's the only way for you to discover someone who will be on the same page as you.
It ends because that someone can't find you while you're with someone else.
It ends because the part of you that knows all this knows it has to.
It ends because God, the Universe, Fate, the Infinite Potential – whatever you call that source of love and grace in your life – has got so much more in store for you than this.
It ends because you can't get to the next part, the better part, until this part ends.
It ends because you need it to.
You don't have to believe it. You don't have to see it. You don't have to understand it. You don't have to do anything more than read these words if that's where you're at. But I want you to try to grab hold of just a tiny piece of faith and trust that there just might be something to this.
It might be a long shot from where you are right now. It doesn't matter.
We're going for the long-term picture, not the shorthand view. Two steps forward, one step back. One step at a time.
Baby steps.
Until you see this, too. We're going to get you there together, you and me. You're not alone here. Grab on to whatever part of my work speaks to you. And then hold on tight.
Once you start on this new way of thinking, new way of seeing, you're in for the ride of your life.