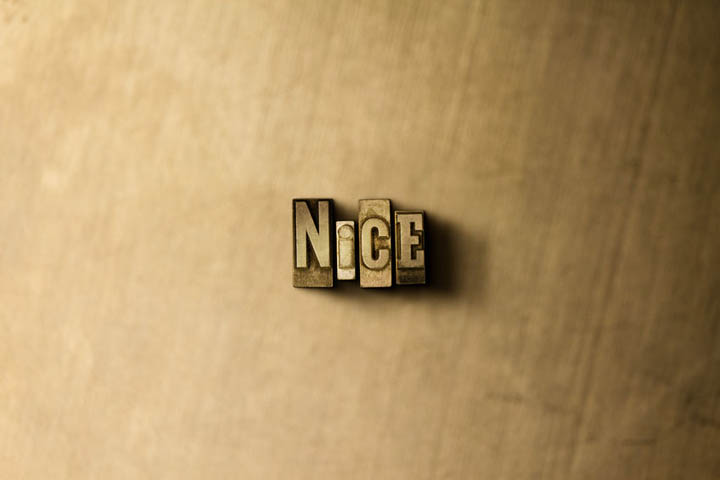 We've been programmed to be so "nice" that it's no wonder we're confused. We have so very few role models to show us what it means!
So many of us were raised by mothers who either were always "nice" or eventually blew up into something that was anything but what they preached at us to be. And the same went for grandmothers, aunts, cousins, sisters.
You name it, we women have so much to learn about being confident, assertive, and yes, that word "nice".
It's about setting boundaries and teaching these men in our lives how to treat us so that we don't get to the point where we blow up into something we're not, which is often how we end up before we realize something needs to change.
Sound at all familiar? 
If we don't know ourselves how to be nice without being a doormat, how to assert ourselves and set boundaries without compromising our genuine niceness, how can we possibly teach a guy how to treat us if we don't know what it is we want in the first place? How can we possibly let him know what we are - and are not - okay with?
After all, we want to let these guys know in a loving, but firm way, what is and isn't acceptable if they want to be with us, as things come up - and they always do - in the relationship.
It's a proactive way of living that saves us so much stress, and heartbreak in the end. We lose so much of our power when we behave in a reactive way of living, where we haven't embraced the simple fact that we have a right to our ways of being; our preferences, our limits, our boundaries, our deal breakers.
But if we don't truly believe that we have a right to state what we want and don't want, what we're okay with and what we're not, what we want out of this relationship and what we don't, then we're going to continue going along with being "nice", always in agreement. Not rocking the boat for the sake of keeping him happy and thus keeping him with us.
Isn't that really what's going on here?
We're afraid if he knew the real us and we might disagree with him on something, then he might not like it and leave us. And that's scary. Really, really scary because we actually believe right down to our core that we need him. 
To live. To breathe. To be okay. To be happy. 
That's why we do "nice" so well and keep on doing nice so well because we're so scared that if we don't, if he's not happy, then he's out of here and on to someone else and we'll be left alone.
And that's a scary place to be.
Our greatest fear is to be rejected, not wanted, thrown out, worthless, discarded.
Oh, I remember all too well what it was like to finally have enough of "nice".
Finally, finally, our true selves can't bear one more moment of selling our own souls to yet another man like we do, this giving up our 'us' for him. Finally, in the moment everyone else on the outside had been waiting for, that true self says "enough is enough".  You can do this no more.
Because you couldn't not. Because you had to. To save yourself.
Isn't that how it happened? And the words came out, spilled out before you knew what was happening and before "nice" could stop them, so that you said your piece, and he heard it and the words were out before you could take them back. The reality was, this really was always under the programmed nice – he knew it was, and he knew this moment would come. You both did. And so did something else, waiting for this to get him out of there and give you a real chance at a real life with someone real.
And he left. And as much as you begged him to change his mind, to take you back, to come back – you didn't mean it, you shouldn't have said it, you lost control, you just lost it, you're not really like that, that wasn't really you or whatever else you said – but it's done and you're done and the whole thing's done and it's a good thing but it's left you in pieces.
You didn't know what to do.
And the worst part is you weren't mad at him, no, you were mad at yourself.
Furious.
This is where the "if only's" begin. If only you could just have kept up the act for a little longer, kept playing the part of the perfect girlfriend who puts up with everything and makes your guy so happy, and never rocks the boat, you would have had him forever.
I know how it goes. Believe me I know.
You try to convince yourself now that he was so close to realizing what he had in you and make the commitment to be with you and only you forever. You beat yourself up over and over again because you think you blew it and he's gone and you can't get him back no matter how hard you try and now you're just feeling worse than even before.
Desperate, alone, ashamed, embarrassed, and so mad at yourself that you couldn't keep up the facade because you were so close!
The truth is, Beautiful, you weren't.
You were the only one who thought this because when you're in deep like this, you're in denial. When we're in it bad and we've got it bad and we can't see the guy for what he is or the relationship for what it is and we only want to see it the way we see it but we can't see that's what's going on.
That's called denial. 
And I know I've said it here before, but when you're in denial, it's just not real, and without real, you've got nothing. But I know why you're hanging on – because he's a great salesman.  And you want to be that woman he wanted to have it all with him!
I did, too! Beautiful, I've been where you are. I've walked in your shoes. I've had that same longing for this to be it – the one, the guy.
But you can't make someone out to be the perfect guy for you if he isn't actually the right one for you. Wanting it to be doesn't make it that way. No matter how much you want it to.
Deep down, your true self knew it was time.
You won't be open to someone new while your heart is still with someone else. You can't be ready for someone else while you're still convinced making someone into what you want him to be – no, need him to be – is your number one goal in life.
Yes, you're nice. And you always will be.
But there's also a part of you that knows your limits, that recognizes when enough is enough. When the writing is not just on the wall but all over that wall. That's when nice becomes real. And that's when that real part of you that's so much more than just nice steps in and help out when we just won't get it any other way.
You can't see it now, but you will. I promise you, you will.
You couldn't have convinced me of any of this either when I was in the throes of hanging on and trying to make "nice" be enough. And the life I'm living right now with the guy who's everything I ever could have wished or hoped for in a man to spend my whole life with, could never ever have happened if I had hung on any tighter to the guy I finally had to say goodbye to.
But no one could have told me that back then, because I thought I knew better.
So it's okay if you don't believe me right now; I didn't believe it either. Just plant that little seed back there in the back and know that at some point, this will all make sense to you.
I'm not worried about you, Beautiful. I know one day, at the moment when it all begins to click for you, that's when you'll be the one writing to me to tell me you got it, and you'll be sharing your own love story with me.
You've never been "too nice". It's that you've been someone else's kind of "nice".
Been here? Realizing you can only go so far with being everyone else's kind of "nice"? You can share your story here in the comments and find out you're not the only one.