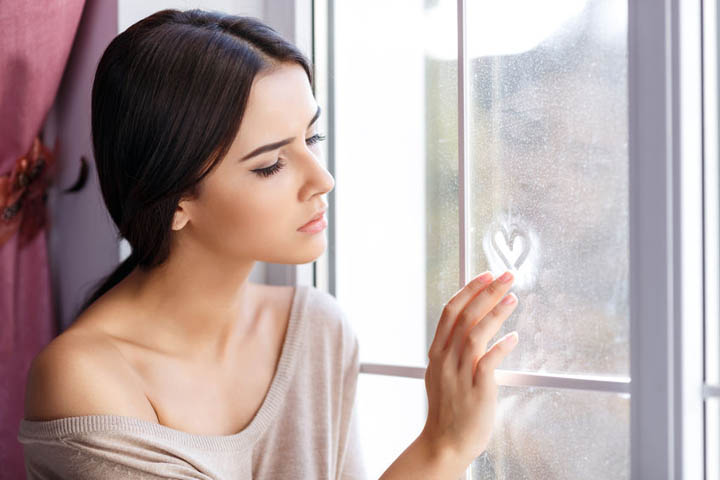 The letter this week comes from our gorgeous friend Gigi, who's finding it hard to move on and let go of a guy she felt she had immediate physical chemistry with.
Here's her story:
I began dating a man right before Christmas.
We both agreed to just see where things went, but we had an immediate physical chemistry. So we had sex on the second date.
We saw each other three to four times a week for HOURS at a time. Not always sex, so I began to really like him.
Then I asked him if he was seeing anyone else because I wanted to make sure we were still on equal footing. He said he was and assumed I was. I told him that I was communicating with other men, but had not actually gone on any dates with them. I assumed this was a casual date or two with this other woman because he said he wasn't in a place to get exclusive as he was trying to find a new job.
For two weeks I continued to see him and sleep with him- basically hoping he would choose me. I got needy and wondered if he was with her...tried not to mention it to him, but I"m sure it was obvious by my moods.
He told me that we needed to stop having sex because it was messing with my mind. He didn't think it was right. Then he said it wasn't fair to HER to go out with her and then come home to me. He had taken HER to parties and out with his friends and his grown kids.
I felt like a slut.
I told him it felt like I was hidden like we were having an affair. He said no, because he told both of us that he was NOT getting exclusive with either of us - he has too much on his plate.
Then he told me to relax and let this thing with her run its course - he didn't see it being long term, but he can't see the future, blah,blah. He says it's because he was dating us both and he liked us both and she didn't ask questions and had already met his friends.
He said he still wanted to see me and didn't want me out of his life. He even kept some personal "sex" stuff at my house and said, "See... I'll see you again." So I left things at his place as well. Believing him when he said, "You act like you're never going to see me again. you might see me tomorrow."
I haven't heard from him since. It's been three weeks.
I left him a voicemail and he texted back "You didn't do anything wrong. it was the timing. Hope you're doing well." Which immediately caused the tears to flow.
I replied in a joking way if I would ever see/hear from him again and he replied, "Occasionally" To which I cried even more.
I haven't contacted him since.
Although I cry and question and analyze every text, every conversation, every time we had sex. From his actions I would have thought I was the only woman in the world. I was surprised to find out that I wasn't.
He said I should have known.
I don't know what to believe and what is BS. When I go back and read all our dialog, it is back and forth. I know I just need to let it go, but I thought it was a real connection on ALL levels and it's hard to believe that he was just using me.
I'm having a hard time moving on, which makes me feel pathetic and desperate.
I'm miserable right now and I need to be OK. How can I make myself accept this and let it be?
I just want peace and not all this wondering and doubting and hoping all mixed up.
Thanks!
- Gigi
My Response:
Oh Gigi, I feel for you! This is a trap so many of us fall into.
Of course you're finding it hard to move on!
I tell so many of the women I work with "Don't have sex until you've got the commitment you want!" over and over and over again. But until you recognize who you are and what you have to offer – and how sex changes all of that – you're not going to realize just how important this is.
Guess when men want us the most? BEFORE sex.
Guess when we, as women, want him the most? AFTER sex.
And this is why it matters (yes it absolutely matters!) that you don't have sex with him when you're still able to think clearly, before you've gotten too attached.
After sex is when you're hooked. After is when those mind-altering bonding hormones kick in and you can't think straight, let alone act straight. After is when you can't stop thinking about him, can't stop trying to get close again, can't stop figuring out how to be and say and become everything he can't resist.
It's mind altering, literally, and until we acknowledge this part, and not just the part that says we have the right to or that we can, we only keep hurting ourselves over and over again.
Yes, you can, but do you want to? That's your question. And then come to your own answer. Can you risk what it does to you? Is it worth it for what it does to you?
Go back and reread what you wrote to me. Look at all the things you're feeling. These are your real feelings and you feel them for a reason.
He's putting this all on you because it's so much easier to tell you to just relax, to tell you that you should have known, that he made this oh so obvious to you.
He didn't.
Not through the lens we live our lives through, and especially not through the lens we look through after we've been intimate with someone like this.
Own that view. Own the way you see him. The way you see love.
The way you couldn't possibly have known when you were looking through the lens you looked through.
Next time, you'll do this different. You'll take your time. You'll make sure you're both on the same page, exclusive and committed to each other.
Or you won't. Because you don't have to. It just makes it easier on yourself if you do.
This is the part we need to accept. You can go there, but it colors everything we see after. It attaches ourselves to him. It takes away our objectivity. But yes, you can always still go there if you can't not.
The next time, it might be different. We've all heard those stories.
But most likely, it won't be.
The learning we go through to accept ourselves and what we know is too important a part of this journey. And who we meet after we can do that, after we've learned how to accept reality and let go of something short of that reality that only exists when we look through that other lens, is someone worth every part of this journey.
Turn the story around, Gigi.
He did choose you. He knew what a prize you were. He just didn't know what to do with you.
He didn't know what to do with someone with a heart like yours. But don't for one minute take what he ultimately decided to do with you personally. We're never everyone's cup of tea, only the ones who matter.
Only the ones worth a heart like yours.
I hope this helps.
Love,
Jane
Do you have any words of advice and/or encouragement to help our gorgeous friend Gigi to let go of this and move on? Share them with us below in the comments!
PS: If you're wondering why he's pulling away, getting distant, or why he disappeared on you, and what you can do about it, check out my program "Why Men Pull Away."  You'll be glad you did!