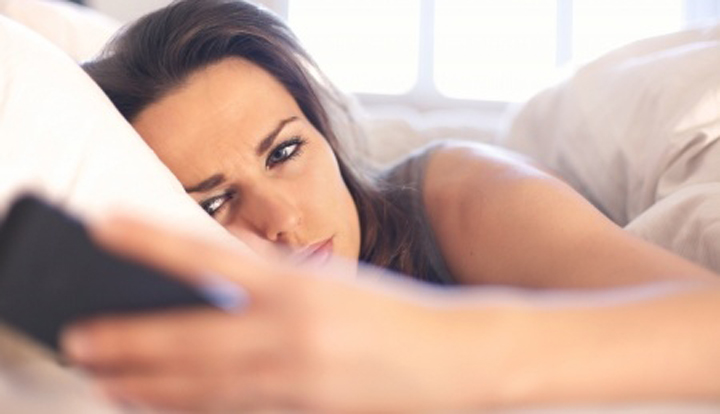 One of our beautiful readers, Mimi, was in a relationship for over a year with a man who is suddenly getting emotionally distant and emotionally (as well as physically) unavailable.
Here's her story:
Thanks for the opportunity to reach out. I'll be as brief as possible, sacrificing good grammar and punctuation along the way!
I reconnected with a friend of a friend, whom I first met over 20 years ago, a little under two years ago. We first Facebook messaged, getting to know one another.
I am never married, he is divorced with two kids, and we discussed our schooling, work, private lives etc. over messages for about a month. Went from Facebook to using personal emails, he gave me his phone number but I didn't call, just emailed.
Gave him mine finally and he called and we continued with phone conversations and texts. All told we got to know one another quite well through these methods for about 5 months before a face to face meeting. Which was great as it left the physical aspect out of the attraction and it was in very different levels. He lives about 3.5 hrs from me, drove down that first night for dinner, then returned home.
Seeing one another after months of contact was nothing short of wonderful.
That was August 2013, but since he has was in the process of building his own business that is seasonal, he works 7 days a week, so our contact continued to be from afar. He came again in October and soon thereafter said he wanted me to visit him and meet his kids. I did, in November 2013, and from there we saw one another regularly every few weeks.
Though his business was 'out Of season' he still worked at it night and day (he had come from a corporate setting and is very determined and driven and a workaholic to some extent). All seems great, though he is continually overwhelmed and stressed with his business and focuses on it endlessly.
Summer of 2014 fun, early Fall good as we make plans to do things and go places and he excitedly looks forward to the end of his season.
He and kids come to Thanksgiving with my family...my parent, siblings, their families etc. We take a short but sweet and fun trip together in early December, he takes his kids to see his parents for Christmas, then he alone spends New Year's with me at my home.
The push for getting ready for this season begins immediately thereafter as he has tons to do to get ready.
New Year's was great...relaxing, comfortable lots of conversation, including him asking me if I'd ever considered a career change - leaving mine to do something different like work with him perhaps. I was honest that I hadn't thought about it before before... I hadn't had the interest or opportunity to consider something other than what I do as a situation hadn't arisen that made me want to do that.
We had discussed things like this before on a smaller level and I was honest then as well....I had always envisioned a life with family, kids, etc. but It didn't happen so I focused on my career and it wasn't until being with him that I ever considered scaling down and making my life more 'family centric' as he put it. And I reiterated that to him again.
I am a medical professional, yes, but I also cook and garden and can jams and do all that stuff. For him I'd make foods and freeze them as he never has time to cook. I kept he and the kids provided with my homemade jams and peppers etc.
I made sure they had cards for holidays and birthdays, and he deemed it his best birthday ever when I got the kids to make cards for him and we had a cake with candles and ice cream and decorations and gifts etc. (he doesn't have kids full time but they're high maintenance in many ways - don't clean up after themselves, don't do anything but want to watch TV which is fine with him as he works in his office all the time they're there anyway, won't shower, no chores, etc).
I am the emotional type while he is more direct.
And since leaving his other job, before I had met him, and starting this new business he is focused obsessively on that.
So, all seemed really well after New Years, he said he wanted to spend much more time together, move forward with us, etc. then he went to meet with someone he used to work with to consult about his business and get a plan together.
In so many words the guy told him he had no chance of survival moving forward as he was and needed to get more help in there immediately, that his seasonal employees are just that, seasonal, and he is guaranteed failure if he doesn't change things ASAP. On his way to meet him he was texting about when I would come there, which days the following week were good etc. On his way back he told me some of what happened and immediately I was supportive, boosting his ego, trying to keep him confident, offering to help, etc.
And I've been totally cut off.
We last spoke about almost a month ago. He sent a card, and small gift for valentines day, which was a huge surprise as he only had ever given me cards in person and had never sent a single thing!!
Initially I received just a couple of random texts telling me he, or the kids, were sick. Or how his heat isn't working. Most recent one said he is juggling so much and needs to be organized so he can show the real him, and he couldn't even ask for help because he didn't even know what to ask for.
I'm so confused.
I've done nothing but be nice - too nice probably - as I don't know that he has ever appreciated anything really. I think he was told what to do a lot when married, a lot of fighting, and I'm the opposite.
I did things for him, I tried to take care of him and help him....I even cleaned his place for him! He was never very grateful and I know I gave far more than I received.
I'm not a stupid person, maybe just trying not to see that I've been dumped or whatever. Am I just letting him get his stuff together? Is someone so busy that they never call or care?
I broke down yesterday and sent a message that said that I think of him and the kids often and hope all is well. He responded with a thanks honey, believe it or not the thoughts go both ways.
Help. I really care for him. We had so many plans. What happened?
- Mimi
My Response:
I know you really care for him, Mimi.
We always do. Often more than we care for ourselves.
What happened, is that reality happened. You were the only one who was ever really in this relationship. Oh, he was there physically, and maybe mentally and a little bit emotionally when he was able to be and wanted to be, but not the way you were.
You were living the happily ever after without there being anything concrete to base that happily ever after on.
You gave so much, so much to his kids, to him, to his life, to his home. You embodied the perfect woman – the perfect wife or mother - or what we think our role needs to be to be loved, to be wanted, to win the part of girlfriend, fiancée, wife or whatever other part we're vying for.
Of course you're confused. Because it wasn't supposed to end up like this. This wasn't the way it was supposed to go. You did everything you thought you were supposed to do.
You were everything that "they" led you to believe that you had to be to win over the heart of someone who wasn't looking for the same thing you were.
He may have thought he was. After all, how could he not when you gave so much of yourself, when you did so much, when you were so nice, when you bent over backward the way you did to make sure he was happy, that his kids were attended to, that he was so well taken care of and understood? Isn't that really what it all comes down to? How could he not want to be with you, to continue on living like you were with all your dreams, your plans, your hopes for the future?
I so hear you, Mimi.
There you stand, looking on at all this, looking back at all this, wondering what on earth happened. I can hear the disbelief in your words as you consider it all.
He's an imperfect human being, Mimi, just like we all are.
He thinks he knows what he wants. But then he doesn't. He thinks he's ready for all you gave him. But then something doesn't feel right to him. And he doesn't quite know what it is. He's never been taught how to communicate his feelings, let alone understand what his feelings are all about in the first place. He's never had that type of communication modeled for him.
But there's something that just doesn't feel alright to him. Something that isn't working out quite the way he thought it would, even if he doesn't have a clue as to why.
And so he does what anyone would do, and especially a man who has never been shown or told what you do in a situation like this, and he pulls the work card, the busy card, the "but you understand, don't you?" card, and more specifically in this case – the "juggling so much and needs to be organized so he can show the real him, and he couldn't even ask for help because he didn't even know what to ask for" card.
Because, after all, he really doesn't want to hurt you. He really wants you to just understand and let him off the hook and not be too upset with him and please don't be mad at him.
So that's what happened, Mimi.
No, you're not stupid, no you couldn't have seen this coming because you didn't know what to look for when you were only following what we're all told to do in so many messages when you find someone you want to be the one and you want him to see that you're the one for him, too.
Everything you did for him, everything you were to him, there's absolutely nothing wrong with any of that, or of you.
But Mimi, the part we're not told about? Is that you don't do those things when you're not being reciprocated in return. You don't keep doing those things when there's nothing coming back to you.
But here's the most important part of this – because I have a feeling you're going to go to that place where most of us go, where we blame ourselves, where we look at what we could have or should have done differently that would have given this whole thing an entirely different ending. Don't. Not even for a moment.
It wouldn't have changed a thing.
Because the only way a relationship works is if you have two people on the same page.
That means he would have been giving you something from the beginning. That means he would have embraced the woman you showed him instead of pushing you away. That means it would have had a different ending than this one. Because he would have wanted it to as much as you.
That's how you know, Mimi. It's not just we'll see what happens or leave it up to fate.
It's two people who want it to happen, who make it happen together because this is what they both want. That's the only way you want it and the only way it works.
I hope this helps.
Love,
Jane
What do you think our beautiful friend Mimi should do in this situation? Share your thoughts with all of us in the comments!