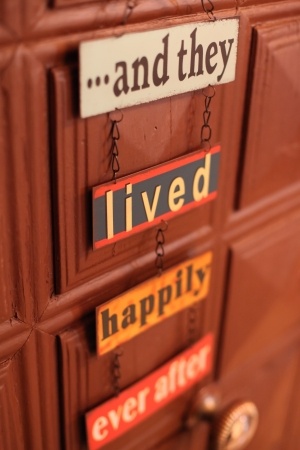 You know that dream you have of happily ever after?
Well, I have some good news for you: There really is a happily ever after. It exists.
It's just different from the book and movie versions we all grew up with.
The ones in the stories read aloud to us as children and the versions based on the same themes we later watched on television and in movie theaters as we grew older. Whatever the particular story, they all had the same ending we would come to expect and look forward to: the one that ended with the prince sweeping the damsel in distress off her feet and the final words, whether they were spoken or simply implied, "… and they lived happily ever after".
It wasn't until much later in life that I began to wonder, "How?"
Because after so many failed attempts at my own version of these same fairy tales that seemed so elusive to me, it became the question I so desperately wanted to know the answer to. "What happened next?"
But of course, that's where the story always ended and we never heard what really happened after they got together. After the glow of the initial attraction was no longer the only thing each other saw, and the real story played out.
What then?
We're not told, and there's definitely a reason. It's no accident that we're left guessing, wondering what happened next. Because the rest of the story doesn't sell many books or tickets or advertising spots. It's the part that's not nearly as exciting or enticing.
But it's the part we most need to see.
Why?
So we can see that's it's really not about the handsome prince who can have any woman he wants in the kingdom choosing the one who we'd be the least likely to pair him with.
So we can see that it's not about a single kiss, or a look, or an intensity of magic proportions between two strangers who have no idea if they're even on the same page, let alone if they have anything at all in common to make them compatible for a lifetime.
So we can once and for all remove this aspiration that so many of us find ourselves aspiring to, and feeling like there's something wrong with us if we can't make someone love us, if we can't prove ourselves to be enough to change his heart, if we can't be the one who makes him commit.
As if any of us ever has the power to change anyone if they don't first want to change themselves.
Reality.
It's the real version based in reality, not in fantasy, that we need to reprogram ourselves to expect. It's the version about two very real people who bring their own personalities and idiosyncrasies to this new relationship.
It's the part where real memories are made from real love, that requires two real people to show up. Two real people who both know what they want and are willing to do whatever it takes to make that work.
They communicate their needs, they talk about everything, including the messy, uncomfortable stuff of life.  They don't necessarily agree about everything, but it doesn't matter because they're open to considering what the other has to say.
No one keeps score so it doesn't really matter. They actually talk about things that bother them and then work on what they can do to make things better.
The real thing, this real thing that we all want, isn't part of a fantasy. It's real.
But the part of the fantasy that we keep insisting on, that we can insert anyone – even someone who communicates with his actions that he has no interest in a committed relationship -  into this type of scenario and it will work the same way, with the same ending, isn't real. It isn't real at all.
It doesn't work that way.
If he doesn't want what you want, you can't make him want it simply by being enough of what you think he wants – or needs.
If he isn't looking for the same level of commitment as you, no amount of showing him what he's missing or trying to be all that you think he wants you to be is going to change his mind for him.
Don't make this about what you're not. It's not about you.
It's about him.
Give him something to rise to. Raise the bar on your own standards of what you're willing to accept from a relationship that you want to be in.
But if it's not his thing, and he's not giving you anything concrete that shows you a man who's on the same page as you and looking for the same real life reality-based committed relationship as you, can you really be happy with him?
Look closer.
Closer than your own dreams and fairy-tale endings. Look at him. What is he showing you? What is he giving you? And what isn't he giving you?
If you want to keep holding onto beliefs that have pumpkins changing into coaches, and beasts that only need to be loved enough to have their hearts melted, turning them into the man of your dreams, then that's always your choice.
But give yourself the courtesy of not pretending you can live like that if you can't.
Because if what your beautiful heart desires is your own real version of happily ever after that isn't about love conquering all or you being enough for someone who there is no enough for, then don't settle for someone else's story programmed into your own life.
It's not you. And it's not real life.
It's a marketing campaign.
The real happily ever is playing out in the reality of real life. In the reality of a relationship of two imperfect people who are perfect for the one they're with. That's the beauty of being with someone who really loves you and cares about you – the real you. It's why it's the real thing.
We don't get it while we're stuck in all these complicated relationship scenarios we call love.
Just ask Cinderella.
I'll bet she'd tell you a whole different version of her story in the sequel to that book.
But that's one sequel you won't see playing on the big screen or on any best-seller list.
Sound familiar? I'm sure you've got your own story to tell about some part of this, and we'd love to hear it. Share it with us in the comments!