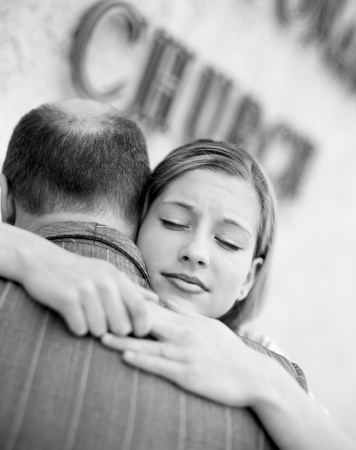 He's our first love. Our first example of what a man is like.
From the time we enter the world, our daddy becomes our everything.
He's the one we run to when we need to feel safe and secure. He's the one we go to when we have something to show the world.
He's the one we want to know will always be there for us, no matter what we do or who we become. He's the one we long to please.
And he's the one whose approval we're always striving for.
It sets the stage
Our relationship with our dad sets the stage for all our future relationships with men.
If he was there for us, both physically and emotionally, we learn that this is what we can expect from men and this is what we look for and gravitate toward in our own relationships with men.
But if, for whatever reasons that have everything to do with him and nothing to do with us, he wasn't able to be there for us either physically or emotionally (or a combination of both), then this is what we learned to expect. And this is what we now find ourselves drawn to in our relationships.
It's why we keep attracting the men that we do.
It's why it's so difficult to change these ingrained patterns because our programming that tells us this is normal - and  that this is simply the way men are - is all we've ever known.
I hear the same story so many times, from every kind of woman from every walk of life.  And when we dig deeper, underlying all the reasons why, all the excuses and justifications, there lies the little girl who loved her father like no one else in the world.
He was her everything, and all that she wants from him is his love.
Which is why what he did with her, how he treated her, and how he acted towards her means everything to her.
I remember when I first heard someone mention the deeper role our fathers play in our lives, particularly in our relationships.  It was shortly after I had my first panic attack when I was away from home at university when I was 18, believing I was ready to conquer the world.
I felt so lost and so unsure when it was the opportunity of a lifetime.  And so, when I went to talk to someone about what had happened and why, the questions turned to my relationship with my dad. No, I answered, it can't be anything about him and our relationship. There's nothing there but love.
But the truth was that I just wasn't open to seeing it back then.
It wasn't until years later after I had repeated what had become my signature pattern that I would identify as attracting emotionally unavailable, non-committal men yet one more time that I realized there might be something to those questions about my relationship with my dad.
It runs deep
I started digging deeper.
I started looking beneath the surface and realized I was indeed looking for my dad – or the dad I always wanted him to be – in every single one of the men I was finding myself attracted to.
The emotionally unavailable man. The man I had to chase after who didn't come to me, but who I had to go to.
Oh, I thought they were chasing me, but now I realize I was the one chasing them in the subtlest of ways. And to make matters worse, I was chasing the ones who weren't on the same page as me. The ones who were on the same page I wrote off before ever giving myself a chance to get to know them and find that out for myself.
I was too busy chasing these emotionally unavailable guys trying to get them to see what I had to offer even though they were the kinds of men who would never be capable of giving me what I wanted.  I now realize that I didn't really even know what I wanted. The truth is that what I really wanted was to prove that I was worthy of being loved and given someone's time and attention from a guy who wouldn't give it to me.
Apart from that, I had no idea what I wanted or what mattered. It was a quest for someone to finally come to me and choose me instead of the other way around. It was a pattern so familiar when I was willing to look beneath the surface and see that it was the only way I knew to be with a man. I was looking for my dad.
The father-daughter relationship
When I finally admitted this to myself and allowed myself to explore this further, I confronted my dad and tried to explain. But of course, he didn't understand.
How could he?  He loved me in the only way he knew how. With a love that was as demonstrative as he knew how to give. With a culture so filled with so many incorrect messages for dads about daughters and fathers and what father daughter relationships should look like.
Not to mention the way our dads themselves weren't loved in the ways that they so needed to be loved. How could I have expected anything else?
This had to come from me.
I had to do it myself. Whatever I was looking for from him, it wasn't going to come from my dad who did the best he could with what he knew at the time. From someone who not only wasn't familiar with the term emotionally unavailable, but also couldn't possibly understand what that meant to me and the relationships I was having because of him. He might have set the stage for what was to come, but it was me who needed to come to terms with the reality of what was and what had been and find my peace in accepting that reality for what it was.
I had to accept and forgive. To realize that I was loved in the most loving way that he knew how to love me. And I had to free both myself and him from the fantasy of what I wanted it to be.
I wanted him to choose me. I wanted him to come to me. I wanted him to pursue me and not let me go when I was running away. I wanted him to show me I could be myself and still be loved by him. I wanted to test his love, and find out he would always be there, and that he wouldn't abandon me. I've learned that this is what all little girls do with their daddys to become the strong, secure women who know their worth and know they deserve to be loved for who they are.
But no one has told our dads this. They're doing the best with what they've been given.
Once I figured out what my underlying belief was; I have to get someone who's emotionally unavailable to commit to me and love me to reverse this pattern, I was able to release myself from it. Once I broke free of this pattern and was finally able to attract and be attracted to someone who was emotionally available in every sense of the word, I began to learn the biggest lesson of all about dads.
They love us in the only ways they know to love their little girls.
This Father's Day, accept the role that your dad plays in your life. Accept the subconscious influence that your very first male relationship, the one you have with your dad, plays in your grown-up relationships with men.
But if it was less than perfect, which many are, release him from what he didn't know or wasn't capable of giving you. He gave you what he had to give.
Blaming or pointing fingers does nothing to help anyone, and especially not ourselves. But accepting them and loving them for who they are does.
It wasn't about you. It was about him. It's time to stop chasing someone who can't love you the way you deserve to be loved. It's time to stop repeating these patterns over and over again.
It's time to see this for what it is, a pattern that we can change by awareness and acceptance and the understanding that some men can never love us the way we want them to.
It's those ones we need to recognize, to release and to move on from to the ones that are waiting for us to be open to seeing them for who they are, the ones who really are on our same page, the ones who can love us the way we long to be loved.
You deserve nothing less.
I'm confident that there will come a day when men realize the pivotal role they play in the lives of their little girls. A new generation will emerge of consciously aware men. Men who are made even more aware by the women in their lives who help them to see it. Women like you and I.
We can't go back in time, and we can't change the past. But we CAN change the future.
I'd love to hear your own thoughts around Father's Day. It's always a day of so many emotions for me. What comes up for you when you think of your own father-daughter relationship?  Please share them with us in the comments!