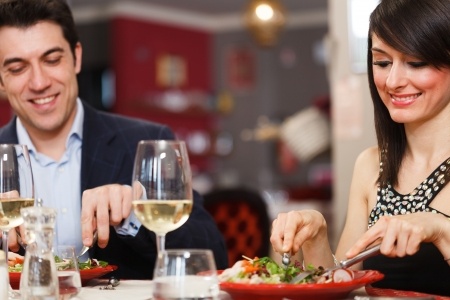 Here's a great question from Elly about a guy that's sending her mixed signals. He takes her out on what seem to be formal dates, but then he says that he just wants to be friends.
Her story:
Dear Jane,
Quite recently, my male ex-colleague turned friend had asked me out to dinner. The thing is, though he's been separated from his wife of four years for almost a year or so now, my guard is still firmly up when it comes to him only because I may be attracted to him as more than a friend for now.
I was a bit surprised when he first asked me out to dinner about two months ago.
However, what confuses me the most is that, during one point in the dinner, he said that he wasn't looking for a relationship but rather he'd have a friendship with others any day. His reply threw me for a loop was because he'd just blurted that one out to me when I didn't even probe him about his intentions about getting back into a relationship with someone else in the future.
Further to that, he randomly told me that the dinner wasn't a date and I replied, "Yeah, I know and I hear you." If that's the case, why did he have to make dinner reservations, come pick up (via a cab, as he doesn't own a car) and even paid for my dinner which was about $200++ per pax that night, although I insisted on paying my half of the share but he strongly declined it. He even requested a hug from me before we went our separate ways, which was once again a bit weird for me, because the last time I met up with him for lunch, we just went our own ways after saying our goodbyes. So all these sudden "change" of his behavior towards me is sort of bewildering me.
I understand that chivalry isn't dead; but about a week ago, he text-ed me again asking if I could meet him up for dinner to, in his words, "catch up", and yet again with the whole "I-had-made-dinner-reservations-for-us-both-tonight". And when I told him that I got to take a rain check on suggested dinner due to prior commitments; he sounded quite upset and asked why is it that I keep blowing him out for dinner?
I am all for meeting up with friends, be it male or female, but as feelings (my feelings!) get in the way of things of late, I can't help but wonder why is this man sending me mixed signals? I mean, if you're looking for a void or some kind of distractions from your feelings as you grieve over the loss of your marriage, I am more than happy to lend you my listening ear as a friend, that is, over a cup of coffee --- and not dinner for two at some tres chic Spanish counter top table restaurant. It's just not "right", if you ask me!
At any rate, I've decided to put a distance between me and him, because if it was a genuine meet-up between a man and a woman, I honestly think it's a bit out of the norm to be going the whole nine yards (re: pick me up, dinner reservations, hug request) on this, don't you think?
Anyway, can you please advise me how I should put it across delicately to this man that I can't meet up with him any longer (due to my growing feelings for him, which he hasn't the faintest idea, by the way) if he was going to make every dinner meet-up in a way that appears to be like a 'date', when in reality it isn't? That said, how should I tell him politely that perhaps we shouldn't even meet up for quick luncheons, or dinner even, in the future as I don't wish to be perceived as his buddy nor his emotional placeholder?
I honestly hope you can answer my query because I need to move on from someone whom I know who can't match what I have got to offer. At the same time, when he so much as does something sweet to me, I caved and in turn, hope that one day he will be ready for a relationship. Even though I know that's hardly the truth, based on what I heard from the horse's mouth, that is, the man himself.
Thanks for your time and attention!
- Elly
My Response:
It's great that you're so in touch with your own feelings here, Elly, and it's wise to have your guard up with someone who is only separated, and thus still married, to his former wife. Only when he's officially divorced and not just on the rebound, would you want to consider engaging in more of a relationship with him.
What you're describing here, is someone who's doing what works for him and what helps him through this.
That's why you're getting the mixed signals. It sounds like he doesn't know himself what's right and what's not and what the "rules" are with this new scenario of dating he's found himself in. He's confused, too.
So what he's doing is what comes naturally to him and what makes the most sense to him right now.  It works best for him and so you're seeing him act and behave in this way, even if it doesn't make sense to you.  Recently separated, he's not ready for another relationship and he knows this, which is why he's acting the way he is with you.
He's enjoying being out with a woman friend that he's comfortable with - you - and so he obviously doesn't mind spending the money or making it look and feel like a formal date because it feels good to him.
What you're seeing from him, is probably exactly what you would expect from him if he could sit down and put in words exactly what you're looking for him to clarify. He's "looking for … some kind of distractions from [his] feelings as [he] grieves over the loss of [his]marriage."
If you take out the "right" or "wrong" way that he's going about this, and instead look at what you need to do for you – what is the most loving thing you can do for yourself – you can take back your own power here and find what you need in this. What's right for you will be different from someone else. What gives you a sense of peace about this and leaves you with the least amount of regrets is also highly subjective and all about you.
You have two choices.
As I talked about in my recent post on the whole point of dating, you can simply choose to look at your time with him as simply two friends enjoying each other's company. You can take out any and all "shoulds" and allow the two of you to simply be who and what you are, right where you are now and allow things to unfold naturally in the process of getting to know each other more over time.
You can choose to just be friends with him - just make sure that it's authentic. This isn't about playing games, or hoping to win him over or hoping he'll change his mind. This is only about you accepting what he's told you as fact, and choosing to build a friendship with him.
But if you can't allow yourself to do that (for example, if your attraction to him is simply too strong and you find that you're spending all of your time pining for him), then you can always tell him to call you when he's ready for something more than friendship because you're finding his actions confusing and you're on two different pages.
You can simply state what it is you're looking for and what page you're on. Make it about you, and not him. There's nothing harsh, or wrong with that; it's simply the reality of where you are and what you can live with what you can't.
Don't feel guilty, don't take on what isn't yours to take on. If he's not comfortable with this or expects something different from you in return, he'll let you know. You're not leading him on.  You're either enjoying the moment with him for what it is to you, or you're letting him go.
But you're always the one in control.
Love,
Jane
What do you think? Do you have any other thoughts or advice for our dear friend Elly? Tell us in the comments!