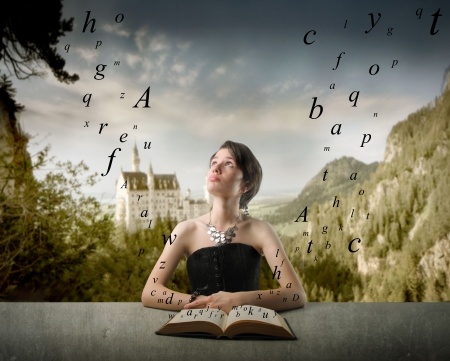 We all have one.
And we'll do anything to defend it, to keep it going.
It keeps us doing the same things over and over again whether it's working for us or not. It isn't, but that's not the point because we'd rather be right than to have to change it. Whether it's why we're still single, why we haven't met him yet, or why it's not our fault and we can't possibly do anything to change it ourselves, we're sticking to it no matter what.
What I'm talking about is our story.
We all hang on to it so tightly.
Until eventually, those tiny cracks that have started to creep into it can no longer go unnoticed and we're forced to finally look at them for what they really are: a story. When you've been telling yourself the same thing for so long, when you've found a thousand ways to support and prove why it's not just your story but your truth, it's the hardest thing to see it for what it really is.
Even if it keeps on hurting you over and over again. Even if it keeps you from seeing a different way of being. Even if it could change your life if you could ever give it up.  It's not about that. It's become your story.
It's become you.
Most of our stories are completely subconscious; we don't even realize they're there, and we don't know where they came from. But once we learn to identify them, there's no doubting they're there.
Most of them were told to us when we were young, either directly or indirectly. It could have been by the way we saw them modeled for us by those around us who we thought were supposed to know.
They grow bigger and stronger by the ways they're defended, first by others, and then by ourselves.
We learn them well.
We see the power they hold by the way they're adopted as truths. We see the support they're given as they're reinforced by those closest to us who we really believed knew better than we did.
And so as we grow older, it's not just that we get more set in our ways, it's that we get more dug in to our stories. Of why we believe we can't change. Of why we're not open to trying anything new or different. Of why it isn't our fault and we can't change it anyway. Of why the same thing keeps happening to us. Of why there's nothing else we can do instead.
It's why I chose to hang on to a relationship that shouldn't have ever been called that, simply because it began exactly the way I had always imagined (the way I had always been told) a storybook romance would start.
Because it began as our eyes met when I dropped my sunglasses and he picked them up. The story played out quickly in my head - I was looking directly into the eyes of my Prince Charming. It fit my story, or at least the one I thought I wanted. My own personal fairytale.
He turned out to be the most emotionally unavailable man I've ever known. But I didn't see it. I wouldn't see it.
He quickly became the one who would disappear when I would least expect it only to reappear in the same way. But when he reappeared, I would drop everything and run back into his arms, because I was back in the story. It was just a brief intermission, I told myself.
I repeated this same pattern over and over again because the chemistry – that spark – was unlike anyone I had met before.
Stuck in my story, I couldn't see it at the time, but I now realize that it was precisely because he was so emotionally unavailable  that I was so drawn to him, and it was exactly why I felt like the chemistry was so great. It was also why I held on so tightly, and why I would come up with any excuse to be with him when he called.
I just kept believing that love would find a way as I held on to this fantasy of what I so wanted it to be.
The only way I could finally see this all for myself, was when he completely disappeared after one of the most promising times I'd ever spent with him on vacation with his family, and his cell phone number voice mail was replaced with a message that it was no longer receiving incoming calls.
Finally, thankfully, I was forced to end that version of my story.
Sometimes it's a bigger story. Like a woman I know who insists she can't trust anyone.
She insists that no one can be trusted and she builds such strong walls around herself that no one dare come close. She doesn't let anyone get too close, but shuts herself off by only having surface relationships and never giving anything of herself while all the while insisting that no one wants to be with her.
She wonders why she doesn't have any real friends, not realizing that her story has created a self-fulfilling prophecy.
She's still alone year after year, while it's no coincidence that the amount of evidence that she can't trust anyone keeps growing with the number of times she's been betrayed by people she let in and the uncanny circumstances that have her belief system reinforced time and time again.
Ironically, it's only those people who aren't trustworthy and prove her right that she keeps finding over and over again. Alone, she lives. Alone, she believes she's better off than being with someone she can't trust. And alone, she can't even shed those healing tears that have become so hardened in her heart.
And then there's the story of a friend of mine who has always insisted she knows better than anyone else about what she's looking for and why nothing less would ever do. Her story is that she has very high standards. She's holding out for a certain spark, a certain type, and if she doesn't feel it right away, it's not worth her time.
She's overlooked so many eligible men that would have given her everything she was looking for had she given them half a chance.
She's still single late in life and holding ever tighter to her story that there just wasn't anyone good enough worth committing to. Except that she cries herself to sleep these days wondering why she chose to be right more than she chose to be happy.
I understand these stories all too well.
They're not just our stories; they're our lives.
They're how we live the way we do, they're why we live the way we do, and they keep on dictating our lives even as we insist we've tried everything, we've done everything, and there's nothing more we can do.
It's these stories that keep us believing we're the victims, and hold us to a place where the sun shines on everyone else and not anyplace where we might be.
No matter what anyone says, you insist that you know. That you're right and they're wrong. That this is just the way it is, that you have to do this or that, that you can't do something else or try something different. That it's not possible, not an option, couldn't work, wouldn't be anything different than it is.
We dig our heels in. We fight it. We refuse to listen, to be open to hearing what our own hearts and souls are saying, let alone a well-meaning friend or someone else who knows us all too well.
I know because I had them too. I still do. New ones that crop up every so often and catch me unaware.
Until, if I'm lucky, I catch myself falling into that old trap of defensiveness that always tells me there's something more going on below the surface.
It may not be the story I used to hold so strongly to about romantic beginnings leading to fairy tale endings that I couldn't see past. And it may not be the story of love conquering all that I clung to instead of opening my eyes to the reality that it takes two people who actually want to be together in the same committed relationship before love can conquer anything. But those stories still come up when we find them easier to call in than changing our position and learning to go with the flow.
It's time to change this.
It's only hurting you, my beautiful friend. It doesn't affect anyone else, and no one, in fact, even notices or cares. But it's no way for you – or anyone else – to live.
What's your story worth to you?
What makes you hold onto it so tightly? Find the reason, dig deep because it's there, and you're the only one who can uncover it. It's the only way to throw the doors open on your story and see it for what it is.
Your story.
Not you. Not your truth. Not your reality. Not the way it is. It's the way you've decided it needs to be, even if you don't remember making this decision for yourself.
But it doesn't need to be this way.
I'm here to help you see those cracks in the surface. I'm here to help you discover what's really there behind those holes in your story.
It doesn't have to continue to be your story, but you're the only one who can release you from it.
Because in order for you to see the real story, the one that's just waiting to be told, you have to be willing to let go of the old story that hasn't gotten you any further than where you've been. It's right there waiting for you to discover, but you have to want to find it, too.
It has to come from you.
And you have to want to be happy more than you want to be right.
What's the story that you've been holding onto that you're ready to release? Share it with us here in the comments, if you're ready for a new one.