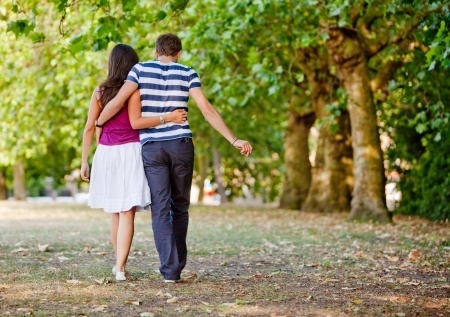 One of our gorgeous readers, Maria, shares her story about finally getting past the emotionally unavailable men she was typically attracted to that would always suddenly disappear on her.
She's now found real love with a great guy that she would normally have overlooked.
Here's her email:
Hi Jane,
I have spent the last year reading your articles about why he hasn't and doesn't and won't.
As these were the men I was with. Immediate attraction...then poof; the emotionally unavailable man disappeared.
Then, on a chance meeting, a man that didn't meet my "physical wow" came into my life. He was honest, and caring, and thoughtful, and emotionally available.
At first I found reasons why he couldn't be the one but I was drawn to all the positives and I kept spending time getting to know him. And my attraction to him grew, and grew. As he demonstrated his intentions, his interest.
Being treated with respect, him actually being there when he said, consistent, and being told and shown that I was special and deserved it. At first, I didn't  believe it or that it could actually be happening, then I allowed myself to receive his kindness.
There is nothing more attractive then being treated this well, and feeling so safe with someone so wonderful.  I needed the bad to fully appreciate what is so good.
Thank you for helping me get here.
- Maria
My Thoughts:
Every time I receive these emails, I'm absolutely inspired.
I see that it's happening. That no matter how long it may take, slowly but surely we're starting to see how it happens.
It's that first step as always, where you recognize what you're doing that isn't working, that isn't getting you to the place you want to be with someone who you think  you can't live without, who isn't on the same page as you want to believe they are.
It's in that recognition that a little light starts to shine and say, "Yes, you" and you sit up a little straighter and begin to notice for yourself how you're being treated and whether you're really as compatible as you want to be. Or whether you're getting caught up in another fairy tale.
You've taken that first step!
And then when you're ready, and only then, you start to say no. To stand up for yourself. To set a boundary. To decide for yourself if this relationship full of potential that only you can see is really working for you, instead of settling for those crumbs that seem like so much when they're all you've got and they're all you believe you'll ever have.
And that's when the shift begins.
You slowly start to grasp the concept that you're the one doing the choosing, and not the other way around, and you do.
You begin to see that you actually do have a life worth living instead of just holding onto another distraction, and you start living it.
You start questioning your type.
You start asking yourself the questions that you have to do some soul-searching to find the answers.
Until eventually, the bigger questions come. The question of the spark of that intense attraction you feel when you're with someone that has everything to do with the fairy tale of what you're calling love, and nothing to do with the real thing you're actually looking for.
And suddenly, it starts to make sense.
You start questioning what you're really looking for and what really matters in the long-term.
You find yourself going to places, and meeting people that reflect the real you, and not just the you you've been because it's what everyone else wanted you to be.
And then somewhere along the way, you find yourself crossing paths with someone who you wouldn't have expected to  notice before that day. It's different for everyone how it happens, but it always does, or at least tries to.
Whether or not you choose to see it – to see him – is always up to you.
And there it is.You give someone a chance that you wouldn't normally give that chance to. You think with your head this time, as much as your heart. You let yourself just be.
You accept that second date. You decide to see where it might go.
And so it goes. Until you see things in ways you never did before. Until you feel things in way you never thought you would.
Real love. It's waiting for you, too. The bigger question is always, are you ready for it?
Do you find yourself falling for emotionally unavailable men? Share your story with us in the comments!