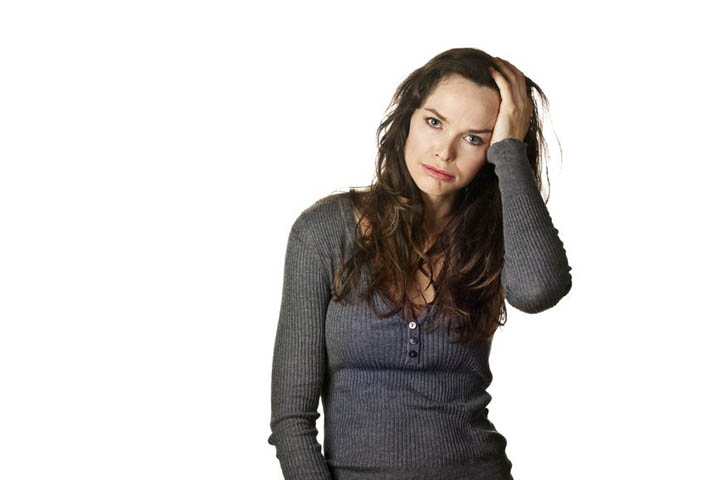 Beautiful Cassidy is dating a guy who tells her she's too emotional. She's reaching out for help to figure out if she should continue to see where her relationship is going, or if she's just wasting her time.
Here's her email:
I met this guy on a dating site back in early December of 2016.
We had sex shortly after meeting for the first time and I wasn't expecting to hear from him after.
Yet... I did.
We've talked everyday since the day we met. He's told me things like he has only pictured spending his life with one other female other than me (which at the time he said this, I felt, was too soon to know that) and talks about the future regularly.
He had to go back to his temporary home in another state shortly after we met but visits his home state (where I live)  every three-four months. I've asked him if he's seeing anyone else and he's certain he's only interested in me.
I don't understand why he doesn't want to be in an actual relationship.
He says I am too emotional and I have to work on that. He also says "we" have things to work on before we can be official. I've brought it up several times because it does bother me that he doesn't want this.
I plan to wait until he returns to have this talk again and avoid emotional outbursts until then.
Am I overreacting? Could it be that he is being honest since (even though he's threatened to) he hasn't broke communication and often acts as if nothing is wrong after I apologize for my outbursts?
I've read that if a man wants a relationship with you he'll know it in a certain amount of months. Is this true?
My final question is: Could he be stringing me along?
I suppose I should add that I have had two relationships that have lasted a while and ended on good terms, while he has only had one that didn't last half as long. He's said he wants his next relationship to be as perfect as possible and that he wants this with me but I have to change my overly emotional ways.
Should I continue to see where this goes?  Or am I wasting my time?
Thanks in advance,
- Cassidy
My Response:
So I'm going to give this guy some credit for at least being honest with you, but I'm hearing him loud and clear with huge warning signs for you on the "wants his next relationship to be as perfect as possible" and that you're "too emotional."
This, Cassidy, this is clearly a guy who wants – no, needs is more accurate here – his relationships to be perfect and free of anything that sets off his emotional barometer.
I don't know him and I don't know you, but I'm assuming he's here with you, waiting to see how things go, based on the fact that you've learned well how to be "perfect" and to hold back your emotions as much as possible for you. I'm also assuming you find yourself questioning if your emotions might sometimes be too much and if your strides towards perfection might not be quite enough.
And I'm guessing then, that after you apologize for your outbursts – or, as I'm reading this – after you restore the equilibrium in your relationship back to a level where he's comfortable, you're in the running again for something real.
But only as long as you're perfect.
And only as long as you keep your emotions in check.
Cassidy, I have to say that I always have strong feelings on the majority of relationship scenarios I'm presented with, but your letter here has brought out some of the strongest reactions I've had.
You're not perfect, and you're not supposed to be.
You're real. And so is he. And so is any relationship you want to be in.
Relationships are messy, full of all our baggage, our programming, and everything we bring to it not the least of which is our personalities, our blind spots, and our feelings. Yes, feelings.
I can tell you that if I was personally in your shoes, with a man who wanted me and the relationship to meet a standard that included the word "perfect" anywhere in the vocabulary, I would run as fast I could in the other direction.
I have been there and played out that role far too many times to know where that road leads.
Could it be different for you than what it's been for me and so many others who've believed it could be different with them, too? Of course it could.
He's his own person and so are you. But if you do proceed, I would do so with the full awareness that this is someone who you aren't going to be able to be yourself with, who you're going to be having to check yourself with regularly to make sure you're meeting his criteria on just how perfect and how emotionless you need to be.
There's something beautiful about being in touch with your feelings and emotions enough to express them, Cassidy. And there's something absolutely exquisite about not being perfect – or having to pretend that you are.
Think long and hard about whether you ever want to be with someone who could make you feel like you're too much or not enough in any way, shape or form, Cassidy.
Those of us who've walked that path know just how much havoc a guy with a background like this that causes him to require these conditions, can wreak on our hearts and souls, regardless of how well-intentioned we may have been.
Don't let that happen to you!
Love,
Jane
Do you have anything to add? Tell Cassidy what you feel she needs to hear from you down below in the comments. We all need each other!