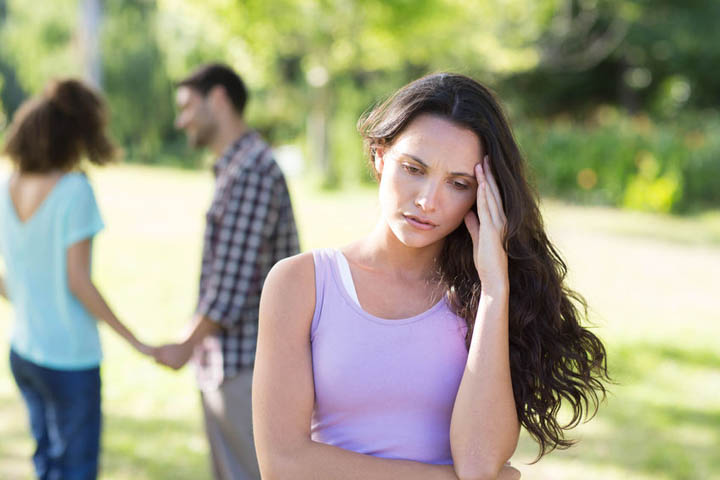 Oh, the pain of getting dumped!
Just about all of us have been there before, some of us quite often. Our beautiful friend Tony has just gone through this (again), and is wondering why she keeps getting dumped for other women.
Here's what she wrote:
Wow, I honestly never pictured myself writing to you especially after I got my boyfriend, who is now my ex as of yesterday.
So here it goes...
I don't know how to explain how I feel. I am caught between two emotions: hurt and relief.
My heart feels like it wants to burst out of chest because of pain and anger as well. I am relieved because deep down within me I knew that I was in an unhealthy and "wrong" relationship. But I am not so mad at the fact that the relationship has ended I am  extremely furious at the fact that I have been dumped - AGAIN.
This is not to dwell on my breakup that I am doing my best to handle very well because right now all I want to do is just cry - I actually need a hug 🙁
WHY DO I ALWAYS GET DUMPED?
If I am such a "wonderful" woman why am I not a keeper?  Why and how did I become a place where men come to rest and fix themselves for another woman? Why do men treat me like a testing station?
If I am such a great woman why can't I get an even greater guy to JUST love, understand and accept me?
- Tony
My Response:
Oh Tony, I'm wrapping my arms around you, holding you, listening to you, catching every one of your precious tears as they fall.
I have one thing that I really want you to hear: There is nothing wrong with you.
Nothing ever wrong with you. There are only the wrong people for us.
You knew. Can you see that part?
You knew.
The mixture of pain and relief makes this so clear. It is so very painful. It hurts deeply to be shown your worst fears come true.
But more than anything else you're taking on here, I want you to see that you can trust yourself, that you can believe your own intuitive self. That what has always been true will always be true – you can always believe in you.
What did you do wrong?
Sometimes nothing, sometimes everything.
It all depends on the context of your own unique situation. But what I do know for sure, Tony, is that no matter if you do everything wrong or everything right, with the right person for you – and that means someone who's truly compatible with you, someone who is on the same page as you, someone who has as much to give you as you have to give him - you can't go wrong!
I hear stories from women who did EVERYTHING wrong. And yet because they were with someone who was in it for love, was ready for a real relationship with them and was looking for someone exactly like them, it didn't matter.
I see that story being repeated over and over again.
It's about the wrong people, Tony.
We've got to stop letting them in, letting them get so close to our beautiful hearts and souls before they have proven that they have what it takes to be there.
We're so confused about the "what it takes" part. What it takes isn't about saying the right words or giving us gifts or impressing us with material, fleeting, unsustainable things. It's about  showing us consistent actions and behaviors that demonstrate love, and attention and "same pageness".
Actions that reveal a character that you can come to rely on. Someone who's there when he says he's going to be. Someone who does what he says he's going to do.
Someone who doesn't give you the feeling that something is off, something isn't right, something needs to change.
Taking it slow helps.
Not giving yourself away heart, body, mind helps. Being the gatekeeper of your heart helps.
But in the end, what helps more than anything is recognizing that being yourself, being true to who you are and what you need to be happy is the only way to know for sure that what you've got is truly compatible with who you are and what you want.
It's how you know someone is right for you  -the real you! - and not for who you try to be or think you should be or the image you present yourself as being.
It's such a slippery slope when we pretend we're OK with what we're really not. It sets us up for greater heartbreak down the road.
Know what you want.
Know that you DESERVE what you want! And refuse to settle for anything less than than in the things that matter.
Looks come and go. Money comes and goes. But someone who loves you  - someone who's confident enough in himself to not have to play the field or keep adding to a notch on a bedpost to feel good about himself - will always reveal himself to you.
He can't hide those other parts. And you value yourself too much to allow him to.
We have to be clear. We have to have clarity within ourselves. We can't be clear with him unless we're first comfortable with being clear with ourselves.
Love is on your side, Tony.
Love would never, ever be so cruel to withhold from you the same kind of love you give. When we're clear, there is no room for someone who can't live up to our standards. There is no room for someone who can't meet our expectations. But that kind of clarity can only come from going through, and honestly, Tony, we always find out what we don't want with ABSOLUTE CLARITY before we discover what we absolutely do.
If you've got that piece, you're ready for the next.
I hope this helps.
Love,
Jane
Do you have any other thoughts, words of encouragement, or simply a hug for our beautiful friend, Tony? Please share them with her (and the rest of us) below in the comments!