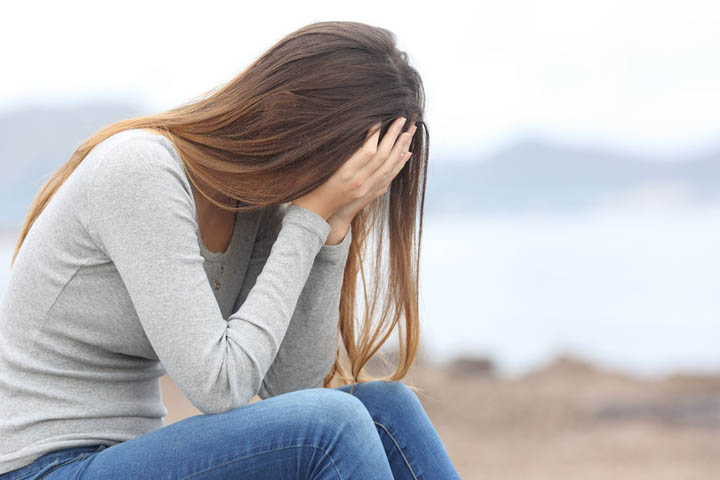 See if this sounds familiar: Everything was going perfectly, but then all of a sudden he pulls away and wants to end things, leaving beautiful Florence absolutely shocked.
Here's her letter:
Hi Jane,
I started seeing the most lovely, caring, thoughtful and giving guy about 3 months ago.
I had just come out of a 2 year relationship when I met him unexpectedly, so I wasn't really interested in a serious relationship just yet. However, he seemed/seems like Mr. Perfect so I decided to go along with it. He made things serious very quickly and was showering me with gifts, etc. regularly.
After about 2 months I was leaving his house after staying over, he said goodbye, as loving and caring as usual, and texted me about an hour after I left as he usually did.
I asked if he was OK and he said no, and actually ended it - said that things had moved too quickly as his excuse. Even though this was his doing. He knew I was upset but would not let me call him to talk about it, so I went round to his house and we worked things out.
About two weeks after this I saw a message on his phone (aware it was wrong to snoop) to his friend asking about his ex girlfriend, who was nearly single, and saying that it had left him with one foot out the door with me already.
I confronted him and he said it just confused him and he said I was the one he wanted. We agreed to move past this.
All of this knocked my confidence a lot which changed my mood around him a lot which pushed him away. He made me insecure and yesterday, after being worried he was going to end it after a small disagreement, I decided to end it before he could do it to me.
I thought he would disagree and ask to work it out but unfortunately went along with it. He said that I was right - he hadn't been making an effort because he knew it wasn't going to work. But how was it ever going to work if he wasn't making an effort?
I regret ending it so much and I want him back for good the way we were at first.
Please help, I'm really not sure what to do.
-Florence
My Response:
You're absolutely right, Florence. How was it ever going to work if he wasn't making an effort? You're taking all the responsibility for this relationship on yourself when clearly he's as much or more responsible than you are for its demise.
I don't doubt he's a loving, caring, thoughtful, giving guy, but he's also confused about what he wants.
He's also not over his ex. You've also only known him for around three short months. This is when someone's on his best behavior, when he's doing his best to show you why he's worth your time, attention and energy.
Instead what you've got is an obvious lack of trust.
There's a reason why we snoop. Of course we know we shouldn't! But if we can't trust him to give us the answers we're looking for and if we have a feeling that something's up with an ex, that's what many of us resort to.
I'm sure you had your reasons and that's why this is concerning. You obviously knew there was going to be something there that he wasn't telling you.
What I want you to see here clearly (clearly enough that you can never have to go through this again with someone else!) is the red flags that I would have called your attention to immediately if you had asked me about him then.
The biggest one that stands out is that he made things serious very quickly. This is a huge red flag!
Only guys who don't know how long they're going to be able to pull this whole relationship thing off take this level of break-neck speed! Similarly, a man who knows something about actually building a real relationship doesn't shower you with gifts, etc. right off the bat.
He may surprise you now and then but he knows that showering you with anything early on is premature when the two of you haven't even had a chance to get to know each other yet.
And honestly, Florence, Mr. Perfect is the ultimate red flag in and of itself for so many reasons.
Perfect is an ideal. Perfect is a cover. Perfect is where a man hides when he's afraid of showing you his true self.
And that doesn't mean you should activate your "he just needs my love" belief. No, on the contrary! It means he hasn't done his own work to peel away the layers underneath perfect.
It means he's trying to live up to his own fantasy of what a boyfriend and a man in general should be. And more than that, it means he's going to expect you to live up to a certain version of your own perfect and expect your relationship to live up to that standard as well.
That's the bigger concern with perfect, and it's one we've been culturally desensitized to as well.
We've been brought up to be perfect little girls who grow into perfect women who aspire to be with perfect men in perfect relationships with perfect children who carry this image perfectly well.
Oh we learn this lesson well!
I can't tell you how many other women (including myself, many times over!) fell for the idea of Mr. Perfect only to discover just how imperfect he actually was when his real self was revealed. I'm sure they'll only be too happy to tell you their stories themselves in the comments here so you can see just how prevalent this phenomenon is, but the bottom line is you need (and want!) someone who presents himself as real.
There's no getting him back for good the way you were at first, Florence, because that wasn't him.
That was an image of him, that was the idea of him that he's learned to project in the beginning before the real him gets out.
You regret the idea of him. You regret the potential of him that he showed you he had the potential to be. He was the most honest he's ever been with you when he agreed with you that you were right that he hadn't been making an effort because he knew it wasn't going to work!
Let that sink in.
He knew it. He knew he couldn't sustain Mr. Perfect. He knew his true colors would come through. He knew he couldn't keep you perfect in response to what he'd inevitably show you of himself when his true colors came out, and he didn't have a plan for anything more of a follow through.
You saw right through that, Florence. That strong, real woman inside you who knows she deserves more than this answered him in your own mind loud and clear.
But how was it ever going to work if he wasn't making an effort? Exactly, Florence. Exactly.
There is nothing more to do with him! Trust yourself. Read this article I wrote about the red flags. And trust yourself enough to know that you've already got your answers loud and clear.
I really, really hope this helps.
Love,
Jane
Now I'll turn to you, Beautiful. I know you've most likely had your own version of Mr. Perfect who turned out to be not so perfect after all. I know you've probably been right here with Florence at one point or another. She needs to hear it firsthand from every one of you! Share what you want her to know from your own experience in the comments below.