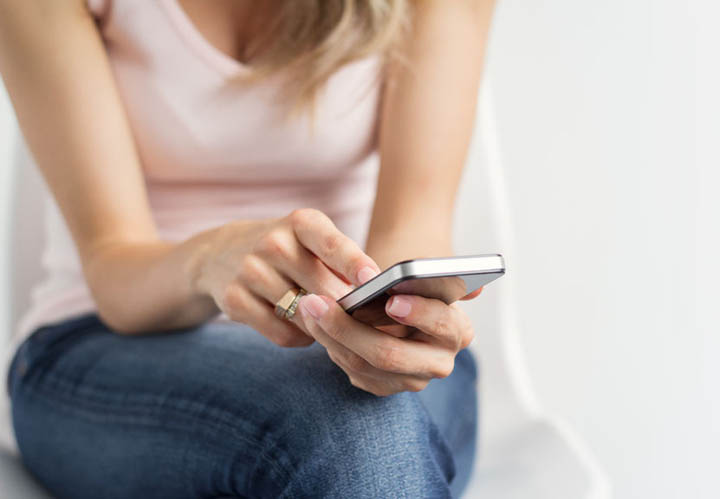 This week, beautiful Lolly shares her story with us, about how her boyfriend broke up with her through a text message, which is becoming more and more common. But, as always, the real story of the relationship goes much deeper than that.
Here's her email:
Hi Jane.
Firstly I would like to thank you and all the amazing women in your forum for all the advice that you provide here, it has made a tremendous impact in my life.
I have been seeing this guy for over a year now. He is 34 and I am turning 33 in 2 days. 
He doesn't have kids and I have 2 kids (boys). We never really labeled our relationship from the beginning (big mistake.) Everything just happened so fast, from him sending me flowers at work on my birthday after just two months of knowing each other to us spending most of our time together.
It came to a point where we were literally spending almost all the weekends together as we live very close to each other.
So as time went on and us having serious discussions about our relationship, future goals etc., he indicated to me that he was not ready for a serious relationship as he was still focusing on his career.
I made it clear that if I happen to meet someone who wants to settle down I will leave the relationship. He begged me and said if that ever happens he will have to step up and make things right with me (in my mind I thought he meant commitment.)
He has been very good to me in terms of being there for me in any manner that I can ever imagine. He was playing the boyfriend role  I felt like we were in a serious relationship. He took me on vacation with his friends and their girlfriends during the new year.
He has always been telling me that I am an amazing woman and he is lucky to have me in his life.
But throughout our relationship I have been seeing some bit of red flags. He was always refusing to take pictures with me. I am a big fan of photos, I enjoy taking photos wherever I go, but he would tell me it`s just not his thing. I understood because I thought maybe he is just being a man.
And also whenever I would suggest us to do something fun like going out, etc., he would refuse saying it's not in his mind. During our vacation I caught him flirting with some girl on his whatsapp and he later apologized saying it was nothing serious and said that he would hate to break my heart.
Our relationship looked so serious in a sense that we supported each other through thick and thin when it comes to our careers, daily lives, work, etc. I was also there for him when he had left his job and was starting his company.
I was always there for him emotionally and physically, but not financially, even though I would loan him my car when he needed to go for job interviews or do some of his business dealings. He then got a job at the beginning of the year and I was still there for him. In all of this I never would have imagined him breaking things off with me via text.
I sent him a text on Friday saying he has been quiet and that I'm worried that he might be seeing someone else.
The reason I texted him is because we were growing far apart by the day, he no longer contacted me like he used to. I ended up being the one initiating contact most of the time, up until I decided to stop contacting him and he would maybe call after a few days telling me he misses me and we would meet, maybe spend a night together, but it would just end there nothing more.
No more serious talks like we used to have, he was becoming cold by the day.
He then responded on Sunday morning saying that he has been seeing someone recently and that he doesn't regret what we had and that I will always be part of his life. He then said he would love to sit down and explain things in person even though he knows it won't make much of a difference.
What hurts me the most is the manner in which he has handled this whole thing.
After a year of knowing each other I wouldn't expect him to end things off via a text. Am I not worth that much? I know our communication has been broken down in the past weeks and I have already made peace with the fact that things might end at any time from now, but I guess what also saddens me is the fact that he had to do all of this just 3 days before my birthday!
After I went all out on his birthday making sure he enjoyed it and even got him a present, even though I did this with an open heart, I just didn't think that he would break my heart on my birthday.
It's like a slap in the face.
I'm also angry at myself for not listening to him the first time when he said he wasn't ready to commit. I should've walked away as soon as he said it but instead I remained hopeful thinking that things are gonna change.
He wants to meet with me so we can talk. I don't know why he still wants to talk when he said it himself that it won't change anything - meaning that his mind is already made. I also think that is something he should've done before sending me that cold text.
I don't know if I still want to see someone who has shown me that level of disrespect. I seriously don't know. Please help Jane!
Anything you can tell me now will be much appreciated.
- Lolly
My Response:
I'm so glad you reached out, Lolly. This isn't easy to go through, especially alone.
On the one hand, you can look back and see all those things you think you should have known or done better about. But on the other, you know what he did was done by him and all you did was believe in the potential of what it seemed like it could have been.
A different ending wasn't up to you, Lolly.
Yes, a more decent, a more capable, a more stand-up  guy would have been honest with you before he ended things with a text, but this is who he revealed himself to be and I don't see any benefit of talking through this with him now. It's only for his own conscience that he wants to talk more about his decision with you in person, but I think that's only going to hurt you more.
Look at me, Lolly. I know I'm not there, but if I was, here's what I would say to you in person.
You saw more than what this man showed you on the surface. You saw what was underneath. You saw someone with real potential, someone who seemed to be on your page, someone who seemed like he could be. You saw through eyes that knew it might be a long shot, but sensed that he was the kind of man who would be worth finding out.
I've done the same thing. So have most of us on here. Same story, but different because they're our own stories.
Don't look back.
I know that's easier said than done, but don't go there. Let this go with the knowing that you did the best you could with what you knew. I know that can sound so cliché, but there's something so true about that here.
See, we all share this heart, Lolly. The kind that wants to believe in someone, that sees the best in someone and their potential, and excuses away the red flags and doesn't take him at his word.
This is what we do. Until it hurts too much. Until we learn that we can't keep doing something that's so detrimental to ourselves, to our self-worth, to our self-confidence, to our tender, loving hearts and souls.
Then we stop. Not too late. But right on time.
We pick ourselves up. We dust ourselves off. We uncover our long buried wings, and we learn to fly all over again.
This is my vision for you, Lolly. You're down, but not out. Never out.
It may feel like you're broken, but you're going to rise stronger than ever before. You've got your two beautiful boys to remind you of what matters in life. They matter. You matter. People matter.
Even this man, too, is doing the best he can with what he's been through in his life. You don't have to understand it or even try to because it's not about him, it's about how you feel right now.
It hurts. It feels like such a betrayal and worse, because it could end like this. Sure, you could have done some things different, but so could we all.
You'll be stronger next time. You'll be clearer next time. You'll see things before they happen next time.
Or you won't. Because you don't have to.
You can live this beautiful life of yours however you choose. You don't answer to anyone. Not for what you think you should have done, not for what you can imagine anyone thinking you should have done.
We beat ourselves up way too hard and too often for simply being a human heart with a belief in love and a belief in what love can do.
I'll see that beautiful heart of yours, Lolly, and I'll raise you mine. Along with every other woman on here. You're never, ever alone.
Love,
Jane
What do you think beautiful Lolly should do in this situation? Share your thoughts, stories, words of encouragement, or whatever you'd like to share with her right below in the comments.