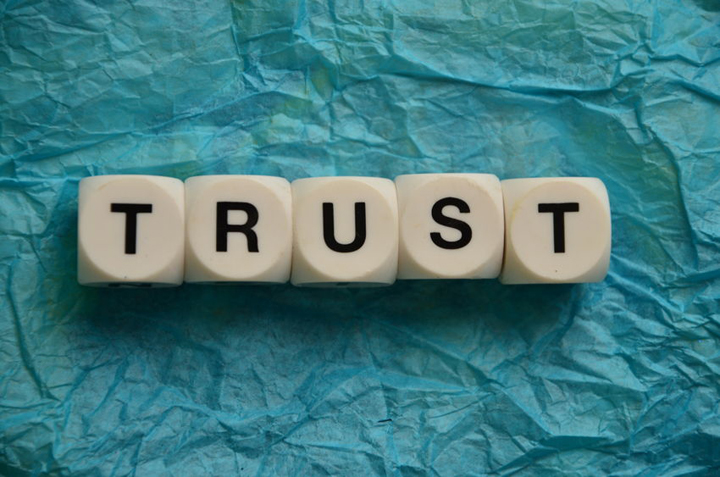 I'm convinced there's a lesson in here for us.
That somewhere in the midst of all our heartbreak, all our regrets and beating ourselves up and second guessing what we should have/could have/would have known and done differently with at the time if we possibly could have known better, there's something greater at stake.
Trust.
That little word. That really, really important word that we automatically assume has to do with him.
But no, this time I'm not.
I'm talking about something ever more important than trusting another human being. I'm talking about trusting ourselves.
The more women I work with, the more people I come into contact with who share their stories with me when I tell them about the mission I'm on to empower women to find the love they deserve, the more convinced I've become that what we're really doing is rediscovering something we've long forgotten.
We think it's about him. We think it's been about so many hims. But it's not and never was.
More than anything else it's been about what it takes to get us to see what we haven't been able to see. My entire role as a coach is based on the premise that with enough of the kind of unconditional love and support you've been missing, you're going to find what you need to find within yourself to see what you couldn't otherwise have seen.
You're the missing piece!
You're the one who knows what you need, who feels in your heart of hearts what's real and what isn't. You're the one who intuitively senses what's safe and what's not. You're the one who knows more than anyone else possibly can what lies beneath the surface of the words every part of you wants to believe.
But instead of tapping into this side of you, this most powerful part of you that knows who you are, that senses what you feel is real, that hears that little voice inside you warning you that it might really be too good to be true, we instead do what we've learned to do so well.
We shush it away.
We silence it just like it's always been silence. We don't give it any more notice than we've ever given it. Because we don't trust ourselves at all.
We allow ourselves to get completely caught up in that whirlwind of attraction.
You know that feeling you get that things are going too fast, that sense you have that you need to slow things down but you so don't want to? That's real!
You do know what's going on. You do know that your gut instincts here really might know what they're talking about. But the doubt gets in the way. And if you've never known a healthy relationship between two equals, between two people who are both lovers and friends, then you're going to have more doubts than someone who has experienced that kind of love. The real kind.
We're the ones who especially need to listen. To listen to our hearts, to our souls, to that little voice we're so quick to say is just nerves or anxiety speaking. If it's speaking, there's a reason it's speaking.
There's something there we need to stop and listen to, before excusing away why we should throw caution to the wind and ride the wave.
Yes, there's a place for loving with abandon! Yes, there's a place for leaving our heads behind and giving away our hearts. But only when it's safe to do so!
This is what we do for the ones who have nothing real to offer us. This is what we do for a potential that never comes close to fulfilling that potential. It's because we don't stop and listen to what we inherently know is true.
It's because we've been given the exact opposite message. The one that says you can't trust yourself. That you couldn't possibly know better. That you don't know what you think you do.
I want you to quiet those voices and listen to another one instead. The one that rises within you and knows the truth even as you hesitate to believe that someone like you could possibly know more than they ever did.
Don't be surprised if it's only a whisper at first. It's been so used to being ignored, it's lost some of the strength it used to have.
But it's never stopped trying to be heard. It's been there, fighting for you to see what it so needed you to see. Fighting for you to believe what it sensed beyond the words.
Listen to it.
It's a beautiful thing when we learn to recognize it, when we see the love and the compassion and the grace it has for us. Always there, always reminding us of the one thing we need to know.
We do know where to go. We do know the way. We do know when it's time to change course. We do know when we've had enough. We do know when something right in front of us is real – and when it's not.
Let's stop convincing ourselves that this time is going to be different when all the signs and the feelings are the same. Let's stop throwing caution to the wind when all our alarm bells are going off and telling us it's not safe but we still keep going because we want to believe this time will be different even though it can't be until we start doing something different! Let's start taking a chance when we're feeling something different even if it doesn't feel the way we've gotten so used to it feeling even when it's breaking our heart in two every single time.
Our greatest lesson isn't about learning to trust someone else again, it's learning to trust ourselves.
Can you see this? Can you see the only voice you need to listen to? It's yours, Beautiful, and I want you to find that voice no matter how buried it may be amidst the rest. I want to hear from you if this resonated at all with you. Let me know below in the comments!