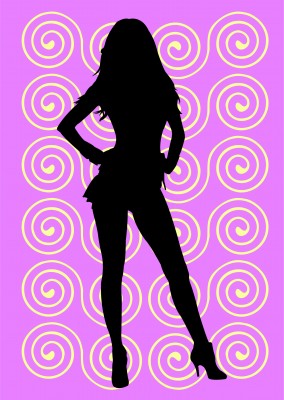 Find and get to know your inner diva.
I've got some breaking news: you don't need a man to define your life! You don't need a man to have a world to fit into. You don't need a guy to feel like you can start living. In fact, it's the opposite – your life is exactly that – yours. Men (at least the healthy ones) like women who have their own life. If a man wants a woman who's going to devote their entire being to him, and cater to his every whim, then he's got his own issues and we don't want to go there anyway.
Your life is what you choose to make of it. You can keep waiting and hoping for the right guy to hurry up and come along and rescue you from your current life because you think it's easier to be in someone else's ready-made life than make one of your own. But the price you pay for that is your self-esteem, your worth, your confidence, your you. Because you can do it, too! Did someone forget to tell you that you can be anything you want to be? You can! You can do anything, be anything, and achieve anything, if you believe in yourself that you can.
Hear me on this one. The only reason that you can't do something is because you don't believe you can! Do you get that? Deep down inside of you, if there's that inner voice telling you you're no good, you're going to fail, you can't do this, who do you think you are?, then you're not going to be able to do it and you probably are going to fail. But if you can find that little girl deep within you who once upon a time truly believed she could do anything - and I mean anything - she wanted to do, before she was told either indirectly or directly that it wasn't ok for her to do this, it's not ok to do that, that isn't ladylike, isn't feminine, isn't attractive, isn't girly, isn't appropriate - whatever messages she got, then you're on your way to getting it right.
You are the only one who can set the record straight: that she can follow her dreams and become whatever she wants to and dream those out of reach dreams , and reach for the stars and catch them, and make that dream come true herself – yourself. Do you get that? You've been fed a string of lies - don't even try, you're too frail, too fragile, too beautiful, too whatever. Limiting, limiting, limiting. Stifling, stifling, stifling. But I'm here to tell you - you're not that. That's not you. That's what they wanted you to be and pigeon holed you into it. If you know exactly what I mean, it's because it happened to most of us. But it's not true. We've bought into it because they were supposed to know better. And when we pleased them and lived our lives like this, they loved us so. And that felt so good. To be loved like that. So we lived like that to be loved like that and guess what, here we are doing it all over again.
The good news is that since we've been working through Steps number 1 through 6, this one's basically a freebie – the confidence just starts building – in fact there's no way to stop it. So far we've learned to relax and not try to be something we're not; we're getting to know ourselves, our interests and our passions; we're doing what we love to do without listening to what others think we should be doing; we've broken out of our shells and are starting to talk to and meet all kinds of new people; we're keeping an open mind and trying all sorts of new things, and we're treating ourselves the way we know we want to be treated.
When we start doing these things, and really see the changes in our life, our happiness, and our whole being, our inner diva just emerges like a beautiful butterfly coming out of the cocoon she's been in for so long. Let's let her out to be free to try out these beautiful new wings she's just discovered she has.
This is also a good time to remind ourselves of everything we've accomplished. Make a list of the amazing changes that you've seen so far – people you've met, things you've done, new feelings you've felt. It doesn't matter how big or small – it could be as simple as "tried that new sushi place I've been wanting to go to" or "went for a horseback ride for the first time", or anything else that you've done that you were previously waiting for the right guy to do it with. We're not waiting anymore! Go ahead and put a few of your favorites on post-it notes and stick them to your bathroom mirror so you can remind yourself every morning of your progress. As new changes happen, change out the post-it notes (you can save the old ones in a notebook or scrapbook if you like).
Now that we've found out who we really are, and what's really inside of us, we may just find out that what we're really looking for isn't what we thought we were looking for after all. Or, as we'll see in the next step, it may be something we're surprised to discover about ourselves…
Want to read more? This post is an excerpt from my book Find Your True Love: 10 Simple Steps to Getting the LOVE You Want...and Deserve. Get your free copy by clicking here.