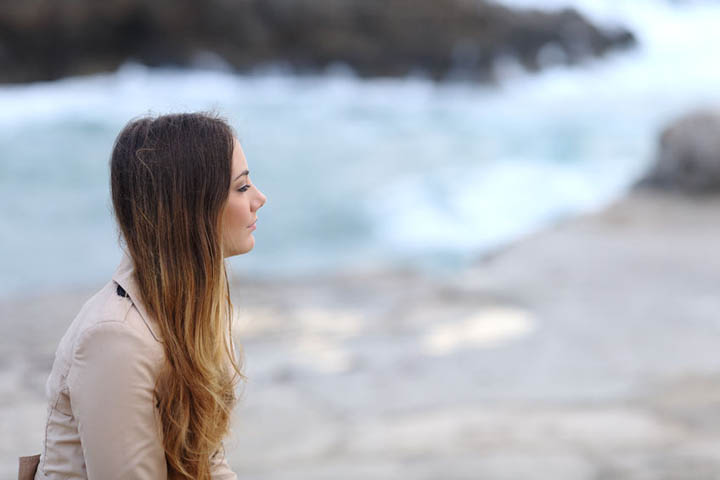 One of our gorgeous readers, Heather, is having a hard time letting go of a relationship that she knows is not what she wants.
Here's her letter:
Hi Jane!
I've been following you for a little while. I find your explanations and responses very comforting...so thank you!
I'm going to try to summarize this as best I can.
I met a man almost 3 years ago who changed my world. We were together for almost 2 years with a brief break in the middle. Our issue then and what ended up breaking us up was the issue of having kids.
He's 10 years older than me. He has 3 foster kids and didn't want to have anymore. I wasn't ready to give up on the idea of having kids so we split.
We didn't talk for a little while after the break up but then ended up staying in contact until about a month ago.
I tried dating while we were apart but I just felt like I was betraying him. So I stopped because they showed me where my heart still was.
Our exchanges led me to believe there was still something there. I started rethinking everything (without telling him because I don't want to toy with someone's emotions.)
Then I found out he's seeing someone else.
I asked him about it because he wasn't communicating as much and his responses were short...just felt off. He said he was tired of being alone. And that he still has feelings for me but we broke up for a reason.
I messaged him and told him that dating hadn't worked for me because he still had my heart and that I had been rethinking things. I also said maybe this is my sign to move on.
He didn't respond.
We haven't spoke since because I told him it would be too hard for me. It's been almost 2 months since we last spoke and well over a year since we broke up.
And I am destroyed.
I miss him and the kids everyday and I'm struggling to let go. I struggle with wanting to tell him how I feel about having kids which has since done a 180.
I'm just so confused about whether or not I should do something because I don't want to interfere if he's moved on and happy.
Because that's really what I want for him...to be happy.
I'm struggling with my self worth because now I'm just wondering if he only stayed in contact with me because he was lonely and knew I'd answer.
I just don't know where to go from here. Can you offer me some advice?
- Heather
My Response:
Oh Heather,  I'm so glad you reached out.
And I'm glad you're finding some comfort here.
Reading your email, I can see why you're feeling so conflicted. So many feelings about him, about you, about something as big as having children, about what your entire relationship was or wasn't to him.
It's no wonder you feel the struggle of it all. It can't feel free at all!
What stands out for me the most here, Heather, is the need to end the struggle. Whenever we're in struggling mode, we can't see the forest from the trees. We can't see what's there and what's not there, and most importantly, we can't see what we need.
What's missing here? What do you need to know to bring you peace?
If you can let it go without reaching out to him, then do that. But it doesn't sound like you can. And there's nothing wrong with that!
In fact, so often we do  more damage to ourselves by berating ourselves for NOT being able to let it go than we could ever do by taking action in ways that acknowledge and accept who we are and why we can't just let go!
Let's narrow this down for you to make it simpler.
I know it never feels simple, but looking at what we know for sure can help you to figure out what you're dealing with in the reality that's right in front of you versus all the many possible unknowns.
You've got a man who has set a very strong boundary around whether he wants any more kids in his life. Bottom line, he doesn't want any more and this is a non-negotiable point with him. Which means  you have to be on his same page and make peace with not having biological children of your own if you want to be with him.
He began dating someone when you broke up because he said he doesn't want to be alone.
Then you've got your indecision.
You want to communicate with him, you want to keep the lines of communication open, but you know it will be too hard on you to continue to do so while getting nothing more in return.
And so here you are.
Feeling more confused than ever, more uncertain of your next move with him, or even if there should be one. And underneath it all, I suspect that you just wanted him to come to you, to tell you that your feelings after the break weren't a sign to move on, to give you something that tells you – that shows you – that he's willing to come your way, too.
Instead, all you got was silence.
Heather, you've got a lot here to sort out. It doesn't sound like your done with him. It doesn't sound like you've got the clarity you need within yourself to move forward let alone let go of him.
It's completely understandable that you're still feeling so deeply affected by him no matter how long it's been.
Yes, we can all chime in and say it's time to let go and move on just like the popular culture would tell you to do. But it sounds like this is deeper than him, that you need to find the clarity within yourself to discover what you most want to say to him.
If writing it all down in a letter to him (that you don't send) doesn't bring you the closure and peace you're looking for, then do what you gut instinct is telling you to do even if that means reaching out and communicating with him to get more clear on what you had, on what hasn't changed, or on what might still be.
You've got a lot of unanswered questions underneath your feelings, don't be afraid to get yourself those answers. There's no shame in that!
Honestly, when we look back, it's not on what we did do that most of us have our greatest regrets about; it's what we didn't do.
Don't be afraid to do that!
And then write back and let me know what you find out.
I hope this helps.
Love,
Jane
Do you have any insight or words of advice to offer our beautiful friend, Heather? Please share them with her below in the comments!