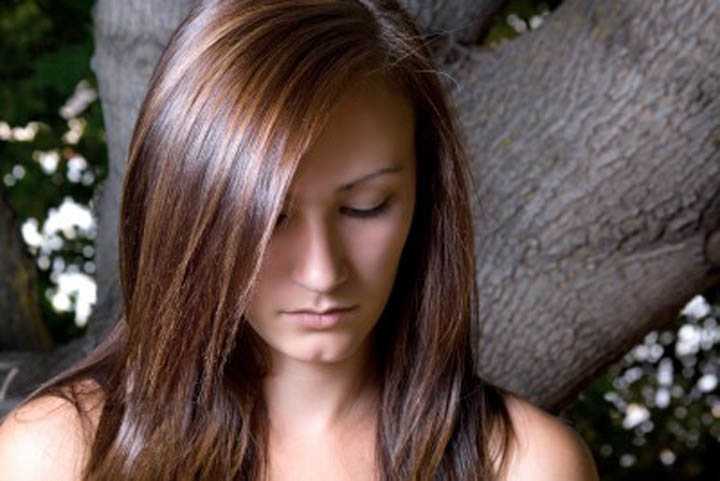 Why do so many of us find it so difficult to move on, even when we absolutely know in our hearts that it's the best thing to do? I know I've been there, and our stunning friend Anastasia is there right now.
Here's her email:
Why can't I let go and move on?
I've been in a long distance relationship for 2 years off and on. The last time he broke up with me was 5 months ago and we have been on again off again since. I finally went no contact a month ago because even though we were talk he kept saying I care about you but don't want a relationship anymore.
We contacted each other again just last week and he was sweet for a day or so but is now being disrespectful.
I want so badly to let go but I'm having such trouble.
I'm starting to feel my self respect drifting away because I don't want to lose contact again...
Help..
- Anastasia
My Response:
Dear Anastasia,
You ask the question that is on so many of the hearts and minds of so many of the women I hear from in my coaching practice.
Why can't I let go and move on?
It doesn't matter how long or short our relationship lasted.  It doesn't matter how much our needs weren't getting met. None of the logical details matter.
Yes, we know we should let go. Yes, we know we should move on.
Because after all, how this feels – this hanging on, holding out hope, not moving forward but not able to move back – isn't how we want to feel. But knowing what we should do – and actually being able to do it – are two entirely different things.
The short answer is that we can't let go and we can't move on because we're not ready to. The long answer is that we don't really want to. It's the more complicated part that we're not always open to hearing until we've tried everything else.
But if we're open to consider that it's not about him, but about us, we can take back some of the control that we don't feel so that we can finally feel something other than what we're going through now.
So let's start by asking yourself the most important question of all: Are you sure you're ready to let go and move on?
You'll know you're ready because it hurts more to do what you're doing now than to step out into the unknown and do something different. You'll know you're ready because you've tried everything to change your relationship, to turn things around, and it hasn't helped. And most of all, you'll know you're ready because there's something deep down in your heart of hearts, something we call your gut instinct, your intuition, that lets you know that it's time.
You see things more clearly. You can glimpse the future and it doesn't look any better than this. You see him for who he is – and it includes the disrespect you mention here. And you recognize your own self-respect slipping out from under you and recognize the value of that more than him.
These are your signs, Anastasia. They come from inside you.
They tell you if you're done – really done – and really ready to let go. That you're writing to me now speaks volumes. This is you reaching out for help to do what you know you need to do.
If you don't really want to, you won't. If you're not ready to, you won't.
If you're sure there's something else you haven't tried, then you won't be able to until you've done that. So do that. Break it down to what's keeping you here. Peel away the top layers so you can see what's keeping you here underneath.
Is it fear that he might be the best thing that comes along? Is it the fear of regret? Is it something else?
Find out what that is!
What's the worst case scenario? That you let go and move on and then he's finally ready for what you wanted all along? If it's real, you'd be the first to know. Then you can decide what you want to do.
Not now, but then.
You can't know the future, but you can know that if he's going to be in it, you'll know without a shadow of a doubt. He'll make sure you know because he'll need you to know!
Don't run away from these fears. Face them. Be with them.
If you don't want to lose contact him with, then don't. You don't have to let go of him as much as you need to look at who you are and what you want and what you need to do for you! If you don't know what that is, you can't expect him to give you anything different than he's giving you now.
You show him how to treat you. You let him know by your actions what you will and won't accept. If you're willing to accept disrespect, he'll show up with disrespect.
Change what you're willing to accept, and you'll give him something to live up to. You'll see more of who he is the more you become sure within yourself of where your own boundaries lie, and then this will become so much more clear to you!
You can do this, Anastasia. You absolutely can!
But you can't expect some magical carriage to carry you through this to the other side. This is the work that only you can do! There's something in this going through, in this process of drawing your own line in the sand and making up your own mind instead of waiting for some sign from him.
You deserve more than sweet and then disrespectful. You deserve consistency of behavior and actions that tell you he's in this for the same thing as you, on the same page as you.
Take it one baby step at a time if that's where you're at. One little tiny step of putting more focus back on you and your own needs and giving him that space to be himself, to show you more of the reality of him.
Write him a letter that you don't send to tell him everything you haven't said. Make a list of all the things he can give you and all the things he can't – and let the reality of who he really is speak for himself. Let him show you more of what's real so that you become absolutely sure of what it is you desire – and what it is you want no part of.
This is your own beautiful life to find – and to live – for you!
I hope this helps.
Love,
Jane
What about you? Have you had to let go and move on when you didn't want to – or weren't ready to? Share what helped – and what didn't – in the comments for Anastasia to read!