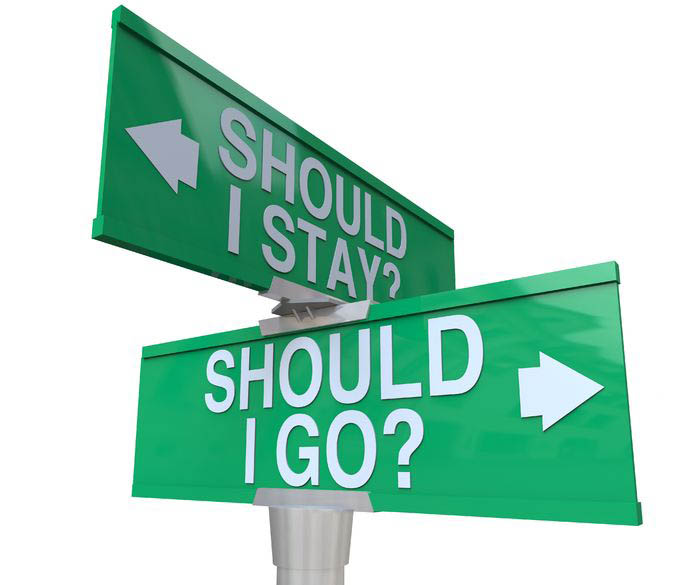 Our gorgeous reader, who has called herself "So Stuck", is exactly that ... so stuck. She just doesn't know what to do.
Here's her email:
Hi Jane,
First of all, thank you for your website, it has helped me in so many ways... This community you've created is making me see I'm not alone, thank you!
I need your help, I'm stuck...
I've met this man 15 years ago, we became friends. He had a girlfriend at the time and he married her, they were married for about 15 years and separated last year.
They got divorced around the same time we started talking again.
We started going out and it was perfect... For about 6 months... For the next 6 months my life became pure anxiety until he broke it off - we were together for a year.
We were planning to live together, get married, have children... the whole package. We wanted the same things. I couldn't be happier.
I've never met his family.
He was already part of mine, my family accepted him as a member already. But his family wasn't ready to meet me yet, he said they weren't emotionally ready yet after his marriage felt apart.
And when they were finally ready to accept me he said he was the one who wasn't ready anymore, he was too afraid I was not the one. Even though he said he never loved anyone like he loves me, but he was just too scared to get hurt again.
And I was patient. I put my feelings on hold to try to understand what he was going through and wait by his side for things to get better.
I wanted him to know I was there for him because I truly was, I didn't want to hurt him.
He had horrible tantrums a few times when things didn't go the way he wanted. For example, we were supposed to have dinner at a friends house and at the time we were supposed to leave he said he didn't want to go. I said ok, dinner is being cooked just for us, can't cancelled in such a short notice, so I'll come back to meet you after. He said ok, but didn't speak to me that day anymore.
One weekend I was at his house and my parents invited us to go to church, I wanted to go and invited him, he said he didn't feel like it. Ok, I'll met you later? Ok. He didn't answer my calls anymore that day.
When he finally replied he said if I'd rather be with my parents than I should stay with my parents. He said he felt like and idiot waiting for me at home alone.
He didn't speak to me for 3 days. And when I called he broke up with me. Said he was hurting me too much. That he needed therapy to learn to deal with his feelings.
It's been 3 months and now he wants me back.
He says he was traumatized the way things ended with his ex and now he understood his feelings and they are pretty "simple".
He says that he's not willing to take some risks anymore in life and the biggest one is to be abandoned again. He wants to be the most important person in my life and he won't accept anything less. Is that simple.
The person that ends up with him will be the most important person in his life and he wants to feel the same way.
He needs to feel he can trust me.
Everything he did before on our relationship was because he had felt abandoned.
He feels that his ex abandoned him. He says he felt used, that she only wanted him for children and once he gave her that she left him. (his side of the story, I don't know her...)
So he does want children but will only accept to have them when he feels secure enough he will still be the most important person there.
He said he doesn't mind that I go to church with my family, that I do anything with them and/or my friends... he only doesn't want to share me when is HIS time, his turn. And he wants to feel, to know, that he's more important to me than any of them.
He JUST wants to be more important than my mother, my father and any future children we might have.
I feel so confused now.
I felt horrible this last few months, I was so happy with him, we were going to get married and have children... My life was on tracks.
I was a good, caring, loving, patient girlfriend for a year. I still don't know what I could do differently to make him feel more secure from now on. I didn't do anything to make him insecure and still he said he tried but couldn't trust me back then. And now he does.
I know this is not about me, these are his traumas of a past relationship talking... but I can't help wondering if there's anything I could have done, that I could do.
And on the other hand I do not want to waste years of my life on someone who's not worthy.
How can I know?
If  this was a friend of mine telling me the story I would advise her to run! Go, read Jane's blog, you will learn that love is not meant to be this way.
You are a good, loving person, you deserve to be happy, to feel you are enough the way you are.
I know that, and I am exhausted of all the emotional roller coaster of this relationship.
So why am I not feeling free? Why am I still wondering if I could be happy with him?
He's a good, trusty, hard working man. He has no addictions, we agree on how to manage money, separately and as a couple. He wants to marry me and have children.
This should be my dream come true.
So why it isn't? Why am I confused? What did I do wrong? I can't let him go or stay with him... I need your help Jane...
- So Stuck
My Response:
Dear So Stuck,
This sounds like a man with a LOT of baggage.
A lot of deep, deep stuff that you can't help him sort through. That's where his therapist comes in.
And while it's great that he was willing to look at this part of himself and get the help he needed, your hesitation now at him coming back and wanting you back, is completely understandable.
There's a reason you're not feeling free.
There's a reason you're wondering if you can be happy with him. There's a reason this doesn't feel like your dream come true. There's a reason you've got that doubt inside. There's a reason you would respond to yourself "run" if this were someone else's story.
We're all human.
We all bring a certain amount of our own baggage, our own programming to our relationships no matter how much work we've done on our own, no matter how much therapy or awareness we've gone through.
We're human!
And we're living a very human life. So the lens we look through is going to reflect that very human past that includes the good, the bad, and the ugly! It's ok, though, because this is the reality we all face.
You obviously need to know more before you can move forward. That's why he's back. He's giving you the gift of getting to know yourself better. He's showing you something more that you couldn't see without going through this process within yourself.
It's been a roller coaster!
You're absolutely right to have some real concerns about whether or not moving forward with him is actually viable. And healthy. And in your best interest. Don't be afraid to go there. Don't be afraid to question what's coming up for you.
I'm hearing some "shoulds" coming up for you.
Like "you should be grateful he's back and wants you back". Like "you should be happy he's a good, hard-working, trustworthy man, with no addictions and you have no money management issues between the two of you". Like "who do you think you are that he wants to marry you and have children with you and you would dare to question this?" These types of shoulds.
Sound familiar?
The point is, there's something within you that is questioning this – and him. The reality is that there is some real nagging doubt within you that makes you unwilling to just move forward and thank your lucky stars that he came back and wants you back.
There really is something going on within you that needs to be looked at before you jump back in here with him.
Now whether this doubt is a self-fulfilling prophecy or a self-sabotaging kind of doubt where you subconsciously don't believe you deserve to be happy, to be free, to be loved, to have someone offer you everything he's saying he has to offer you, is something to ask yourself. But that's not what I'm getting from you.
I'm sensing a fear that he hasn't really changed. I'm sensing fear that when you're married with children and this other side of him rears its head again, the stakes are going to be so much higher and it won't be as easy as it is now for you to walk away.
And this is true!
Things get more real, more intense, with the stakes so much higher when you've got a marriage and innocent little lives on the line. So you have every reason to be concerned.
How do you know? How will you know? First, above all else, listen to yourself. Listen to your gut instincts. Listen to that little voice deep inside you that won't go away. Ask yourself each of the questions you've asked me.
Answer honestly, answer truthfully, even if you hear the ensuing "should" to counter it as you listen to your own answer.
You have to live with all of this. You have to be able to live with him for who he is. And yes, that does mean all of him.
He's given you a lot of red flags in the past. And yet, the past is the best indicator of future behavior. Yes, people can change. But only if they're doing it for themselves. And only with a great amount of work, and a lot of forward and backward steps along the way.
Don't decide anything right away.
Your best indicator and your best protection for your beautiful heart and soul and the future of yourself and your future children, is to take the time to wait, to watch, to observe, to give it enough time that you truly believe what you're seeing is what you're going to get.
There are no guarantees, but there is time to observe, time to listen, time to be true to yourself and discover what all these questions that are coming up for you are trying to tell you.
If he's the one for you, he'll go your pace. He'll let you take it slow. He'll let you be true to you.
And if he's not, if this change isn't real, if he can't do this no matter how much he claims he can, this is how you'll know that, too.
Take a step back. Breathe.
Find a quiet place within yourself that tunes out every other voice except the only one you can ever really trust – your own. And most of all, quiet the "shoulds." Now what do you hear? What decision brings you peace? Where are you when you find your place of calm? With him – or with you?
I hope this helps!
Love,
Jane
Do you have any other words of wisdom, encouragement, or advice for our gorgeous friend "So Stuck"? Share them with all of us in the comments!