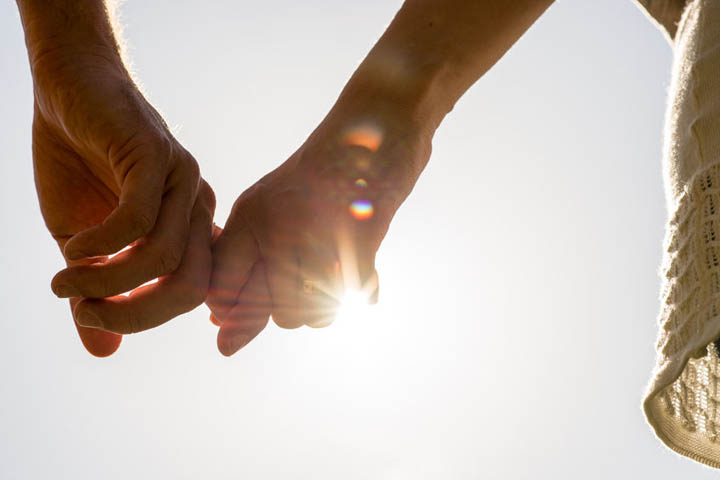 One of our gorgeous readers, Holly, is currently going through what so many of us have gone through before. Things were going so well but now her boyfriend has changed and he's getting distant. She's wondering if she should hang on, or just let go.
Here's what she wrote:
Hi Jane,
I've been with my boyfriend for a year now.
I moved in with him soon after we met, we were having a great time and I was so happy. We were always together and out doing fun things all the time, out for meals, visiting family together, taking trips on holiday, planning ahead.
He told me how much I meant to him, how great I was, and we were so in love.
However, I feel things have turned for the worst recently - as the relationship towards the end of the year we began to argue a lot in the house and he began to get upset living with me.
So one day I grabbed all my things and moved out reluctantly back into my mum's but we were still together and he said he still really loved me and didn't want to let me go.  A few days later when he was round seeing me at my mums I found messages on his phone to another girl who he had invited around to his house for a chat.
Nothing sexually happened between them as I could read from the messages but some messages were too flirty for my liking.
I was heartbroken. I really trusted him and I lost the plot immediately and we had the biggest Fight ever at my mums house. Things got so damaged after that he didn't know if he wanted to be with me any more and we limped on for a bit before deciding to stay and still be together and try fix things.
Only now even though we are together he seems so different, he is more interested in his business than spending time with me, and when we are together we don't do much like what we did before because he says he's trying to save money.
We don't go out or go places together because he put most of this time into his work now and when he does see people he doesn't invite me along anymore.
It's hard for me still because I miss him so much and it's a big leap from seeing him every day and staying with him to only seeing him 2 - 3 nights a week and being treated the way he's treating me.
I'm always confused and worried and have asked him many times if I can move back in because I feel this will fix us. He says no and that everything happened too fast for him at the start and now he wants to focus on himself and take it slow, only I feel he's very distant compared to before and that we have lost a bond and connection.
Regardless of how he's changed he always says he still loves me and wants it to work. I have gotten so upset I have tried to break up with him a few times because I feel he's not there enough, but he always comes back to me saying he really still loves me no matter what we have been through and that he just needs more time.
I'm scared that if I give him more time alone he will not come to me or he'll just end things.
I can't help always being on his case either about the way he has changed now because I'm "trying to sort things out," but nothing seems to work no matter what I say or do and we just argue more or fall out if I do that.
I don't know what to do anymore because I'm lost and feel like I've lost my boyfriend I love. Please give me some advice.
- Holly
My Response:
If you can't help but "be on his case" whether about the way he's changed or because you're trying to sort things out, nothing will work no matter what you say or do and you'll absolutely just argue more.
You've got a very sensitive man here who needs to feel like a man, who needs to feel like he isn't bad, who needs to feel like he's in control of his emotions – and yet he doesn't have any awareness of this  himself.
Like so many men do when they meet someone like you who's in touch with her feelings, who can feel at all, who sees past everything he isn't and still loves him and wants to be with him, he feels a certain high and excitement at what the two of you have the potential to become.
That's why he moves faster in the beginning, because he doesn't want this feeling to stop, and because he so wants to believe it could be the real thing.
But when there are problems, when reality comes into play and he doesn't feel so excited anymore at the prospect that you might not be able to cure all that ails him from within, he pulls back.
He creates more distance through the fighting, as anger, being acceptable as more "manly"(even though it's not) is the only emotion our culture allows him to express. And then if that isn't enough for him to numb his feelings that he doesn't understand and doesn't know how to deal with, he calls in reinforcements. In this case, this is the girl he was messaging and invited over.
This is how he creates more of that distance and distraction from his own feelings.
None of this is personal, Holly. None of it.
It feels personal, and yes, arguably it will seem like it's very personal that he could hurt you like this. But to him it's just a means of escaping his feelings.
He doesn't want to feel bad. He doesn't want to feel ashamed for not being man enough to hold together a real relationship. He doesn't  want to feel anything but easy and happy.
So anything you say that's going to feel like you're blaming him or putting the relationship's problems on him, is going to shut him down even more.
I know you feel like you can't help being on his case, but the reality is that's one area that is all your choice. If you actually want a chance to see what else might be possible here, you're going to have to recognize that every part of this is a choice.
So instead of getting on him about it, let's try a step back to a place where you can accept this person you've chosen to love.
He's got a lot of hangups, and issues, and he doesn't sound open to discussing them with you (at least not right now.)
You can't talk openly to him.
He brings in another woman to make this easier for him.
Look at each of these things, Holly. Can you accept them about him? Because the first step to changing this, is acceptance. If you can accept him the way he is right now, you have a chance.
But if you can't, then that's your answer.
This  - what you're seeing right now – is part of him, too. Now if you can refrain from being on his case, if you can see that this is someone who isn't able to communicate using the same language you use, than that's going to give the two of you a chance to have some peace and calm.
Once he knows it's safe for him to come back without getting yelled at, he'll come back if he's going to. But when he comes back, that safety has to continue for him or he's only going to go away again – whether it's physically away or emotionally away through fighting or bringing in another woman to create the distance he needs.
This is really about building trust. For both of you.
You need to know that he's in this for real. And he needs to know that you accept him for who he is.
That's a tall order. For any of us!
And especially for those who are living with a lot of shame left over from our childhoods about who we're supposed to be and what we're supposed to be capable of.
But, Holly, if you really want to give this a chance, if you really want to see if this could make a difference, this is what it takes. Anything else, he's going to see right through. He won't trust that you actually love him for who he is.
If it feels like a test, in a way it is.
This is where he's at, this is where he lives. If you try to confront him with this, he won't let you, he'll just shut down.
But if you show him, with your actions, that you've opened the door to him he may be able to give you something more in return.
How long does it take? As long as it takes him. But it's his actions that will show you everything. Give yourself a timeline and set a date for you to revisit whether this is still working for you. And then do it again when you get there if you need to.
Why does this have to come from you? Why can't he do this work himself? Why does it feel like he can get away with doing whatever he needs to do to feel safe and you have to be the one who treats him with kid gloves?
Because you're the one who wants him, Holly. And that's the only reason why.
If any of this doesn't work for you, you have every right in the world to call it quits and walk away and find someone who will never treat you like this. But if that's not who you are or what you want to do, don't pretend it is. You don't answer to anyone else but you.
Oh you're not alone here. We may all want you to walk away, but the reality is, most of us struggle with this in much the same way!
I hope this helps.
Love,
Jane
What do you think? Do you have any other words of advice or encouragement for our gorgeous friend, Holly? Share them with us below in the comments!