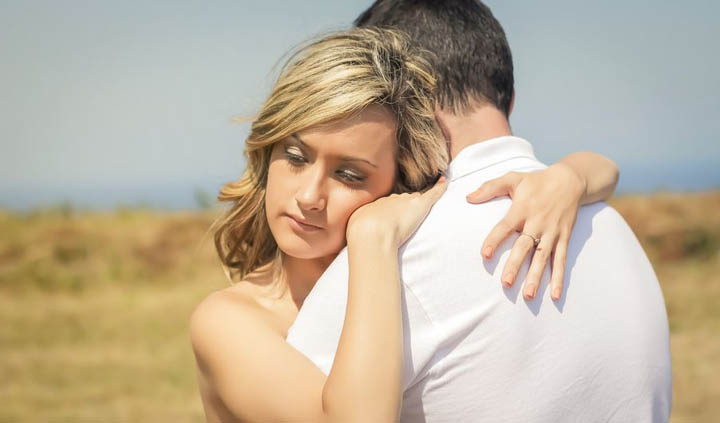 One of our beautiful readers, Linda, has a boyfriend whose studies will be separating them soon, and he's beginning to get emotionally distant.
Here's her story:
Hi Jane!
Hope you can help me, because I do feel confused...
I'm in a relationship with this guy since March. I met him for the first time when I was 15 (now I'm 18) because we went out with the same group of friends. We've always been sort of attracted to each other but we actually started texting/talking in December...
Then in March we got together. It all started very well...He was so lovely and treated me like a princess... But I've always felt like he was not totally open with me... I talked a lot, he listened to me and showed he wanted to understand me for real even though I am pretty complicated as he says... He seems to know me better than I do sometimes...
He says to me a lot of beautiful things... So beautiful sometimes I feel like crying because I think to myself I am really bloody lucky to have him...
The problem is, that he will be leaving for University at the end of August and his studies will last more or less 10 years!!!!
And I feel very bad about it...I won't see him or touch him or hug him... And I'm scared our relationship will end... but of course I love him and don't want to affect his vision of his professional future...And he seems really concerned about how our future will be like...Asks me if I want to be in his life in the future and stuff like that...
But lately I feel like he's keeping me distant... I don't understand why... He doesn't text/call me so often as he used to, even though when we see each other he says to me I'm the one who's keeping him distant...
I honestly don't want to play games! I want a real relationship and if he's not ready to show me the love I think I deserve and keeps me distant, I'm not going to run to him and try to hold on... Even if it hurts so badly...
I don't want to be loved only if I act all cold with him... I am an independent woman but I also feel needy sometimes... Why doesn't he feel the same?
Why does he say a lot of things, why does he stress on how much he loves me but seems so distant from me?
If we're not able to communicate now that we live close, how can we survive when we're distant?
He said to me once with me he has understood love and has started a real relationship for the first time... So he feels like he has no experience at all in this kind of things...
He also said he's not able to open up completely and wants me to help him doing it because he loves me...
But I feel like he's miles away from me right now... And I don't want to look clingy asking him all the time what's wrong....
Is it because he doesn't want me or because I'm not able to see what he needs?
Thank you
Hope you will help me....
- Linda
My Response:
Dear Linda,
Let's end the confusion.
When you are with someone who loves you and wants to be with you and is truly on the same page as you, he will make sure that happens. He will make sure you know his intentions. He will make sure there is no doubt in your mind as to what he wants with you.
IF this is actually, truthfully, what he's looking for.
The rest is all filler.
No matter how wonderful his words sound, no matter how much they speak to that part of you that wants so badly to help him experience a love like he's never known before, if he isn't the one making this happen himself, you can't be the only one doing this for him.
The words that say he wants you to help him open up, be closer to you, learn how to love for the first time, are only words unless there are actions to back up those words.
This has to come from him.
There's nothing wrong with you. There's no reason for either of you to be confused if you both are honest about what's really going on here. But it doesn't sound like he either wants to be, or is capable of being honest with you, or even himself. And the more honest you are, the more it seems to be pushing him away.
You've said it best yourself, Linda: how can your relationship survive the distance when  you're not able to communicate now that you live so close? This is my question, too.
It sounds like he's preparing to go away and creating this distance already.
Yes, he could certainly change this. It's well within his power to choose to go somewhere closer or make concrete plans for the two of you, but the fact that he's proceeding with this plan without including you in those plans, speaks to how much he's on his own page. And not on yours.
A relationship with someone who's on the same page with you means that you're with someone who you can be real with, who you can be needy or clingy with when you feel you have reason to, who you can communicate honestly with and know that he won't run away.
It means that when you push for more closeness, it doesn't have the opposite effect with him running away.
It's not that he doesn't want you, Linda. It doesn't sound like he even knows what he wants. That's why you're confused. You're picking up on his confusion!
And to the contrary, you're more than sensitive to seeing what he needs. It's not that either. Don't take his inability to know what he wants personally.
He's young. You're young. You both have your whole lives ahead of you.
While it may seem like he's your whole world right now, he's not. Focus on you instead of worrying so much about what he is or isn't doing. Give him the space to chase after his dreams while you chase after yours.
If you're both meant to be together, meaning if the two of you are both on the same page and want the same committed relationship with each other, it will happen because both of you want it to.
Time can't take that away from you if that's what you both want. But if it's not right now, don't go chasing after him.
You're not the chasing kind. You're the loving kind!
And with the kind of love you've got in your heart to give, you need someone who can reciprocate that kind of love back to you. Not someone who you spend all your time and energy convincing of your worth.
I hope you can see this, Linda. When you see it, you'll see you.
Love,
Jane